Slow Cooker White Bean Chicken Chili
This simple and delicious white bean chicken chili, simplified for slow cooking, is practically screaming "Make me!" for the upcoming fall and winter months.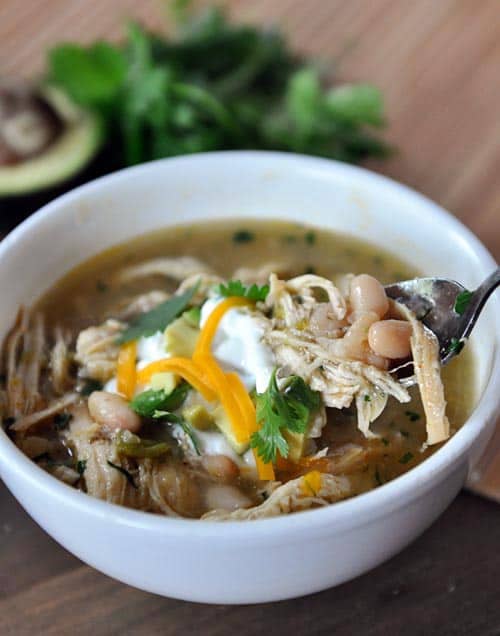 I've been making a variation of this slow cooker chili forever now and finally ordered myself to write down the ingredients in amounts (instead of "a bit of this and throw some of that in and add a handful of this") and get it out here for you to see and to make and to love.
This delicious white bean chicken chili, simplified for slow cooking, is practically screaming "Make me!" for the upcoming fall and winter months (and to be perfectly honest, we enjoy it in the summer, too, when we get all wild and crazy and decide to eat chili in July).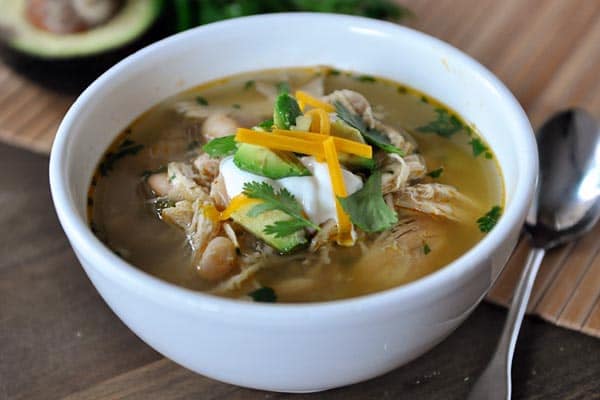 Fairly straightforward, this chili is pumped up with a few savory spices and a hint of fresh lime and cilantro stirred in at the end.
Don't even think about skipping the garnishes – the cheese and avocados and sour cream and crushed tortilla chips take a pretty good white bean chili and skyrocket it into straight up deliciousness.
Kind of wish I had a slow cooker pot of this simmering right now instead of the leftover night built into my menu plan (leftovers equal a necessary evil especially when your name is Mel and you can't stand to waste food – do you do leftover nights? love them? hate them?).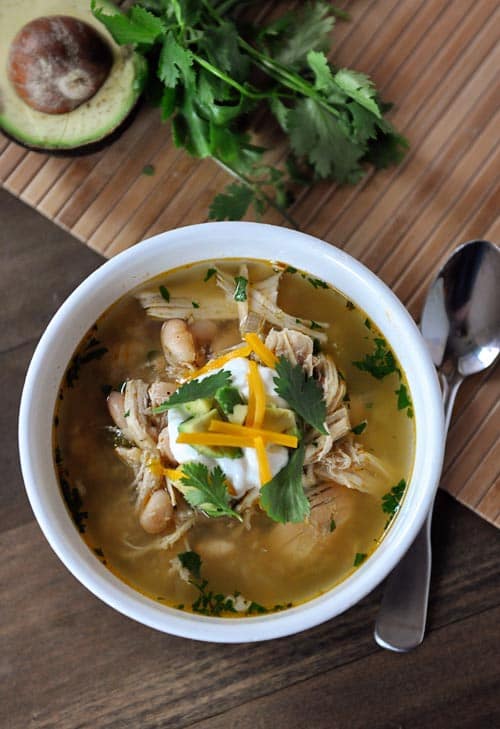 One Year Ago: Hearty Chicken Gnocchi Soup
Two Years Ago: Texas-Style Blueberry Cobbler
Three Years Ago: Chili-Rubbed Pork with Apricot Glaze
Slow Cooker White Bean Chicken Chili
Yield: 6 servings

Prep Time: 15 minutes

Cook Time: 8 hours

Total Time: 8 hours 15 minutes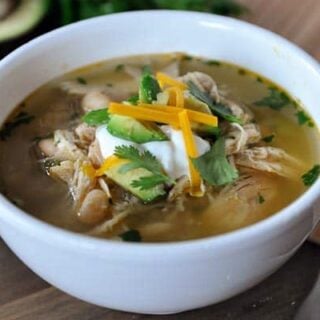 Ingredients
Soup:
1 1/2 pounds boneless, skinless chicken breasts or thighs
1 tablespoon oil
1/2 cup chopped onion
2 cloves garlic, finely minced
1 poblano pepper or large green pepper, diced
32 ounces low-sodium chicken broth
1 teaspoon cumin
1/2 teaspoon salt
1/2 teaspoon pepper
1/2 teaspoon dried oregano
1/2 teaspoon chili powder
2 cans (15-ounces each) white beans (like Great Northern), rinsed and drained
Juice of 1 lime
1/2 cup chopped fresh cilantro
Garnishes:
Sour cream
Avocado, diced
Chopped cilantro
Shredded cheese
Tortilla chips
Instructions
Place the chicken in the bottom of a round, 5-quart slow cooker. In a large nonstick skillet, heat the oil until rippling and hot. Add the onion, garlic, and pepper and saute for 3-4 minutes. Scrape the mixture into the slow cooker.
Add the chicken broth and stir in the cumin, salt, pepper, oregano, and chili powder.
Cook on low for 6-8 hours.
Remove the chicken and shred into bite-sized pieces. Stir in the rinsed and drained beans. Cook on high for 30 minutes until beans/soup are heated through. Stir in the lime and cilantro and add salt and pepper to taste.
Serve with garnishes.
Notes
Zucchini Variation: a variation we've come to love recently is to add chopped zucchini to the chicken and broth mixture, letting it cook for 6-8 hours with everything else. I scoop out all the zucchini and a bit of the broth and give it a good blend in the blender and stir it back in with the beans. It adds a hint of thickness and creaminess (you can thank this soup for the idea).
Recommended Products
As an Amazon Associate and member of other affiliate programs, I earn from qualifying purchases.

Recipe Source: Mel's Kitchen Cafe
Disclaimer: I am a participant in the Amazon Services LLC Associates Program, an affiliate advertising program designed to provide a means for me to earn fees by linking to Amazon.com and affiliated sites. As an Amazon Associate I earn from qualifying purchases.