Snapshot Saturday: Cooking Dinner Bootcamp
This last week, each of the boys was put in charge of planning, making and cleaning up a dinner. They perused the recipes here on the blog and their favorite cookbooks* for hours (not kidding) to plan the perfect meal with the full expectation that other than me hanging around to make sure no fingers got cut off, they had to be responsible start to finish for dinner.
The planning was elaborate and the results were fabulous.
Jackson went with Tortellini Alfredo (p. 60 from the Williams-Sonoma The Cookbook for Kids). For our family, he doubled the recipe (we used the tortellini from Costco and the simple sauce was from-scratch). Amazing! And seriously, this kid was so proud. He served it with simple roasted broccoli and apple slices.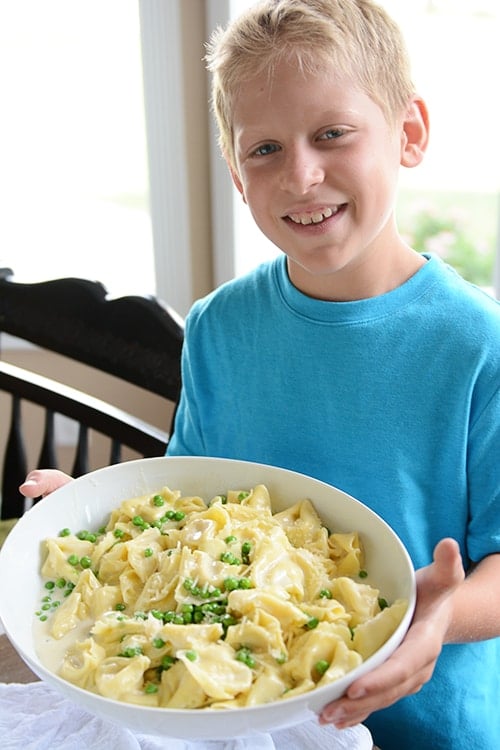 Walker handled Tuesday night. He made zucchini cornbread (this standby recipe with a few adaptations; I'll be posting it next week because it was incredible), BBQ baked beans from my old recipe binders, and a green salad.
He took the turkey bacon chopping duty very seriously (as in, he wouldn't even turn to smile for the camera.

What a dinner! Walker wrote down the recipes in his journal that night so he could take them to college with him, which made me smile and sob all at the same time.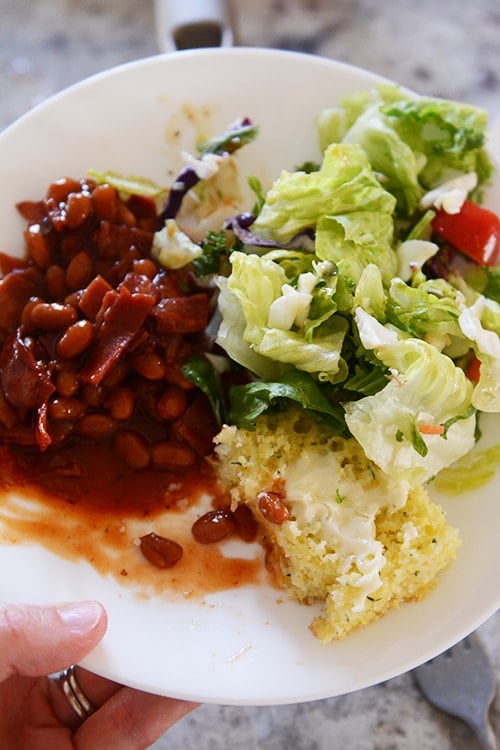 Cade snagged Wednesday night which turned into Thursday night because of a crazy Wednesday night (does that ever happen to anyone else?). He opted for Sweet and Sour Sausages (p. 108-09 of Paula Deen's Cookbook for the Lunch-Box Set), thin mint truffles (just the ol' Oreo truffles recipe that's been around for generations but using up our Girl Scout cookies instead), baked potatoes and roasted beets. It was aggressive. But he worked it like a professional (along with his trusty sous chef) and dinner was delicious. He used chicken sausages from Trader Joe's and all-natural (no HCFS) ketchup for the sauce.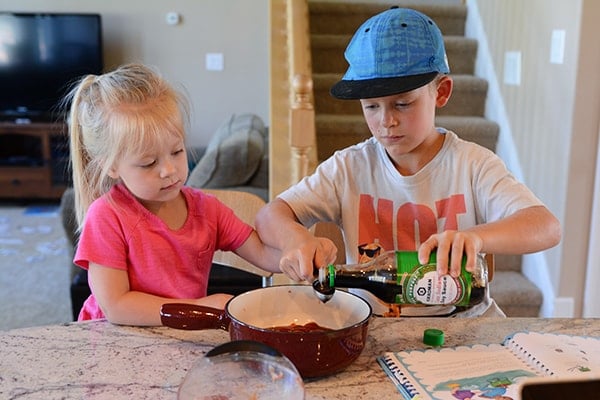 I caught a minute or so of him dipping the truffles (all by himself!) on video thinking I'd post it to our family blog (grandma would be so proud) but Cade thought it would be fun to make his own cooking video so I clipped it into a 1-minute segment to post here, too. Again, his little assistant was sticking pretty close the whole time. Fairly impressive candy dipping skills for an 8-year old! And please ignore the disastrous kitchen and open pantry – talk about unfiltered real life here.

Ty's well thought out dinner is getting pushed back to this coming Monday but he couldn't be more excited to make Hawaiian Haystacks, breadsticks and roasted carrots (p.99 from Williams-Sonoma Fun Food).
I certainly don't think kids need child-specific cookbooks to be able to cook (my kids can make most of the recipe I've posted here) but because the kids love to look through cookbooks of all sorts (color photos are really important especially for kids' cookbooks in my opinion!), we've amassed a small collection of kid cookbooks.
Each of them have their high and low points but many of the recipes the boys have made are pretty tasty. Most of the books below (with the exception of a few of the Paula Deen recipes) don't dumb-down the food (they use real ingredients without taking shortcuts with processed food yet the recipes are still very approachable and kid-friendly) and overall, I love having all these in our collection:
Williams-Sonoma Fun Food
Williams-Sonoma The Cookbook for Kids
Cooking Class: 57 Fun Recipes Kids Will Love to Make (and Eat!)
Paula Deen's Cookbook for the Lunch-Box Set
I've posted more about cooking with kids here; lots of good details in the post and comment thread.
As for the cleaning up part, we still need to work on that a bit (Brian's partly at fault for dragging the kids out after dinner to help pull up goat head weeds along our ditch line and work outside before bedtime so the dishes didn't always get done by the responsible party). I think if given a choice, they'd rather have washed dishes than pull up weeds.
Disclaimer: I am a participant in the Amazon Services LLC Associates Program, an affiliate advertising program designed to provide a means for me to earn fees by linking to Amazon.com and affiliated sites. As an Amazon Associate I earn from qualifying purchases.