Southwestern Cobb Salad with Green Goddess Dressing
This southwestern cobb salad with green goddess dressing is hearty, delicious, healthy, and filling enough to serve as a main dish.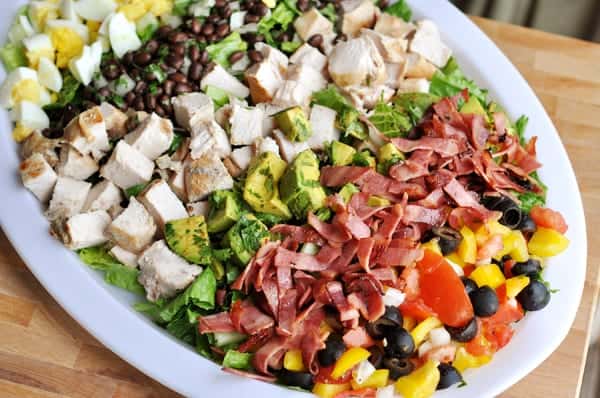 In my opinion, salad is delicious in all it's forms (ok, except for those crazy grated carrot/raisin salads…not so much a fan of that salad variety, sorry to say). But sometimes it's a challenge to find a salad that is delicious and filling enough to serve as a main dish for company or for a nice-ish family dinner.
This remarkable salad absolutely fits the bill for a hearty, delicious, healthy salad that could easily be served to entertain with or to feed to your ravenous everyday dinner "guests" (a.k.a. children).
My husband summed up this salad perfectly when he said it was the best salad he'd ever eaten because every bite offered something different.
There is a lot going on in this salad and that is a good thing!
You've got your crisp, fresh romaine lettuce, but it is smothered in concoctions filled with yellow peppers, tomatoes, avocados, olives, bacon, hard-boiled eggs, and tender, flavorful chicken.
It is downright amazing. I'll admit, you use about 42 bowls to throw everything together, but it is well worth it, I promise.
And don't even get me started on the dressing. The name alone is worth making it. It is divine. Creamy, bright, fresh, full of fantastic herbs and flavors, this dressing complimented the southwestern flavors of the salad perfectly.
Come to think of it, I might be willing to eat a helping of that carrot/raisin salad if I could slather this other-worldly dressing all over it.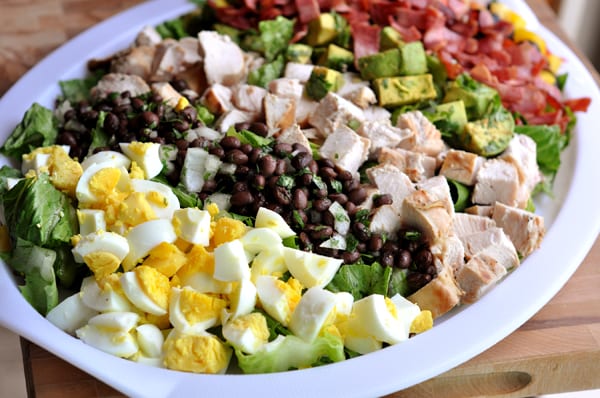 This really is a complete meal on it's own, but throw in a Fruit Smoothie or some Fresh Fruit and Honey Yogurt Dip and you have yourself a healthy weeknight meal.
Southwestern Cobb Salad with Green Goddess Dressing
Yield: 6-8 servings as a main dish

Prep Time: 30 minutes

Cook Time: 18 minutes

Additional Time: 1 hour

Total Time: 1 hour 48 minutes
Ingredients
Chicken Marinade:
1/4 cup freshly squeezed lime juice (2-3 limes)
1/4 cup olive oil
1/4 cup soy sauce
1/2 teaspoon ground cumin
1/2 teaspoon crushed red pepper flakes
3-4 boneless, skinless chicken breasts
Black Bean Salsa:
1 (15-ounce) can black beans, rinsed and drained
1/2 sweet onion (I used vidalia), diced
1/4 cup cilantro, chopped
1 tablespoon olive oil
Yellow Pepper Salsa:
1 yellow pepper, seeded, and diced
1 tomato, seeded and coarsely chopped
1 can large olives, coarsely chopped
1/2 sweet onion (I used vidalia), diced
Avocado Salsa:
2 ripe avocados, peeled and cut into 1/2-inch pieces
Juice of 2 limes
1/4 cup cilantro, chopped
1/2 teaspoon cumin
1/4 teaspoon cayenne pepper
Toppings:
4-5 large eggs
6-8 slices thick-cut bacon (I used turkey bacon – it was delicious)
1 medium head romaine lettuce, washed, dried and torn into 1-inch pieces
Green Goddess Dressing:
1/2 cup mayonnaise
1/2 cup sour cream
2 tablespoons low-fat buttermilk
1 tablespoon white wine vinegar
1 teaspoon Worcestershire sauce
1 bunch chives, coarsely chopped (about 1/4 to 1/3 cup)
2 green onions, white and green parts, cut into thick chunks
2 tablespoons chopped fresh cilantro
2 tablespoons chopped fresh flat-leaf parsley
1 teaspoon sugar
1 teaspoon coarse or Kosher salt
1/2 teaspoon freshly ground black pepper
1 pinch cayenne pepper (optional)
Instructions
For the chicken marinade, in a small bowl, combine the 1/4 cup lime juice, olive oil, soy sauce, 1/2 teaspoon cumin and red pepper flakes. Place the chicken breasts in a ziploc bag and pour the marinade over the chicken. Close the bag and refrigerate for at least an hour or up to overnight.
Heat a grill to medium-high heat (an indoor grill pan or skillet could be used also). Grill the chicken until it is cooked through, about 5-7 minutes per side. Cool the chicken completely then cut into 1/2-inch pieces. Set aside.
Place the eggs in a saucepan and cover with cold water. Bring the water to a rolling boil. Cover and remove from the heat. Let the eggs sit for 13 minutes then rinse them under cold water until they are completely cooled. Peel and coarsely chop the eggs. Set aside.
Cook the bacon over medium heat until it is crisp. Drain on paper towels. When cool, crumble and set aside.
In a medium bowl, combine the yellow pepper, tomato, olives, and 1/2 of the sweet onion. Season with salt and pepper and set aside.
In another bowl, combine the black beans, 1/4 cup cilantro and onion. Drizzle with 1 tablespoon olive oil and season with salt and pepper. Set aside.
In another bowl (don't worry, we are almost done with the excess of bowls), combine the avocado, 1/4 cup cilantro, juice of 2 limes, cayenne pepper and 1/2 teaspoon cumin. Season with salt and pepper. Set aside.
On a large platter (or large bowl), arrange the romaine lettuce. Arrange the chicken in a strip down the middle of the romaine. On either side, make piled strips of the eggs, bacon, yellow pepper mixture, black bean mixture and avocado mixture. Drizzle with dressing or serve it on the side. The easiest way to serve this on a platter is with a pair of tongs. If using a large bowl, gently toss to combine all the ingredients before serving.
For the dressing, combine all the ingredients together in a blender. Process until smooth. Thin with additional buttermilk (adding it one teaspoon at a time), if desired. Store the dressing in an airtight container in the refrigerator for up to 3 days.
Recommended Products
As an Amazon Associate and member of other affiliate programs, I earn from qualifying purchases.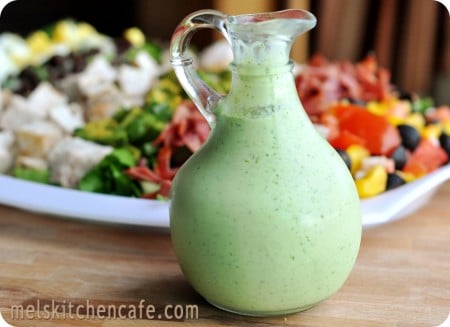 Recipe Source: salad and dressing adapted slightly from Martha Stewart
Disclaimer: I am a participant in the Amazon Services LLC Associates Program, an affiliate advertising program designed to provide a means for me to earn fees by linking to Amazon.com and affiliated sites. As an Amazon Associate I earn from qualifying purchases.