Southwestern Turkey Burgers
These southwestern turkey burgers are beyond flavorful and oh so tender and juicy. Perfect for the summer grilling months!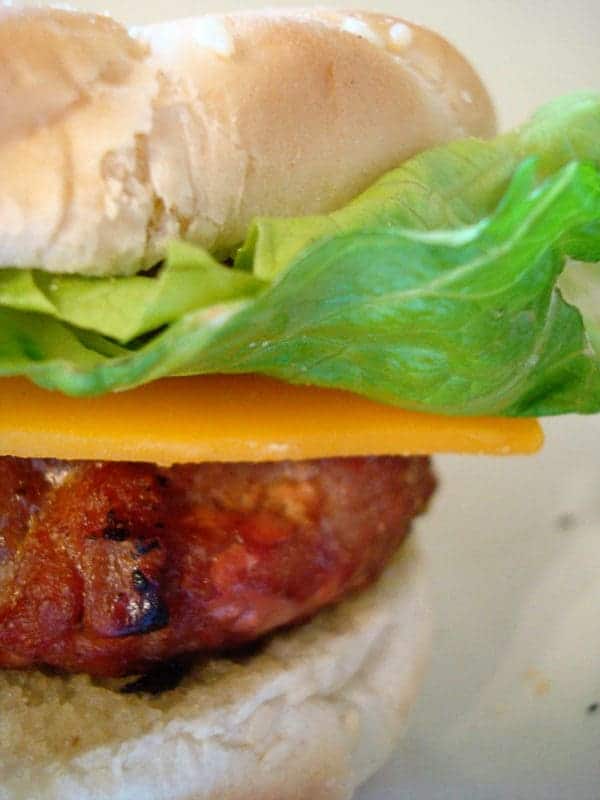 Mmm, mmm, these were good. Really good.
I've actually never attempted to make turkey burgers at home before. We are all about slapping a few beef burgers on the grill often through the summer but I really wanted to give turkey burgers a try.
These burgers were beyond flavorful and oh so tender and juicy. My husband actually loved them, too, which is quite a feat since he is a classic red meat kind of a guy.
The recipe comes from Emeril's new cookbook, Emeril at the Grill. It has some incredibly fantastic and delicious-looking recipes and I can't wait to try a few others (like the BBQ Ribs and the Grilled Banana Splits – seriously!).
The original recipe for these is actually for turkey sliders but I altered the recipe a bit to fit my family's numbers and tastes.

Served with avocado and tomato – these were delicious!
Southwestern Turkey Burgers
Yield: 6 servings

Prep Time: 10 minutes

Cook Time: 8 minutes

Total Time: 18 minutes
Ingredients
2 pounds ground turkey (I used one 1 pound package of ground turkey breast meat and another 1 pound package of ground dark turkey)
1/2 cup minced red onion
1/4 cup minced green onion, white and green parts
2 egg whites, whisked
1 teaspoon ground chili powder
1 teaspoon ground cumin
1 teaspoon ground coriander
dash cayenne pepper
1 teaspoon paprika
1 tablespoon worcestershire sauce
Garnishes: avacado, tomato, lettuce, cheddar cheese, red onions
Instructions
Preheat a grill to medium-high.
In a large bowl, combine the ground turkey with the minced red onion, green onion, egg whites, seasonings and worcestershire sauce. Mix gently but thoroughly. Divide the mixture into six equal portions and shape them into burgers.
Place the burgers on the grill and cook until the turkey is just done (about 4 minutes per side) and an instant-read thermometer inserted into the center registers 165 degrees.
Serve the burgers on buns and top with garnishes.
Recommended Products
As an Amazon Associate and member of other affiliate programs, I earn from qualifying purchases.

Recipe Source: adapted from Emeril at the Grill
Disclaimer: I am a participant in the Amazon Services LLC Associates Program, an affiliate advertising program designed to provide a means for me to earn fees by linking to Amazon.com and affiliated sites. As an Amazon Associate I earn from qualifying purchases.