Succulent Grilled Pork Tenderloin
What's not to love about a lean, tasty, quick meal? This tasty succulent grilled pork tenderloin definitely fits the bill and is absolutely fantastic.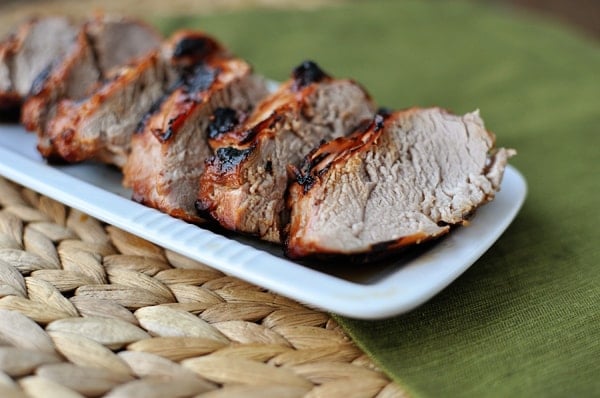 In honor of the theory that you can never, ever have too many delicious pork tenderloin recipes in your arsenal, I present to you my latest and greatest pork tenderloin find.
Sent to me by a long-time reader, Beth, this version marinates the pork tenderloins in a flavorful mixture of soy sauce, orange and pineapple juices, a hint of sugar and ginger and a bit of garlic.
So simple and so yummy.
Rumor has it that this recipe was so coveted among Beth's family that her brother who created the recipe wouldn't give it to her for the longest time. Thankfully he relented and shared the love because I need this pork tenderloin in my life and so do you.
Grilled to perfection, the tender, juicy pork has all the hints of the marinade – a bit of citrus, a touch of soy, a gentle reminder of ginger and a hint of garlic.

I served this with corn on the cob and our fave tri-color pasta salad. While the warm weather holds and grilling season is still acceptable, I suggest you make this immediately. What's not to love about a lean, tasty, quick meal?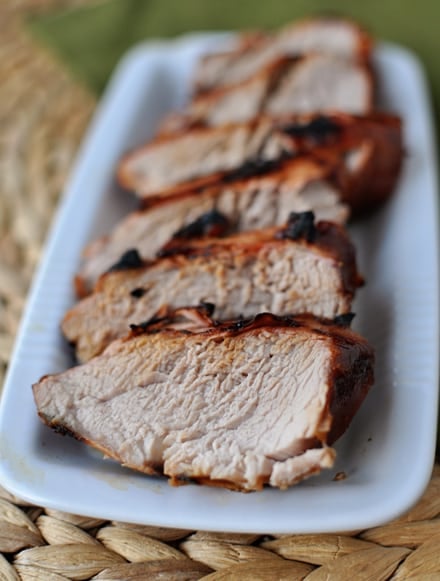 One Year Ago: Cuban Street Tacos
Two Years Ago: Slow Cooker Hot Fudge Pudding Cake
Three Years Ago: Skillet Chili Mac
Succulent Grilled Pork Tenderloin
Yield: 6 servings

Prep Time: 10 minutes

Cook Time: 24 minutes

Additional Time: 7 hours 56 minutes

Total Time: 8 hours 30 minutes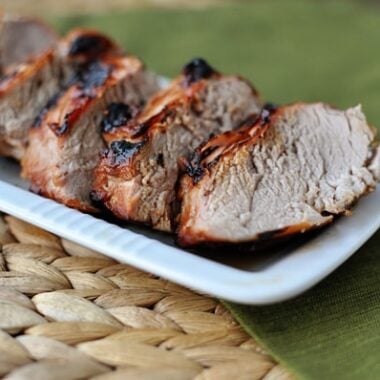 Ingredients
2-3 pounds pork tenderloin
1/2 cup soy sauce
1/4 cup orange juice
1/4 cup pineapple juice
2 tablespoons packed light brown sugar
1 tablespoons grated fresh ginger
2 cloves garlic, finely minced
Instructions
In a medium bowl, whisk together the soy sauce, orange juice, pineapple juice, brown sugar, ginger and garlic. Place the pork tenderloins in a ziploc bag and pour the marinade over the pork. Seal the bag and refrigerate the pork for 8-12 hours (perfect to prepare overnight for grilling the next day).
Preheat an outdoor grill to medium heat. Grill the pork tenderloins for 8-12 minutes per side, until the pork is cooked through. Tent the pork with foil and let it rest 5-10 minutes before cutting into slices and serving warm.
Notes
Ginger: fresh ginger is very easy to use. Simply peel the skin from the knobby piece of ginger and then grate the ginger on the small holes of a box grater or on a rasp grater. I haven't tried this recipe with ground ginger so if you prefer to use that, you'll have to play around with the amount.
Recommended Products
As an Amazon Associate and member of other affiliate programs, I earn from qualifying purchases.

Recipe Source: a family favorite recipe sent to me from Beth T. (thanks, Beth!)
Disclaimer: I am a participant in the Amazon Services LLC Associates Program, an affiliate advertising program designed to provide a means for me to earn fees by linking to Amazon.com and affiliated sites. As an Amazon Associate I earn from qualifying purchases.