Orange Cream Bars
Looking for a completely different take on traditional lemon bars? These Orange Cream Bars taste like an orange creamsicle in bar form. They are heavenly.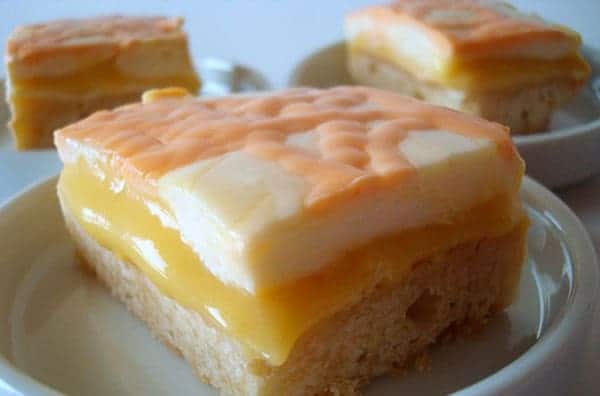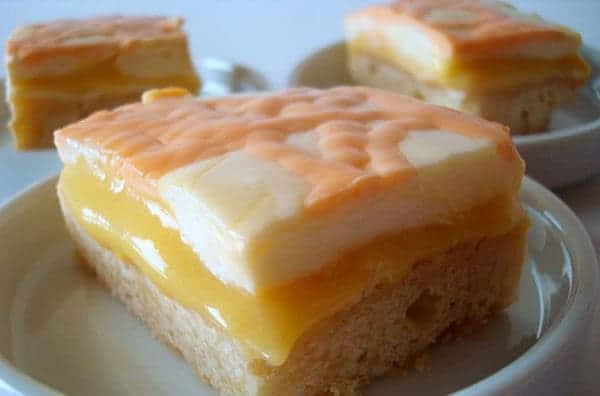 Look past the fact that there is some serious clashing going on in the orange coloring department…and listen up about these bars.
I think I'm in love with orange curd. I've never made lemon or orange curd before, although, apparently, making it is supposed to be quite easy. I've always been turned off by the word "curd." It sounds weird and not at all appealing.
But I bucked all of my phobias and made these Orange Cream Bars to test them out for Sugar Rush, even though the middle layer is completely, 100% homemade orange curd.
And as I mentioned, I think I'm in love. Even my picky dad, who was in town, licked the spoon and said, "Wowsers, that's good."
These bars start with a buttery shortbread crust and are topped with a creamy, dreamy layer of orange curd that I'm not kidding, is some of the most heavenly, silkiest stuff you'll ever eat, and then they are finished off with a sweetened sour cream layer that cuts the tartness of the orange curd perfectly.
A completely different take on traditional lemon bars, these Orange Cream Bars taste like an orange creamsicle (you know the one!) that has gone through a huge (might I say extreme) makeover.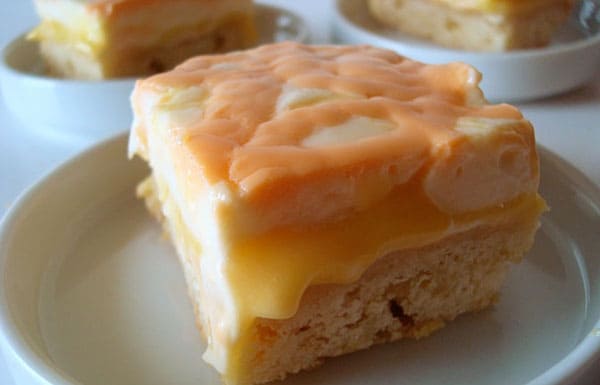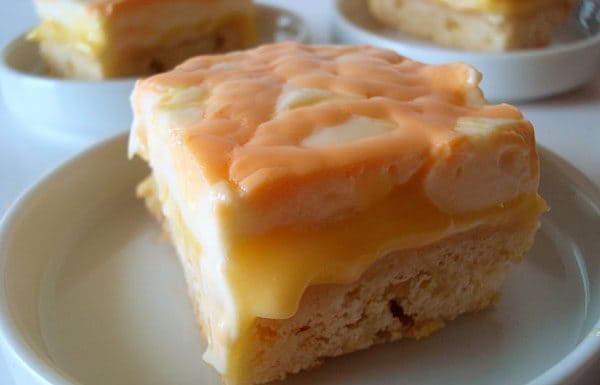 Yield: 16 squares

Prep Time: 25 minutes

Cook Time: 50 minutes

Additional Time: 2 hours 30 minutes

Total Time: 3 hours 45 minutes
Ingredients
Shortbread crust:
1 ¼ cups flour
2/3 cup confectioners sugar
Pinch of salt
10 tablespoons cold butter cut into chunks
Orange Curd filling:
2 large eggs
4 large egg yolks
¾ cup granulated sugar
1 tablespoon freshly squeezed lemon juice
½ cup freshly squeezed orange juice
2 tablespoons finely grated orange zest
Pinch of salt
½ cup butter, softened
Sour Cream Topping:
3/4 cup sour cream
1/4 cup heavy cream
2 tablespoons sugar
1 teaspoon vanilla
Instructions
Preheat the oven to 325 degrees. Line a 9-inch square baking pan with aluminum foil so that the foil extends 2 inches beyond two opposite sides of the pan, like little handles. Lightly grease the foil with cooking spray.
Place the flour, sugar and salt into a medium bowl and whisk together. Scatter the butter pieces over the mixture and mix the ingredients together using a pastry blender or two forks until the mixture resembles coarse crumbs and large clumps hold together. (You can us a food processor for this step.)
Scrape the dough into prepared pan and pat it into an even layer. Using a fork, prick the dough at 1-inch intervals. Bake for 30 to 35 minutes until golden brown around edges. Set pan on a wire rack and cool completely.
Set a fine-mesh sieve or colander over a medium bowl and set aside. In a medium-sized heavy, non-reactive saucepan, whisk together the eggs, yolks, and sugar until well blended. Stir in the citrus juices, orange zest, salt and butter and cook over medium heat, whisking constantly, until the mixture thickens, 7 to 8 minutes (do not let it boil or it will curdle). Immediately strain the mixture through the sieve, pressing it through with a rubber spatula.
Transfer ¼ cup of the curd to a medium bowl, cover and refrigerate. Scrape the remaining warm curd onto the cooled shortbread crust and spread it into an even layer. Place the pan in the fridge for 30 minutes, or until the curd is cool.
Preheat the oven to 350 degrees.
Whisk the sour cream, heavy cream, sugar and vanilla extract into the reserved 1/4 cup orange curd. Transfer ¼ cup of the topping to a small bowl and set aside. Scrape the remaining topping over the cooled orange curd layer and spread it evenly.
Add a small amount of orange food coloring to the reserved ¼ cup topping, just enough to turn it a pale orange. Scrape this mixture into a small sealable plastic bag and seal the bag. Snip a tiny hole in one of the bottom corners of the bag. Pipe the colored topping in a free-form filigree pattern over the bars.
Bake the bars for 10 minutes, just until the topping is set (inner filling will be very jiggly but that is ok – just make sure the topping is set). Place the pan on a wire rack and cool completely, then chill the bars for at least 2 hours (or up to a day).
Using a thin sharp knife, cut the bars into 16 squares, wiping the blade after each cut. Serve chilled.
Recommended Products
As an Amazon Associate and member of other affiliate programs, I earn from qualifying purchases.

Recipe Source: adapted from The Good Cookie
Disclaimer: I am a participant in the Amazon Services LLC Associates Program, an affiliate advertising program designed to provide a means for me to earn fees by linking to Amazon.com and affiliated sites. As an Amazon Associate I earn from qualifying purchases.