Summer Couscous Salad
This healthy, light and refreshing summer couscous salad will be the hit of your next BBQ, potluck or typical dinner night!
Please tell me the following scenario is not unique to me: You are at a potluck-type event and you eat something that rocks your food-loving world.
Because you arrived late to said potluck (ahem…) you didn't see who brought the out-of-this-world food that you ate and so you slyly (or not so slyly in my case) walk around quizzing everyone you know about if they brought the salad and if not, WHO DID FOR GOODNESS SAKE?
I take my food very seriously and have been known to stalk food-bringers at potlucks for no other reason than to force them to give me a recipe.
This couscous salad is one of those. Tasted at a potluck, I hunted and used my best detective skills to figure out that my friend Sarah (who also gave me the recipe for these divine nachos) brought the salad and I bugged her incessantly until she emailed me the recipe. (Seriously, people should run far, far away from the prospect of being my friend. I'm nuts.)
This salad is amazing. Absolutely amazing. So fresh and light, the couscous is enhanced with zesty lemon, fresh basil, summer-ripe tomatoes and a red wine vinaigrette that marries all the flavors together.
The pop of feta cheese in every bite doesn't hurt matters any either. I loved this upon first tasting and I love it still after having made it countless times.
Healthy, light and refreshing, I will admit here and now I will never bring this to a potluck…because I simply want it all to myself.
One Year Ago: Linguine with Bacon and Spinach
Two Years Ago: Red Coconut Curry Noodles
Three Years Ago: Deep, Dark Chocolate Brownies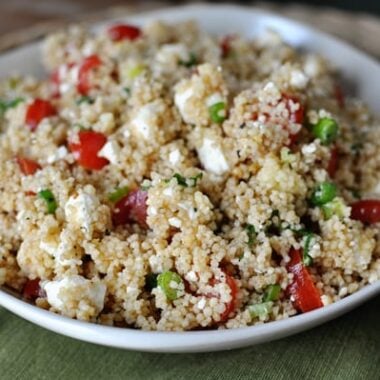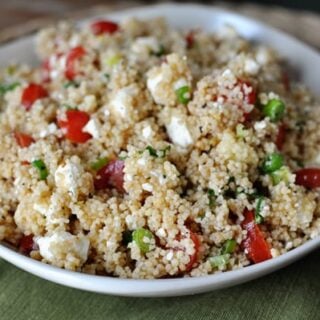 Ingredients
2 cups low-sodium chicken broth
1 1/2 cups whole wheat couscous, uncooked
1/4 cup extra virgin olive oil
1/3 cup red wine vinegar
1/4 teaspoon crushed red pepper flakes
1/2 teaspoon salt
1/2 teaspoon paprika
1/8 teaspoon black pepper
6 green onions, white and green parts chopped
1/3 cup thinly sliced fresh basil or 1 tablespoon dried basil
1 pint cherry tomatoes, halved
Zest of 1 lemon
1 cup reduced fat feta cheese
Instructions
In a medium saucepan, bring the broth to a boil. Stir in the couscous. Cover the pan, remove from the heat and let stand for five minutes. Transfer the couscous to a large bowl and fluff with a fork. Let the couscous cool to room temperature.
In a small bowl or liquid measuring cup, whisk together the olive oil, vinegar, red pepper, slat, paprika, and pepper. Set aside.
Add the chopped green onions, basil, tomatoes, lemon zest and feta cheese to the cooled couscous and toss. Pour the vinaigrette over the salad and stir or toss until combined. Serve chilled or at room temperature.
Recommended Products
As an Amazon Associate and member of other affiliate programs, I earn from qualifying purchases.
Recipe Source: adapted from my friend, Sarah H.
Disclaimer: I am a participant in the Amazon Services LLC Associates Program, an affiliate advertising program designed to provide a means for me to earn fees by linking to Amazon.com and affiliated sites. As an Amazon Associate I earn from qualifying purchases.