Tie-Dye Frosting for Cupcakes {a How-To}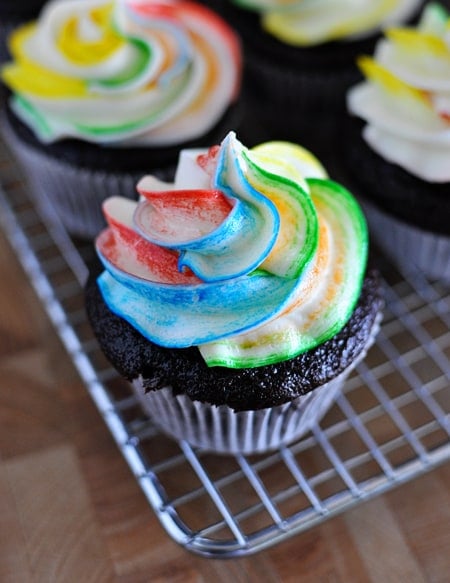 *Ok, sad as it may be, I realized after posting this morning that I already messed up, showing the wrong pictures for the frosted cupcake on the tutorial. Anyway, long story short, I've added a few things to the how-to tutorial below as well as uploading a short video on how to frost the cupcakes (both designs). Love ya!*
Let it be known that in my house, these last couple months have been referred to as "The Summer of the Tie-Dye." I'm not sure how it happened but we've decided to act like we live in the 80's and it's tie-dye crazy around here. Here's official evidence…
A few notes about the picture below:
1) My boys coordinate to wear their beloved, homemade tie-dyed shirts the same day (we're talking five days out of the week) and there are major tears when one of their shirts is in the dirty clothes and mom has to admit she hasn't done laundry since yesterday because she isn't a servant and she can't help that boys love.to.get.dirty.
2) Please ignore the bedheads. It's summer, people!
3) For the record, my boys tuck their shirts into their shorts on their own accord. They get their fashion sense from their dad, what can I say.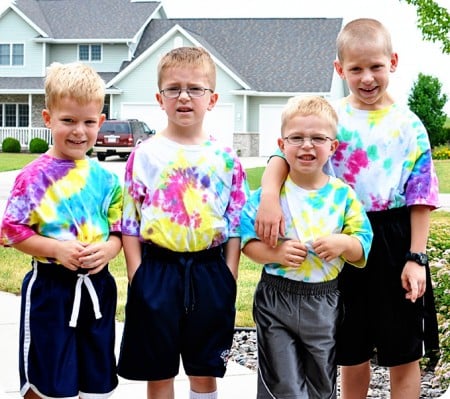 Since tie-dying is so "in" at our house, it wasn't a surprise that my third eldest requested tie-dyed cupcakes on his birthday in June. Hmmm, what's a mom to do with that request? FIND A WAY TO TIE-DYE FROSTING that's what! And this is the closest thing to it. Granted, it looks a bit more like striped frosting or rainbow frosting, but my boys fully believed I had tie-dyed frosting and nominated me for some kind of cupcake froster of the year award, so I'm calling this tie-dyed frosting. Call it what you want – it's cute, it's easy to do, and it will get rave reviews.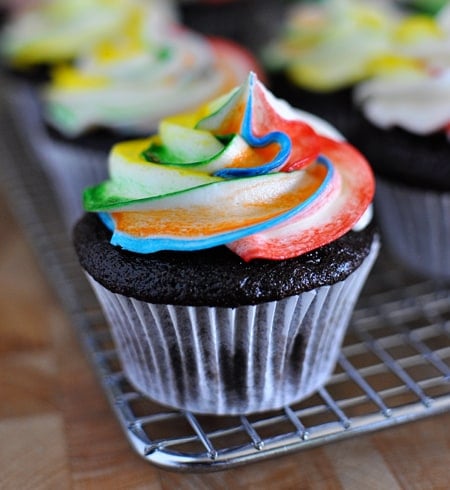 I used the chocolate cupcake from this recipe and stuck with my tried-and-true fantastic, simple buttercream. Other than that, it all boils down to the how-to, which I've documented below. And just a note, the way you see me filling the piping bag with frosting (using plastic wrap) is how I do it every time I frost anything (from cupcakes to cookies to cakes). It makes the cleanup so simple, you'll be finding things to pipe frosting on just to fill a piping bag this way. Um, ok, so that's probably just me…but trust me, it will revolutionize the way you frost.
Speaking of frosting the cupcakes, here's a short video showing a quick how-to on getting those beautiful swirls of frosting on top of the cupcake. Check out the step-by-step tutorial at the end of the post for the actual tie-dyed frosting info.

You can tailor the colors in this tutorial to anything that will suit your theme – you could even do stripes of one single color to make, say, a pink and white tie-dyed frosted cupcake for a baby shower or something like that. The options are endless. What would be REALLY cool would be to make the cupcake itself tie-dyed with different colors of cake batter. But obviously I wasn't on top of my game enough to plan for that. You should, though, and then you'll be way cooler than me. Happy tie-dying!