Gourmet Caramel Apples + Free Printable Handout
Get all the tips and tricks of the trade to easily make gourmet caramel apples right in your own kitchen, including a handout!
This one time (last Saturday), I did a cooking demonstration on how to easily make beautiful, gourmet caramel apples for a group of women holding their annual Super Saturday (a learning/crafting event at church).
It was great fun – both the making of caramel apples and the insane amount of laughing and chatting that occurred (no surprise I wanted to stay forever and plop myself down in a metal folding chair and talk about life and kids and caramel apples and new jeans forever and ever).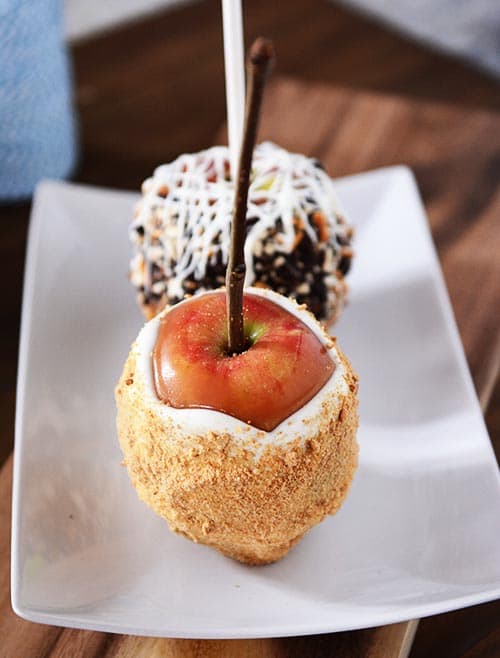 In preparation for this event, I made about a bazillion caramel apples in order to perfect my already mostly foolproof method I've used for several years.
I know technically the season for caramel apples is probably waning, but in the event that any of you want to tackle perfect, gourmet caramel apples, I'll share the same handout and tips I shared with the ladies last weekend since I probably won't do an official recipe post about these lovely apples this year.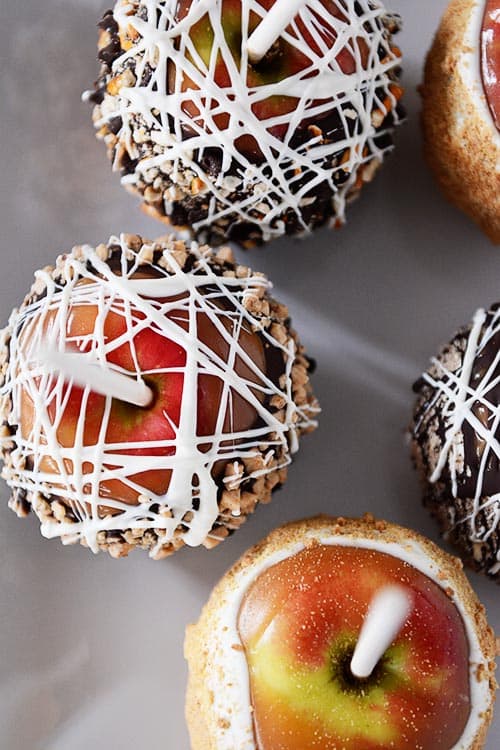 Most of the tips are right here in this nifty little handout (click the image to download the PDF).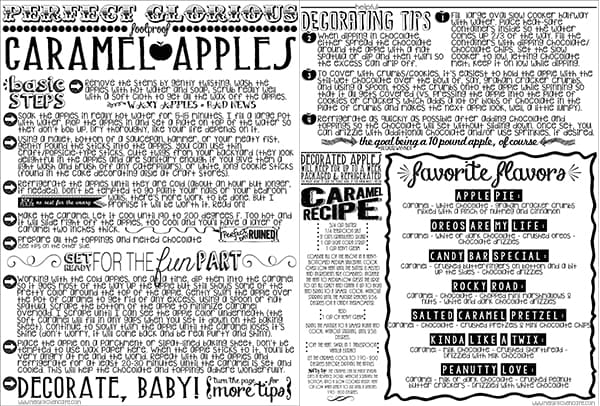 A few additional tippy tips:
1) Granny Smith apples are my very favorite for dipping in caramel. The sweet-tart combo is delightful. Honey Crisp come in a close second. A lot of other varieties are a bit too sweet for my liking after being loaded with caramel and chocolate and who knows what else but you really could use whatever your first preference is.
2) The reason for soaking the apple is twofold: it helps get rid of some of the pesky wax (and wax is no good for helping caramel stick) but it also helps release some of the gases in the apple so the caramel doesn't get annoying little air bubbles. If you've dipped a lot of caramel apples in your day, you'll know what I'm talking about. Dipping the apple slowly into the caramel also helps with the air bubble issue, too.
3) All those cute little drizzles? I used this magical tip that doesn't require loading the chocolate into bags and using any special tips.
4) One batch of caramel (recipe is in the handout) will dip about 12 average-sized apples. If you're working with this behemoth apples that weigh about 5 pounds apiece, plan on more caramel or less apples.
So pretend like it's still October and go make yourself look like a rock star with some crazy yummy gourmet caramel apples.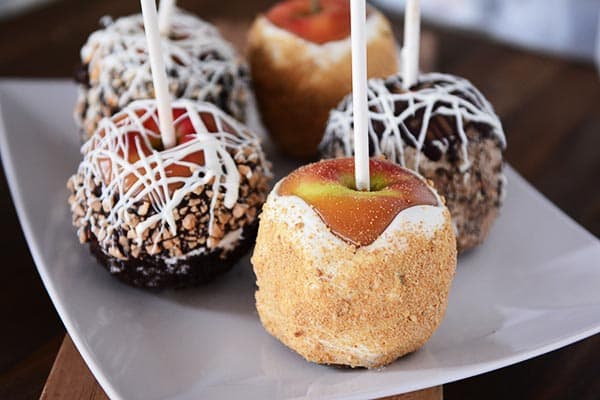 Disclaimer: I am a participant in the Amazon Services LLC Associates Program, an affiliate advertising program designed to provide a means for me to earn fees by linking to Amazon.com and affiliated sites. As an Amazon Associate I earn from qualifying purchases.