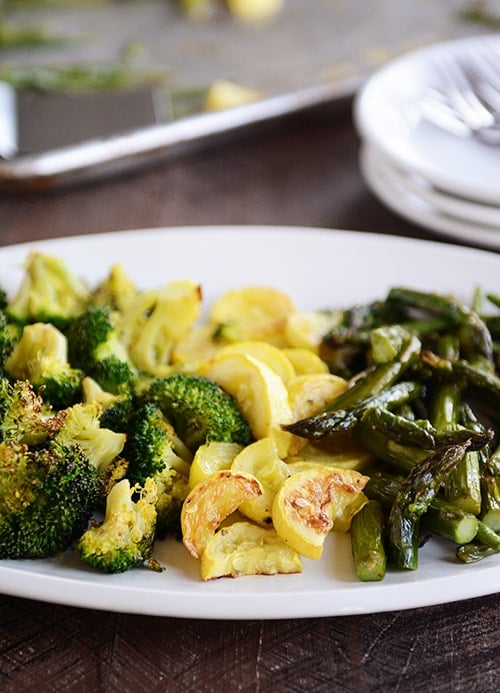 I don't know if you've ever noticed, but usually when I post a main dish recipe, I include a little What to Serve feature right above the recipe. It looks like this:


If you are like me, sometimes the idea of getting dinner on the table is daunting enough without trying to plan out all the details of what on earth to serve with it (and yes, we've been known to, at times, have a plate with spaghetti and that.is.it).
One of our most favorite side dishes is roasted vegetables. I refer to them a lot in the little What to Serve thing but haven't ever posted an official recipe (a very, very loose term for these babies). They are a simple, fast, perfect side dish solution + the leftovers refrigerate great so you can pull them out another night (hint: make extra). The sky's the limit with roasted vegetables! The most oft-roasted veggies in my kitchen are by far: broccoli, cauliflower, asparagus, green beans, and butternut squash.
My 7-year old announced last week at dinner that roasted broccoli was his favorite food and that it's the only thing he wanted for his birthday dinner. I finally talked him into homemade pizza, too, but I couldn't really blame him for his initial request. Roasted vegetables have a flavor all their own – even with just a touch of oil, salt and pepper. They are special and delicious and it's no exaggeration to say that especially in the fall and winter months, I'm roasting vegetables several times a week.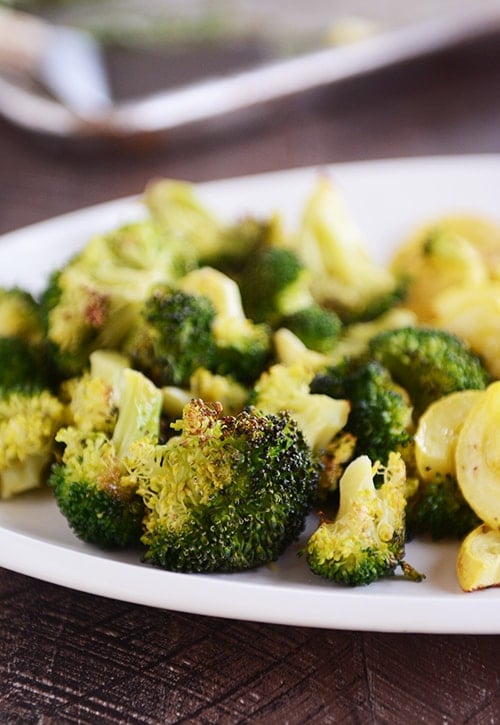 Here are a couple tips to ensure the best success with those veggies.
1) Go high. Low oven temperatures are not ideal. I always roast our every day vegetables at 425 degrees F. That's the sweet spot for my oven – gives perfect caramelly and golden spots without burning (and cooks those vegetables pretty darn quickly).
2) Coarse is best. This is a personal preference, but I've found the less spices and seasonings I throw on those vegetables the better. Sure, every now and then curry roasted cauliflower is amazing, but on my average Tuesday? Coarsely ground black and coarse kosher salt rules the day. I think using coarsely ground pepper and salt is key – it is more evenly distributed than the really finely ground pepper and salt and the veggies pop with flavor. Sometimes we get all crazy and throw a little freshly grated Parmesan on top when the veggies come out of the oven. Yum.
3) Stay single. Depending on the size and type of vegetable, they'll take up a different amount of room on the baking sheet; if you remember to keep them in a single layer, they'll be delicious every time. The can be close together but don't heap them on top of each other. They'll take longer to cook if that happens and will tend to steam more than they will roast. And it's the roasting we are after here.
4) Stir once. That's it. Those vegetables need time to sit on that hot pan to get the proper amount of yumminess infused into each bite. In most cases, I cook for 10-12 minutes. Stir once and cook for about 10 more minutes (the exact time depends on the vegetable and how tender you want them). One of the only times I'm going to encourage you to be an underachiever. Resist the temptation to over stir and then praise the fact you aren't having to babysit your side dish.
5) Same size forever. I'm not perfect at this because I'm usually hurrying and scrambling and giving up perfectionism on all levels, but if you can, try to cut the vegetables in about the same size pieces so they'll cook more evenly and you won't end up with some tender and some crunchy.
That's it! Start experimenting with roasted vegetables. I've include a general guideline below in recipe form but really, you can tailor this however you like with different vegetables, altering cooking times and seasonings, and on and on. Go crazy.
Perfect Roasted Vegetables
Dark, nonstick baking sheets will cook the vegetables more quickly so if you use that type of pan instead of a light colored aluminum pan, please watch closely and vary the time accordingly.
Make sure the vegetables are in an even layer - you don't want them on top of each other (a few tiny overlaps are fine but no double layering) or they won't roast properly.
The exact cooking time will depend on the type of vegetable and how large/small it is cut and also how tender you like them. Broccoli and cauliflower follow the cooking times below pretty closely in my oven - we like them on the crisp-tender side. I roast asparagus for slightly less time and butternut squash for slightly longer. Squash like zucchini and yellow squash roasted fairly quickly.
Ingredients
4-6 cups fresh vegetables, like broccoli, cauliflower, asparagus, butternut squash
1-2 tablespoons olive oil
Several pinches of coarse kosher salt and coarsely ground black pepper (if you are new to this, go light - you can always season more after they are done cooking)
Directions
Preheat the oven to 425 degrees F.
On a large, rimmed baking sheet (11X17-inches), drizzle the vegetables with the olive oil and toss with the salt and pepper.
Cook for 10 minutes. Stir or flip the vegetables and cook for about 10 minutes more. The exact time will depend on the type of vegetable and how large/small it is cut. Broccoli and cauliflower follow this rule pretty closely. I roast asparagus for slightly less time and butternut squash for slightly longer. Squash like zucchini and yellow squash roasted fairly quickly.
Season to taste with additional salt and pepper to taste, if needed. Serve immediately.
https://www.melskitchencafe.com/perfect-roasted-vegetables/
Printed from Mel\'s Kitchen Cafe (www.melskitchencafe.com)