White Chocolate Cherry Shortbread Cookies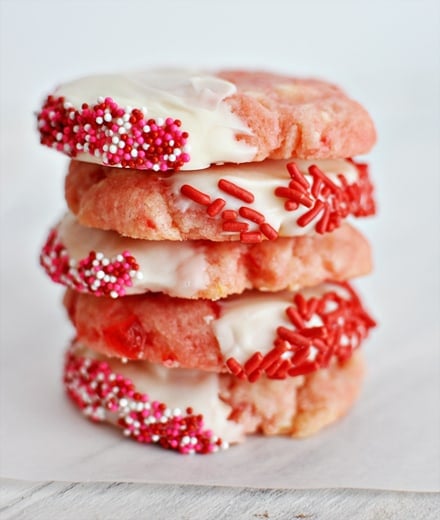 I'm not exactly sure how such things are determined but apparently, these cookies have been rated (by all-knowing entities like Pinterest and the general internet) as one of the top Christmas cookies of all time.
Hmmmm. That alone makes me skeptical.
In fact, so much so that I really didn't want to make them. I wanted to bypass them and turn up my nose at such apparent snobbery.
But I had already bought the maraschino cherries and they were taking up precious space on my very limited pantry shelves (thanks to a dollhouse-sized kitchen).
So I made them.
And to say they exceeded my expectations was an understatement. Best Christmas cookies ever? Well, that's a pretty bold statement, but I will say they are extremely refreshing and delicious.
The cherries and white chocolate pair beautifully in a buttery, shortbread cookie. Not only are they pretty, but they are really, really tasty and extremely simple to make.
Bring on the Christmas cookies, I say! This one is definitely a keeper.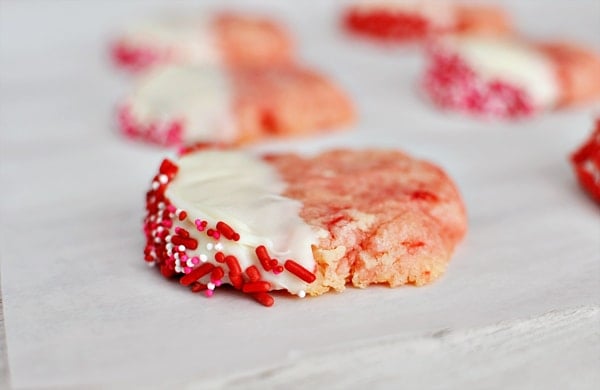 White Chocolate Cherry Shortbread Cookies
Yield: 3 dozen

Prep Time: 15 minutes

Cook Time: 12 minutes

Total Time: 27 minutes
Ingredients
1/2 cup maraschino cherries, drained and finely chopped (juice reserved)
2 1/2 cups all-purpose flour
1/2 cup granulated sugar
1 cup (2 sticks) cold butter
4 ounces white baking chocolate, finely chopped (about 2/3 cup)
1/2 teaspoon almond extract
White candy coating or additional white baking chocolate for dipping
Sprinkles for decorating, optional
Instructions
Preheat the oven to 325 degrees F. Spread the chopped cherries on paper towels to drain well. Don't forget to reserve the juice!
In a large bowl, combine the flour and sugar. Using a pastry blender or two knives, cut in the butter until the mixture resembles fine crumbs. Stir in the drained cherries and chopped white chocolate. Stir in the almond extract and enough reserved juice to form a smooth ball. Gradually add a tablespoon of the juice at a time and mix with your hands until the dough comes together.
Shape the dough into 1- or 2-inch balls. Place the balls about 2 inches apart on cookie sheet lined with parchment paper or a silpat liner. Using the bottom of a drinking glass dipped in sugar, flatten the balls to about 1/4 to 1/2-inch thick.
Bake for 10 to 12 minutes until the centers are set. Cool for a minute or two on the baking sheet and then transfer to a wire rack to cool completely. If desired, dip the cookies in melted white chocolate (or white candy coating) and before they set roll the edges in sprinkles. Let the chocolate set before stacking or serving. The cookies can be made, dipped (if desired) then covered and refrigerated for up to 3 days.
Recommended Products
As an Amazon Associate and member of other affiliate programs, I earn from qualifying purchases.

Recipe Source: adapted from Better Homes and Gardens