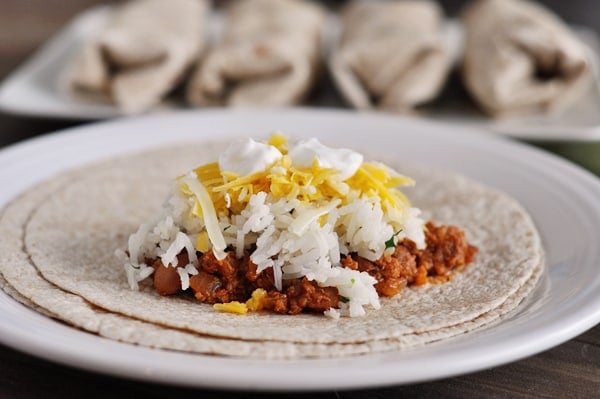 I kind of feel like I've been holding out on you guys. These amazing burritos have been gracing our freezer (and filling our tummies) for months now and I'm sorry that I'm just now getting around to sharing them with you. I've made them dozens of times in the last few months and along with these fabulous bean burritos, they've been our staple on hectic dinner nights or when Brian needs to grab a quick lunch for work or when the kids and I are sick of eating PB&J at noon. That's the beauty of having them in the freezer just waiting to be warmed up for our eating pleasure.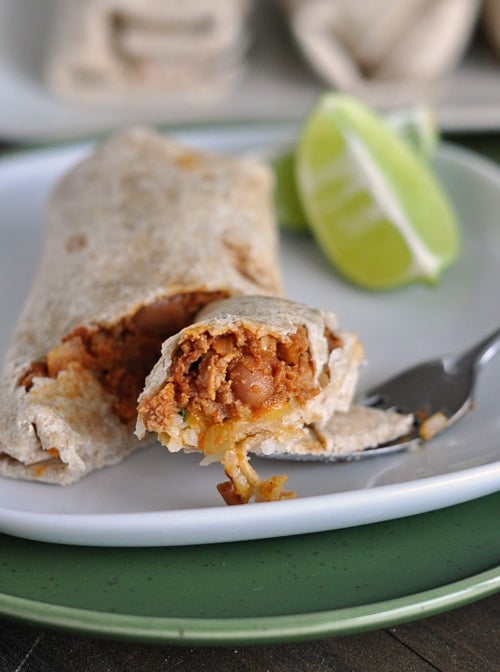 The thing is, they aren't just a burrito. Well, I mean, they are a burrito, but they aren't your average, every day burrito. The flavor in these wrapped beauties is fantastic. You get the traditional smoky flavor from the cumin and chili but a bit of unexpected freshness from the lime juice. There are some mashed beans, whole beans, rice and cheese right there along with the meat, and the entire burrito, in my humble opinion, is screaming burrito perfection.
We were overjoyed with the deliciousness of these burritos the first time we had them. And I can happily report that we still haven't gotten sick of them months later. In fact, it's always a bit funny to me when Brian eats one for lunch or whenever and he's oohing and aahing over the flavor and I'm looking at him quizzically, saying, "you know these are the same burritos you've been eating for weeks now" and he's like, "Yeah, but man, they are so good." Glad he likes them since they'll be stocking our freezer for the forseeable future. Make some why don't you!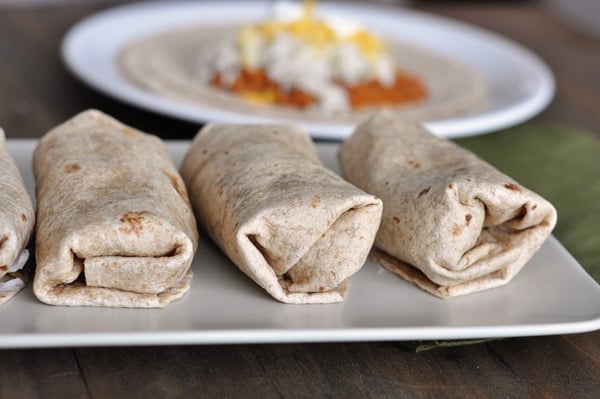 One Year Ago: Peach-Orange Smoothie
Two Years Ago: Chocolate-Mint Chip Ice Cream Sandwiches
Three Years Ago: Cheesesteak Subs – Quick and Tasty!
Freezer Beef and Bean Burritos
You could most definitely substitute brown rice for the white but you'll need to increase the liquid according to the package directions and cook for much longer (around 40-45 minutes).
Ingredients
1 1/2 cups low-sodium chicken broth
3/4 cup long grain white rice
1 garlic clove, minced
1/2 teaspoon salt
1/4 cup minced fresh cilantro
1/2 cup low-sodium chicken broth
1 (15-ounce) can pinto beans, rinsed and drained
1/2 tablespoon vegetable oil
1/2 cup finely chopped onion
3 tablespoons tomato paste
3 garlic cloves, finely minced
1/2 tablespoon ground cumin
1 teaspoon dried oregano
1 teaspoon chili powder
12 ounces extra lean ground beef or lean ground turkey
1 tablespoon fresh lime juice
3/4 teaspoon salt
6-8 (10-inch) flour tortillas, white or wheat
5 ounces shredded sharp cheddar cheese (about 1 cup)
5 ounces shredded Monterey Jack cheese (about 1 cup)
6 tablespoons sour cream, light or regular
Directions
For the rice, bring the broth, rice, garlic, and salt to a boil in a medium saucepan over medium-high heat. Reduce the heat to low, cover and cook until the rice is tender and most of the liquid is absorbed, about 16-18 minutes. Remove the rice from the heat, keeping it covered, and let it sit while you prepare the rest of the ingredients. When ready to use, add the cilantro and fluff with a fork.
For the filling, combine the broth and half of the beans in a small bowl and mash with a fork until the beans are coarsely mashed with the broth (reserve the whole beans for later). In a large, 12-inch nonstick skillet, heat the vegetable oil until hot and rippling. Add the onion and cook for 3-4 minutes, stirring often. Stir in the tomato paste, garlic, cumin, oregano and chili powder and cook for 1-2 minutes. Add the ground meat and cook until no longer pink, about 8-10 minutes, breaking the meat into small pieces while cooking. Drain any excess grease if needed.
Stir the mashed bean mixture into the meat mixture and cook for 3-4 minutes until the mixture is thick and most of the liquid has evaporated. Stir in the rest of the whole beans, lime juice and salt. Remove from heat. If serving immediately, follow the instructions in the next paragraph. If freezing for later, let the beef and bean mixture and the rice cool to warm room temperature before proceeding.
Wrap the tortillas in between damp paper towels and microwave until the tortillas are soft, about 1 minute. Arrange the tortillas on the counter and divide the rice, beef and bean filling and cheese evenly among the tortillas. Dollop each tortilla with a tablespoon (more or less) of sour cream. Fold the sides of the tortilla toward each other over the filling while lifting the bottom edge over, rolling into a burrito shape. Serve immediately (if desired).
For freezer burritos, wrap each burrito in plastic wrap. Place burritos in a gallon-sized freezer ziploc bag. To reheat, unwrap the burrito from the plastic wrap and place on a microwave-safe plate. Microwave for 1-2 minutes. Poke the burrito with the tines of a fork all over and continue microwaving in 30-second increments until heated through.
http://www.melskitchencafe.com/2013/08/freezer-beef-and-bean-burritos.html
Printed from Mel's Kitchen Cafe (www.melskitchencafe.com)
Recipe Source: adapted from

Cook's Country

April/May 2013