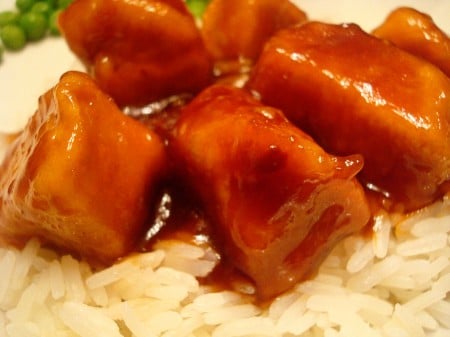 I hope everyone had a fabulous Thanksgiving. We were hosted at a friends' house and it was a lovely evening, although I ate way too much (I'm sure I'm not the only one!).
Here is a tremendously easy and quick weeknight meal that is so delicious, you won't believe it takes less than 30 minutes to throw together. We are big fans of chicken over rice (in all its forms) at our house and this dish is seriously fantastic. I think it might even come close to my husband's all-time favorite sweet and sour chicken. There is no bourbon in the recipe so no fear if you are worried about that. Regardless of the name, the end result will not disappoint – perfectly sweet with a tiny kick.
Ingredients
2lb boneless skinless chicken breasts
4 tablespoons oil (for pan-frying)
cornstarch (for dusting, optional)
1 garlic clove (minced)
¼ teaspoon ginger (I used ground ginger)
1/2 teaspoon crushed red pepper flakes
¼ cup apple juice
1/3 cup light brown sugar
2 tablespoon ketchup
1 tablespoon cider vinegar
½ cup water
1/3 cup soy sauce
Directions
Cut chicken breasts into bite-sized pieces, and if you choose lightly dust with cornstarch. Heat oil in your wok and fry chicken bits in batches until lightly browned. Drain on paper towels and set aside.
In a bowl combine all sauce ingredients. Pour into wok and bring to a boil. Add chicken bits back to the pan, reduce the heat and simmer for 10 minutes.
http://www.melskitchencafe.com/bourbon-chicken/
Printed from Mel's Kitchen Cafe (www.melskitchencafe.com)
Recipe Source: adapted from Blog Chef