Foolproof Cream Puffs
This easy recipe for foolproof cream puffs is straightforward and lifechanging! Homemade cream puffs have never been easier!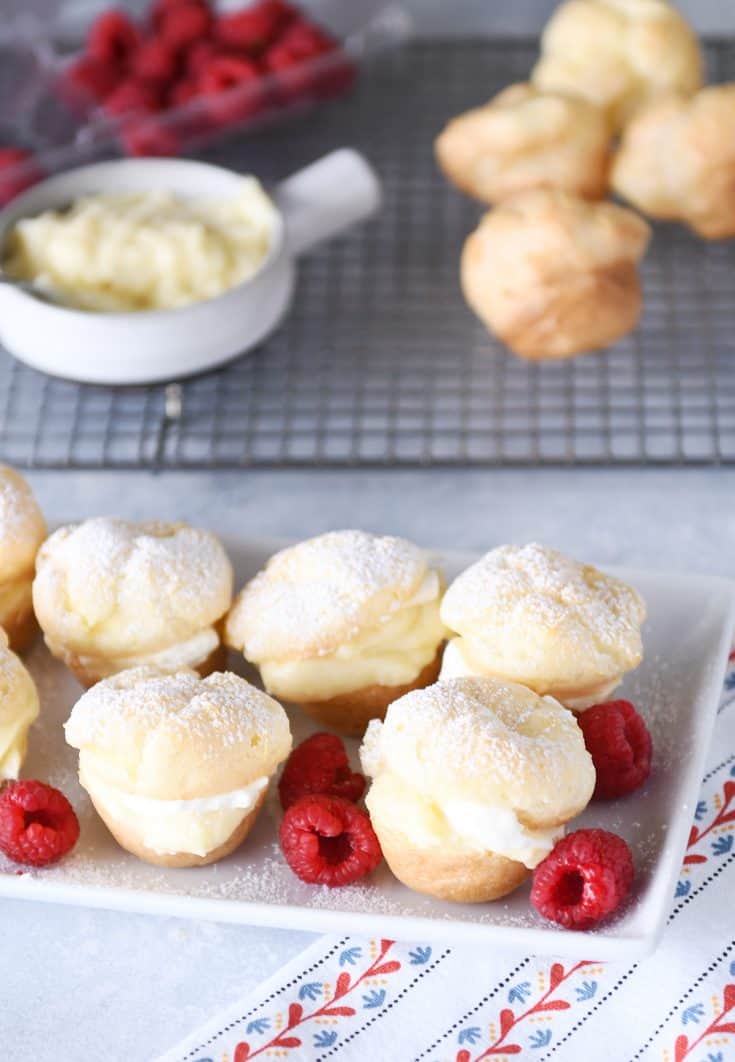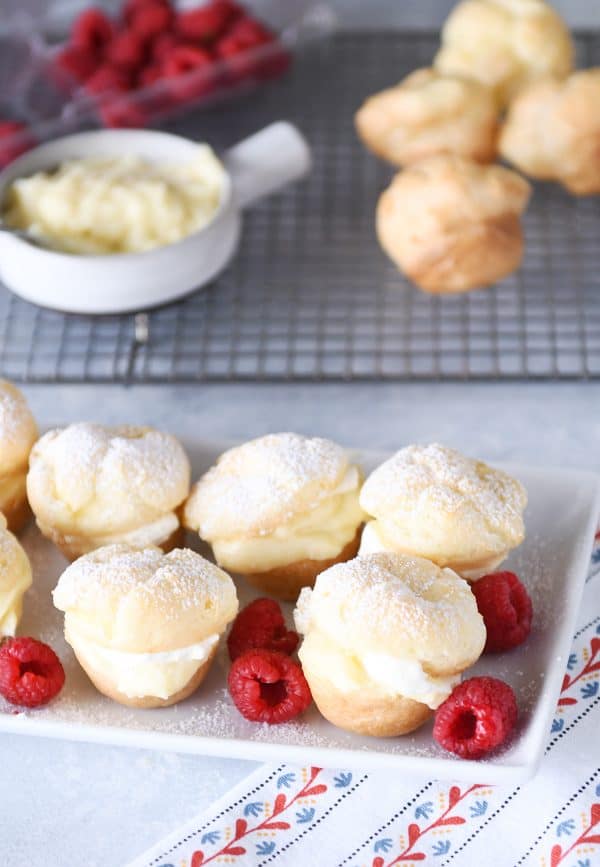 If cream puffs have ever seemed intimidating and out of reach to make at home, let today change your mind! I promise this foolproof cream puffs recipe will make you feel like a rock star in the kitchen – and in no time (cream puffs are pretty darn fast to make!).
There's a how-to video below to make making them even easier, plus, I'm sharing a couple tricks that will make them turn out every single time!
The great thing about cream puffs is that their craggy tops mean you don't have to fight for perfection. Rustic is good. Very, very good.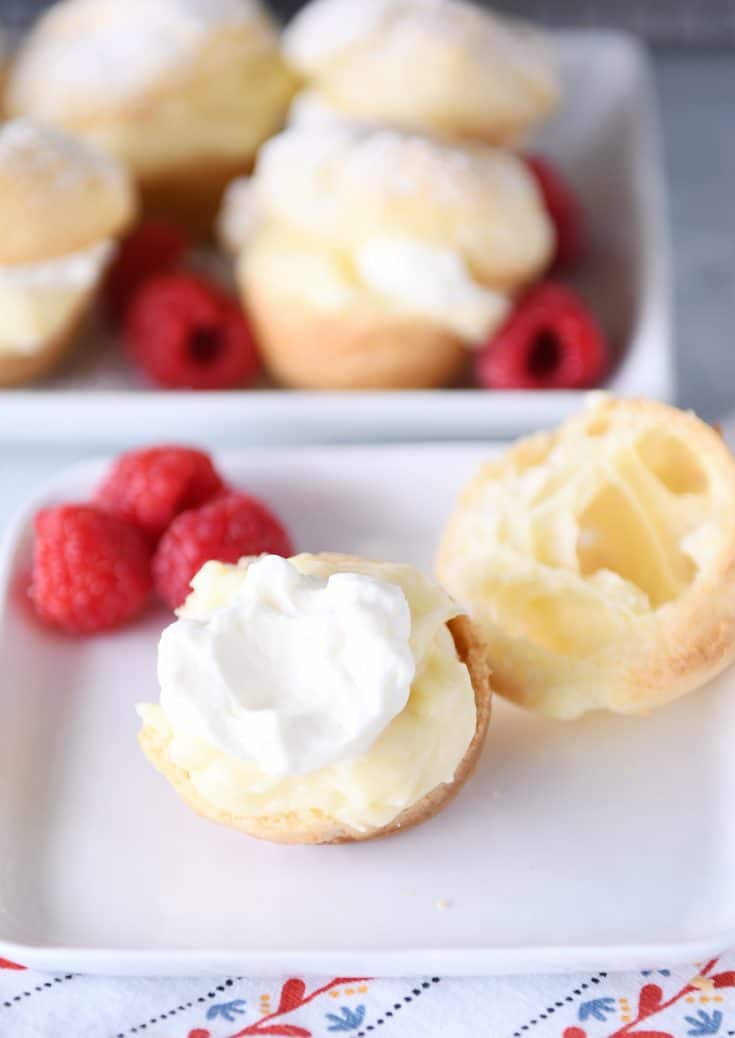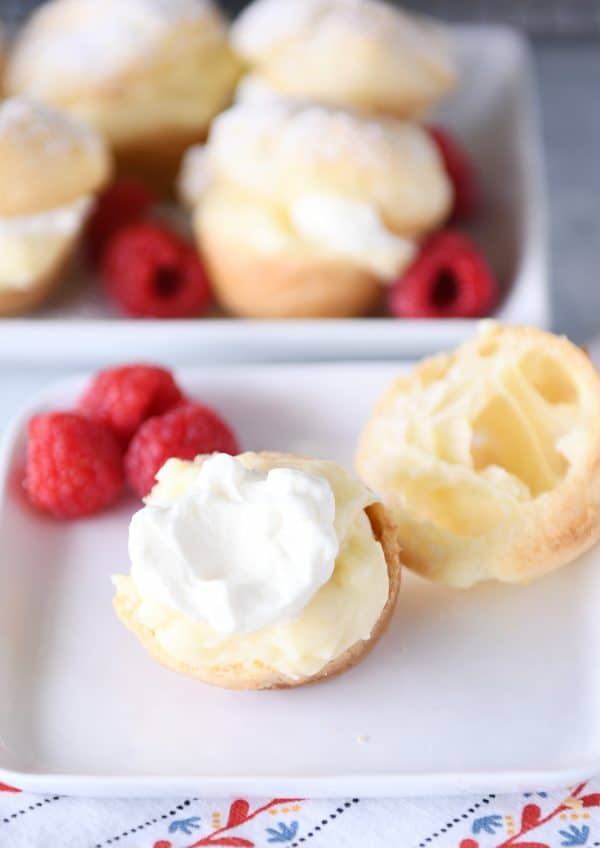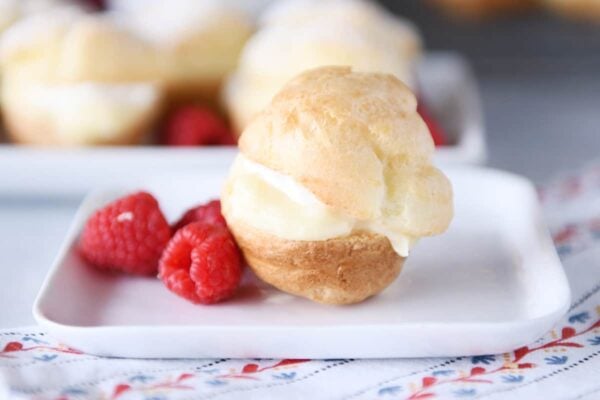 Two Secrets for the Best Cream Puffs
1) Use a mini muffin tin or regular muffin tin to bake the cream puffs! This ensures the cream puffs will rise up (instead of flattening) and they will hold their shape beautifully! Also, scooping the sticky batter in with a cookie scoop is lifechangingly easy (my favorite cookie scoops here – aff. link).
2) Immediately out of the oven, pierce each cream puff with a thin wooden skewer or small paring knife to let the steam escape while they cool. This is KEY to making sure those cute little puffs don't collapse!

These tender tiny pastries are so amazingly delicious – what with the super charged layers of luscious homemade vanilla cream filling topped with sweetened whipped cream and all.
And like I mentioned above, it's ok if they look like a miniature art form. Do some of mine look a little spiky and modern art-ish on top? Perhaps. But I can promise you this: no one is going to remember the architecture on the top of the shell after inhaling the ethereal goodness of these mini cream puffs.
(Also, pro tip: dipping your finger in cold water and smoothing out the top of each cream puff before they bake will help minimize the dangerous spikes.)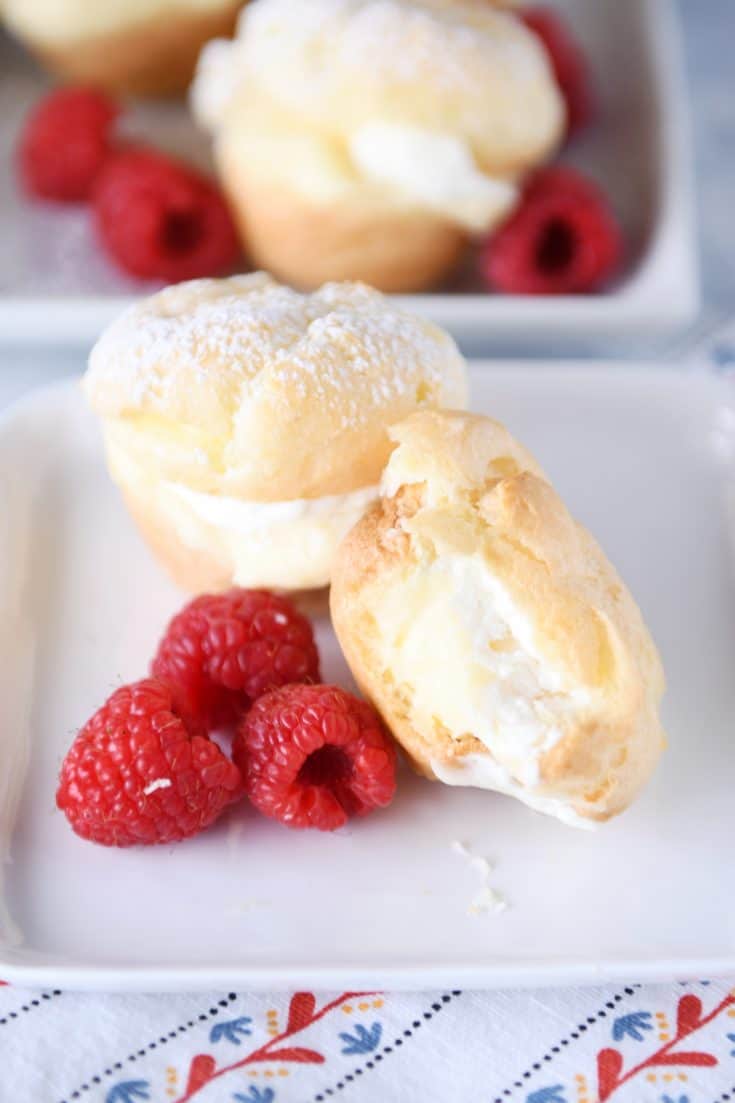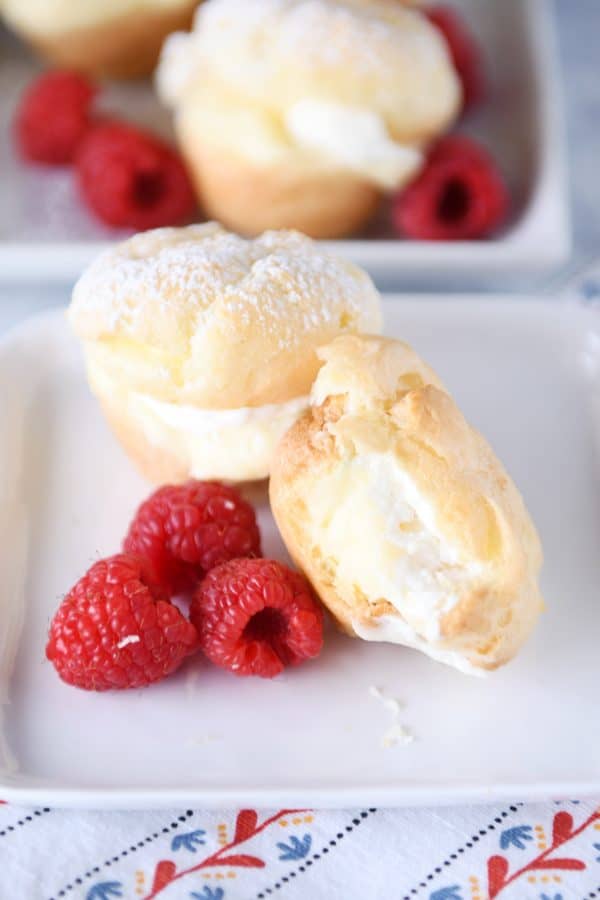 Watch the How-To Video Here!

You can see other Bake with Mel videos here on Instagram Live or over on this page.
One Year Ago: Spinach Strawberry Salad with Homemade Creamy Poppy Seed Dressing
Two Years Ago: Easter Dinner Make-a-Menu
Three Years Ago: Red Brie Pasta Sauce
Amazing and Foolproof Cream Puffs
Yield: 48 mini or 24 regular cream puffs

Prep Time: 30 minutes

Cook Time: 25 minutes

Total Time: 55 minutes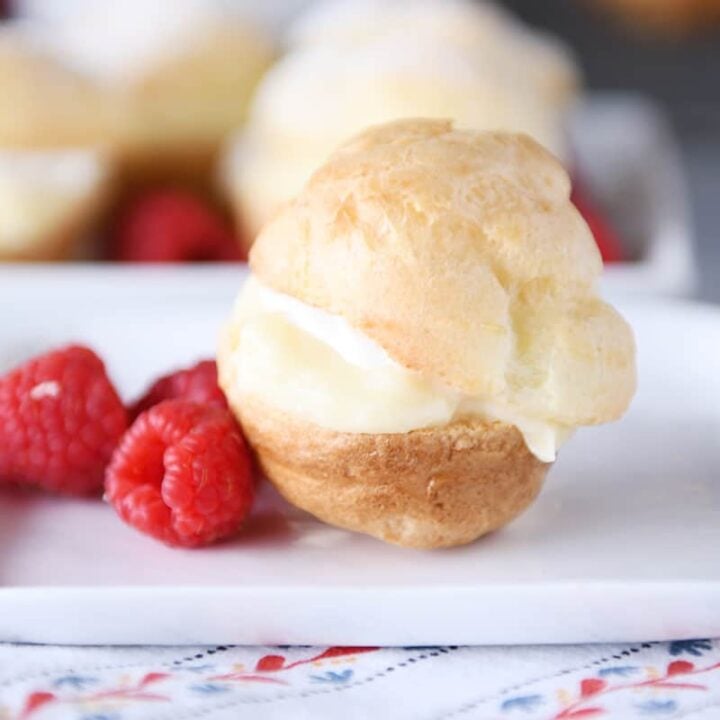 Ingredients
Cream Puff Shells:
1 cup water
1/2 cup (8 tablespoons, 1 stick) butter
1 cup (5 ounces) all-purpose flour
4 large eggs
Vanilla Cream Filling:
2 cups milk (I use 2%)
1/4 cup powdered sugar
2 large egg yolks
1 large egg
1/4 cup cornstarch
1/3 cup powdered sugar
2 tablespoons butter
1 teaspoon vanilla extract
Sweetened Whipped Cream:
2 cups heavy whipping cream
2 tablespoons powdered sugar
1/4 teaspoon vanilla extract
Powdered sugar for sprinkling
Instructions
Place an oven rack in the lower-middle position. Preheat the oven to 400 degrees F (decrease by 25 or 50 degrees if using a dark coated pan). Lightly grease a 24-cup mini muffin tin or a 12-cup regular muffin tin (you'll bake in two batches).
In a medium saucepan, bring the water and butter to a simmer over medium heat. Reduce the heat to medium-low and add the flour, stirring with a wooden spoon or spatula until the mixture forms a ball.
Scrape the warm mixture into a mixing bowl (or into the bowl of an electric stand mixer) and beat with a handheld electric mixer until the dough has cooled slightly, 1-2 minutes. Add the eggs, one at a time, beating constantly, until the mixture is thick and smooth.
Scoop a heaping 1/2 tablespoon into each mini muffin tin (about 1/2 full) or a couple tablespoons into a regular muffin tin (again, about 1/2 full). A cookie scoop works great for this.
Once the mini muffin cups are filled, wet your fingers with cold water and dab them on the top of the mounded dough to smooth out any rough spots and even out the dough (this will help them bake into a pretty rounded top).
Bake for about 15-20 minutes for mini cream puffs and 25 minutes for regular cream puffs until the tops of the shells are lightly golden and they are baked all the way through (if there is any doughy moisture inside the shells add a few minutes so they don't collapse).
Remove the pan from the oven and working quickly, use a thin wooden skewer to pierce the side of each cream puff; doing this will allow any steam to escape. I try to poke the cream puff shell right in the middle where I'll be splitting it anyway to add the cream. Remove them from the tin and let them cool completely on a wire rack.
Repeat the filling and baking process with the remaining dough.
For the vanilla cream filling, in a medium saucepan, bring the milk and 1/4 cup powdered sugar to a simmer. Meanwhile, in a medium bowl, whisk together the egg yolks, egg, cornstarch and 1/3 cup powdered sugar. Slowly ladle or drizzle in the hot milk mixture to the bowl while whisking constantly (this tempers the eggs so they don't curdle and cook into hard bits). Return the mixture to the saucepan and cook over medium heat, stirring and/or whisking constantly, until the mixture bubbles and thickens.
Remove from the heat and stir in the butter and vanilla.
Pour the mixture through a fine mesh strainer (this part is optional but can help remove any lumps) into a clean bowl. Press plastic wrap directly on the top and refrigerate until cold. The vanilla cream filling can be made up to a week in advance.
For the sweetened whipped cream, whip the heavy cream with the powdered sugar and vanilla to stiff peaks (I like to use my Blendtec for whipping cream; super simple and takes just a minute or two).
Split each cooled cream puff shell in half right at the seam where the puffy top meets the smooth bottom. Spoon vanilla cream into the bottom of each shell and top with a dollop of sweetened whipped cream and place the top back on. Lightly dust all the cream puffs with powdered sugar.
The cream puffs can be fully assembled up to a day in advance (they actually taste better if assembled ahead of time). I store them uncovered in the refrigerator up to a day before serving.
Notes
Recipe: Sally gives a lot of good information in her original cream puff post. I adapted her recipe to make mini cream puffs but follow a lot of her advice.

Make Ahead: the cream puff shells can be made in advance (baked, cooled and lightly covered - not airtight or they'll get soggy - up to a day or so in advance), the cream puffs can be entirely assembled and filled with cream and dusted with sugar up to a day in advance and actually taste better filled ahead of time. Store them uncovered in the refrigerator.
Recommended Products
As an Amazon Associate and member of other affiliate programs, I earn from qualifying purchases.

Recipe Source: cream puffs adapted from Sally's tried-and-true recipe, which is very similar to this recipe I posted years ago, except made them into mini size, vanilla cream adapted slightly from allrecipes (used powdered sugar for a smoother, silkier pastry cream)
Recipe originally published March 2015; updated with new photos, commentary, video and recipe notes.
Disclaimer: I am a participant in the Amazon Services LLC Associates Program, an affiliate advertising program designed to provide a means for me to earn fees by linking to Amazon.com and affiliated sites. As an Amazon Associate I earn from qualifying purchases.
Disclaimer: I am a participant in the Amazon Services LLC Associates Program, an affiliate advertising program designed to provide a means for me to earn fees by linking to Amazon.com and affiliated sites. As an Amazon Associate I earn from qualifying purchases.