Simple as can be, this peach variation of the brown betty is phenomenal. The buttered bread crumbs and sweet peaches culminate in a perfect summer dessert.
If you are looking at the title of this recipe wondering what on earth a brown betty is, don't worry, I promise it is edible!
More than edible, actually, it is downright delicious. According to more knowledgeable sources than I, a brown betty is simply fruit (sometimes in pudding form) topped with buttered bread crumbs and baked to golden perfection.
Although it is ofttimes described as being similar to a cobbler or bread pudding, I found it to be similar also to a fruit crisp.
Simple as simple can be, this peach variation of the brown betty was phenomenal.
The aforementioned buttered bread crumbs combined with the caramelized, sweet peaches culminated in a perfect summer dessert, especially with this ice cream on the side.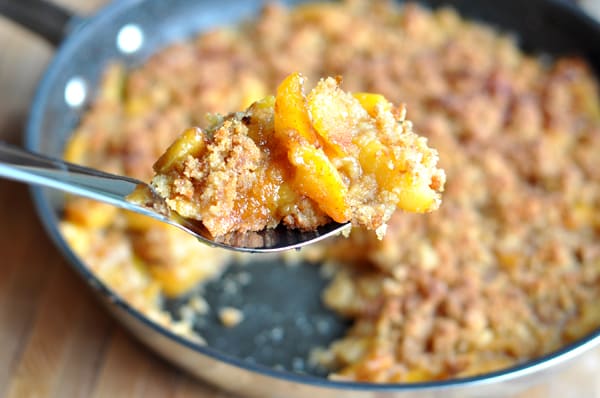 Yield: 6 servings

Prep Time: 10 minutes

Cook Time: 30 minutes

Total Time: 40 minutes
Ingredients
Topping:
4 slices thick and hearty bread, white or whole wheat (I used whole wheat and it added a fantastic heartiness)
5 tablespoons cold butter, cut into 1/2-inch pieces
1 tablespoon granulated sugar
1/4 teaspoon ground cinnamon
Peach Filling:
2 tablespoons butter
3 1/2 pounds peaches, peeled, pitted, and cut into 1/2-inch wedges (you can substitute 3 pounds of frozen peaches that have been thawed and drained)
1/3 cup granulated sugar
1/3 cup packed light brown sugar
1 tablespoon lemon juice
1 teaspoon vanilla extract
1/8 teaspoon salt
Instructions
Preheat the oven to 400 degrees and make sure an oven rack is in the middle position. In a food processor, pulse the bread and butter until it is coarsely ground. Set aside. Combine the sugar and cinnamon together in a small bowl.
In a large nonstick ovensafe skillet over medium heat, melt the butter and add the peaches, cooking them until they begin to caramelize, 8 to 12 minutes. I didn't see massive signs of caramelizing but cooked them for about 11-ish minutes until they were starting to soften up and become juicy and tender. Take the skillet off the heat and stir in 1 cup of the bread/butter crumb mixture, the sugars, lemon juice, vanilla and salt.
Top the peach mixture with the remaining bread crumbs and sprinkle with the cinnamon and sugar mixture. Bake in the preheated oven until the topping is golden brown and the juices are bubbling, about 20 minutes. Cool for 10 minutes. Serve warm with vanilla ice cream.
Notes
Baking Dish: if you don't have an oven safe skillet, you can transfer the peach filling to a 2-quart baking dish (probably an 8X8 or 9X9 size) after you have stirred in the bread crumbs, sugars, lemon juice, etc. Continue with the recipe as directed.
Recommended Products
As an Amazon Associate and member of other affiliate programs, I earn from qualifying purchases.

Recipe Source: adapted slightly from Cook's Country June/July 2010