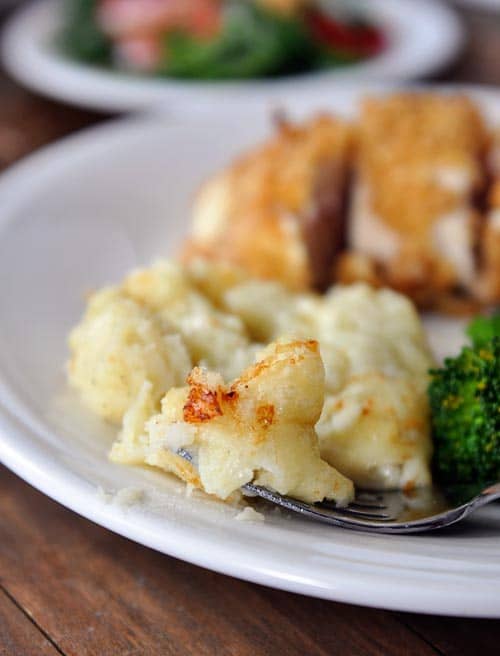 Light, golden, cheesy and tender, these potatoes are unusual in the making but absolutely delicious in the eating.
With only three ingredients (ok, five, if you count the salt and pepper), these potatoes really are a refreshing change from gloppy, soupy, greasy potato dishes. I loved the simplicity of these taters and they paired perfectly with the Chicken Cordon Bleu.
The sturdy tendernessness of the Yukon gold potatoes held up wonderfully to the cream and cheese.
These potatoes were the perfect compliment to the meal but didn't overtake the show (because that chicken needed to be the star, trust me!) and they will definitely be made over and over around these potato-lovin' parts.
(Update 3/14: After making these potatoes for four years now, I can honestly say they are one of my favorite ways to eat potatoes – because they are a bit more indulgent than a regular mash, I only make them once or twice a year and honestly look forward to it for months.)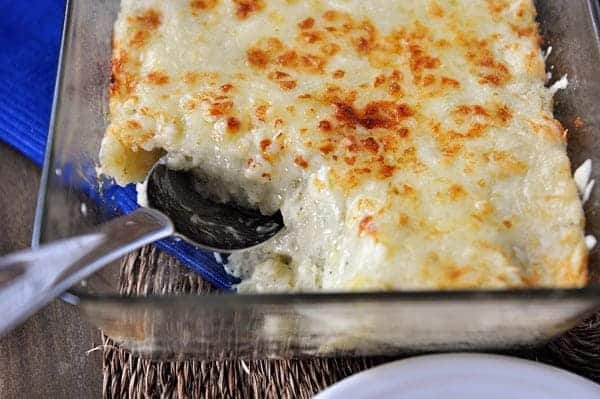 Ingredients
3 pounds Yukon Gold potatoes, peeled and cut into 2-inch cubes
1 teaspoon salt
1/2 teaspoon pepper
1 1/4 cups heavy cream, chilled
3/4 cup shredded Swiss cheese
3/4 cup shredded Parmesan cheese
Directions
Place the potatoes in a large microwave-safe bowl and cover tightly with plastic wrap. Microwave the potatoes on high for 8 to 12 minutes, giving the bowl a shake halfway through, and cooking until the potatoes are tender. Mash the potatoes well with a potato masher (or you can use a potato ricer set over a second large bowl). Cover the potatoes again with plastic wrap and microwave the mashed potatoes until they are heated through, 3 minutes. Season with the salt and pepper and stir well.
In a large bowl, beat the chilled cream with an electric mixer until stiff peaks form, about 2 minutes. Gently fold 2/3 of the whipped cream into the potatoes with a rubber spatula until the cream is mostly absorbed. Lightly grease a 2-quart baking dish. Carefully spoon the potatoes into the baking dish. They don't have to be evenly flat on top – you want to take care not to deflate this potato layer. They will look slightly uneven. With a rubber spatula, fold all but 1/4 cup cheese into the remaining cream. Spread the cheese/cream mixture over the potatoes and sprinkle with the remaining cheese.
At this point you can either cover the potatoes and refrigerate until baking (I made these the morning before I wanted to serve them). When ready to bake, preheat the oven to 400 degrees and bake the potatoes, uncovered, for 20 minutes, until the potatoes are hot and the top is golden brown. If you are making the potatoes to eat immediately, preheat the broiler and broil the potatoes until the top is golden, 2 to 3 minutes (don't let them burn!). Let rest for about 5 minutes before serving.
https://www.melskitchencafe.com/chantilly-potatoes/
Printed from Mel\'s Kitchen Cafe (www.melskitchencafe.com)
Recipe Source:
adapted from Cook's Country April/May 2010