Chicken Cordon Bleu
Everyone needs a great, easy chicken cordon bleu recipe like this one. The chicken is juicy, and the bread crumb is delicious.
I've always struggled in the past to make chicken cordon bleu turn out edible-looking.
I flatten my chicken breasts (usually too much so that there are holes and it is paper thin), layer the cheese and ham inside and then I begin the process that makes me want to pull my hair out.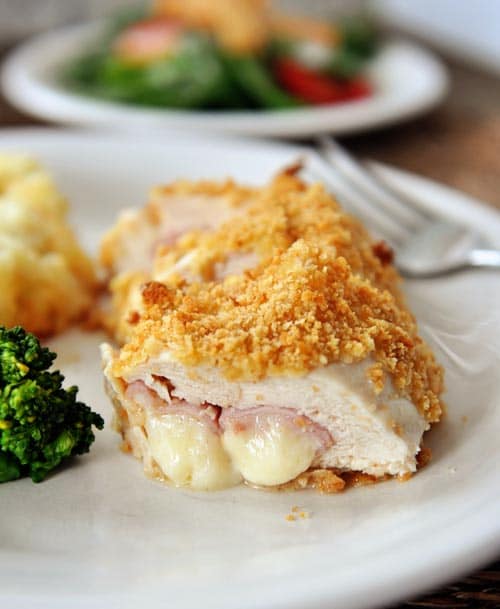 With icky chicken covered fingers, where some people can finish with a neat little bunchle, my chicken cordon blue's are lumpy and punctured with 23 toothpicks to keep everything together. Not some of my finest cooking moments.
Thankfully Cook's Country came out with a clever version of how to stuff this classic dish and it peaked my interest.
The shredded swiss cheese is rolled up in ham slices and then gently tucked inside a pocket cut into the chicken.
The chicken is crusted in buttery bread crumbs and crackers and baked perfectly.
For once – my cheese didn't erupt into a volcanic mess on the baking sheet. It stayed put just where it needed to be – inside the chicken and the result was perfection. I can honestly say can honestly say it is the only way I make classic chicken cordon bleu. I just love this dish so, so much. So traditional; so delicious. The chicken is tender and juicy, the crunchy bread crumb crust is delicious and the ham and Swiss are just epically cordon bleu.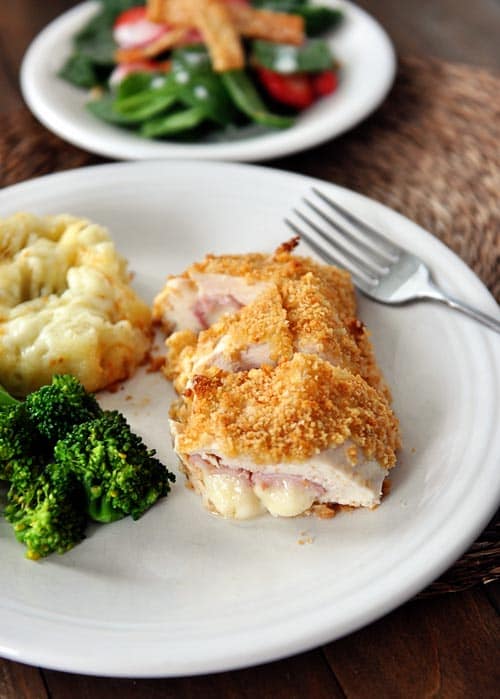 Two Years Ago: Unbelievable Carrot Cake
Recipe Source: slightly adapted from Cook's Country April/May 2010
To stuff the cordon bleu, start with your thick chicken breast and have a sharp knife handy.

Cut into the thickest part of the chicken breast to make a deep pocket. Be careful not to cut to far over to the edge that needs to stay intact. The opening of the pocket should be three to four inches.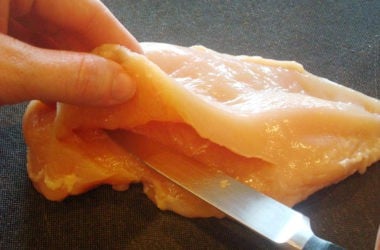 Place two of the ham and cheese rolls gently inside of the pocket.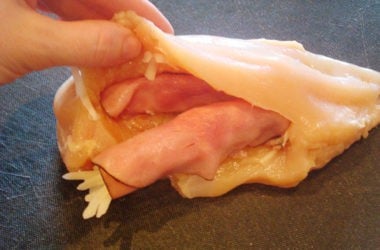 Make sure the rolls are completely inside of the chicken.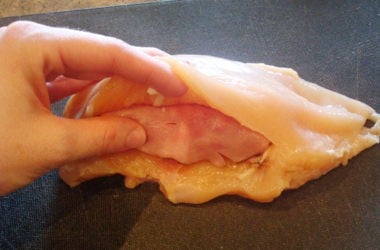 Fold the top flap of the chicken over the ham and cheese rolls and press to seal (or use a toothpick to help things along). Now bread and bake according to the recipe directions!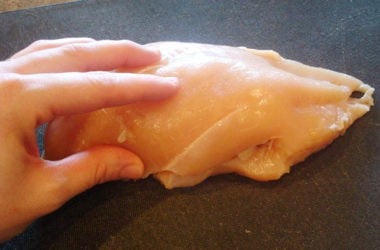 Disclaimer: I am a participant in the Amazon Services LLC Associates Program, an affiliate advertising program designed to provide a means for me to earn fees by linking to Amazon.com and affiliated sites. As an Amazon Associate I earn from qualifying purchases.