Cheddar and Herb Biscuits
Light and tender, cheesy and buttery, these cheddar and herb drop biscuits are a breeze to make and nearly melt in your mouth.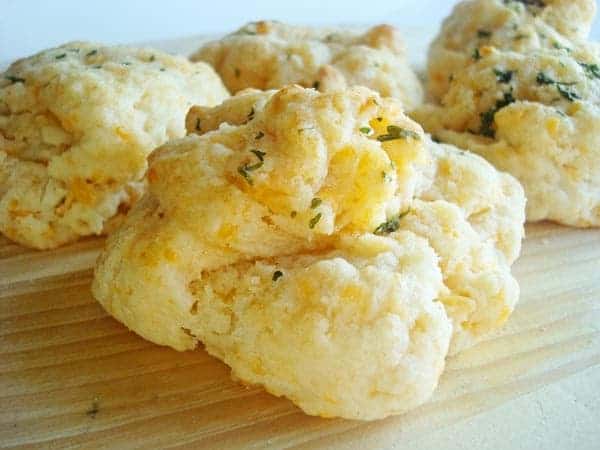 I am well aware that there are approximately a million versions of these delightful biscuits roaming around online.
However, when my friend Lesli emailed me to tell me she had "rocked it" with the cheddar biscuit and did I want the recipe…how could I say no? I was sure they would excel above the other versions I had tried before.
And they absolutely did. Which should be no surprise since Lesli is an amazing cook and I should know to trust her judgment completely when she's rocked anything in the kitchen.
Light and tender, cheesy and buttery, these drop biscuits are a breeze to make and nearly melt in your mouth.
A perfect compliment to a light, spring dinner.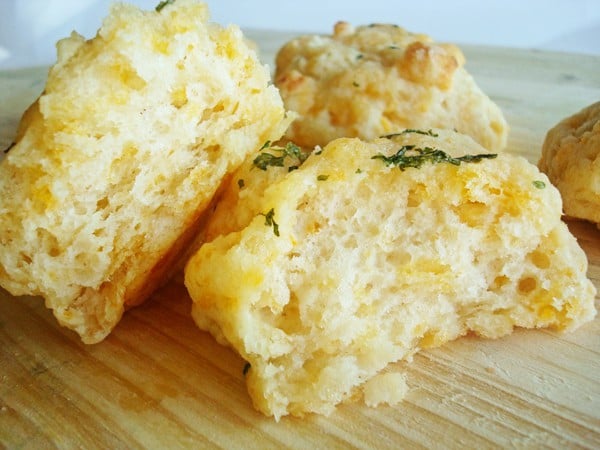 Two Years Ago: Shockingly Simple French Dip Sandwiches
Cheddar and Herb Biscuits
Yield: 4-6 servings

Prep Time: 10 minutes

Cook Time: 14 minutes

Total Time: 24 minutes
Ingredients
2 cups all-purpose flour
1 tablespoon baking powder
1/4 teaspoon garlic powder
1/2 teaspoon salt
2 tablespoons shortening
3 tablespoons butter, cold
1 cup buttermilk
1 1/4 cups grated sharp cheddar cheese
Instructions
Preheat oven to 425 degrees. In a medium bowl, combine flour, baking powder, garlic powder and salt. Cut in shortening and butter until coarse crumbs are formed. Lightly mix in grated cheese. Mix in buttermilk just until moist (dry spots here and there are ok – the biscuits will be tough if they are overmixed).
Drop the biscuits onto a greased or lined baking sheet. Bake for 12-14 minutes, until browned and golden.
While the biscuits are baking, in a small bowl combine three tablespoons melted butter, 1/4 teaspoon dried parsley flakes, 3/4 teaspoon garlic powder and a pinch of salt. Right when the biscuits come out of the oven, brush the butter/herb mixture over the biscuits evenly (alternately, you can dip the top of the biscuit into the butter mixture). Serve immediately.
Recommended Products
As an Amazon Associate and member of other affiliate programs, I earn from qualifying purchases.

Recipe Source: slightly adapted from Lesli D.