Cheesy Cauliflower Bake
Amazing cauliflower side dishes are hard to come by, but this cheesy cauliflower bake is just that. Amazing!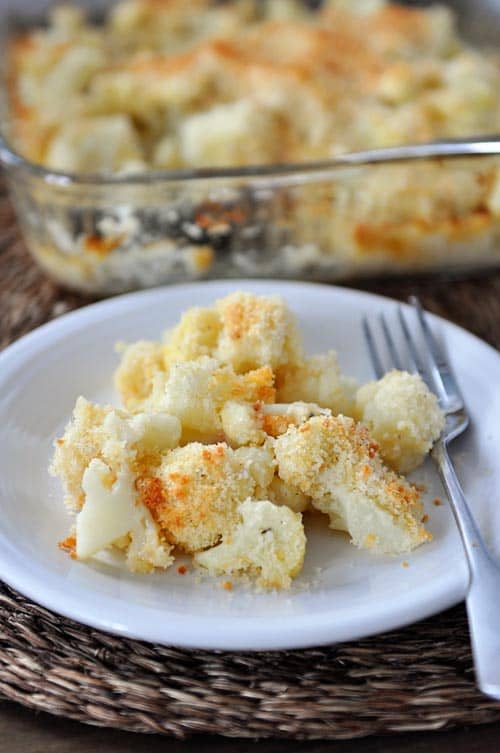 I mentioned yesterday that I had a life-changing side dish to share with you. Here it is. And I hope you make it. Soon.
Before this dish, cauliflower didn't rank very high on my veggie-loving list. I mean, I didn't hate it, but it definitely didn't call to me from the produce section begging me to buy it.
However, it is no exaggeration to say that this is hands down the best way I've ever prepared the homely little vegetable.
All of the cheese and cream quite possibly negates any health benefits from the cauliflower but let's ignore that little fact because it was all worth it in my book (and by the way, I have successfully used lowfat milk in place of the cream with slightly less thick but still stellar results).
The cauliflower is cooked to tender perfection and lingers in a creamy, cheesy, delicious bath while being topped with garlicky, buttery bread crumbs. Oh my. It was pure cauliflower heaven. This continues to be one of our favorite cauliflower dishes.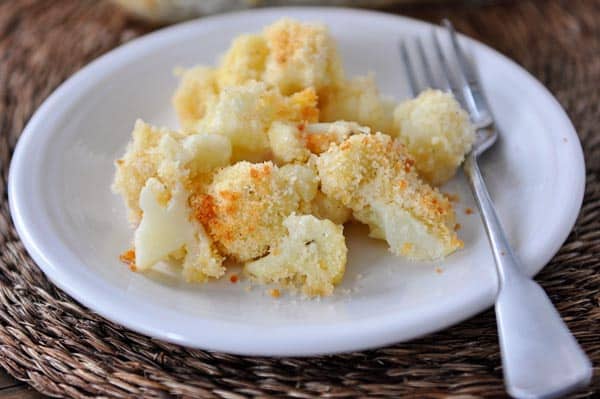 FAQs for Cheesy Cauliflower Bake
Can I make this ahead of time without it getting soggy?
You could make this the day before but I wouldn't put the bread crumb topping on until right before you bake it.
What amount of bread crumbs is the equivalent to 2 slices of bread?
About 1/2 cup of bread crumbs.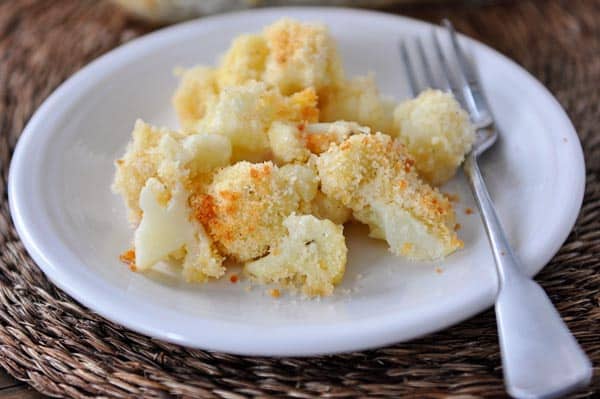 Ingredients
2 slices hearty white or wheat sandwich bread, torn into pieces or about 3/4 cup panko bread crumbs
1/2 cup shredded extra-sharp cheddar cheese
1/2 cup shredded Monterey Jack cheese
2 tablespoons butter, melted and divided (use half in the topping, half in the cauliflower mixture)
1 clove garlic, finely minced
Salt and pepper
1 tablespoon all-purpose flour
1/2 cup heavy cream or milk
1/3 cup low-sodium chicken broth
1 large cauliflower head, trimmed and cut into 3/4-inch florets (about 6 cups)
1 teaspoon dry mustard
1/2 teaspoon dried thyme
Instructions
Preheat the oven to 450 degrees. Pulse the bread, 1 tablespoon cheddar, 1 tablespoon Monterey Jack, 1 tablespoon butter, and a pinch of salt and pepper in a food processor or blender until coarsely ground.
Heat the remaining butter, garlic and flour in a medium saucepan over medium heat, stirring constantly, until golden and fragrant, about 1 minute. Slowly whisk in the cream (or milk) and broth. Stir in cauliflower, dry mustard, thyme, 1/4 teaspoon salt and 1/2 teaspoon pepper. Bring to a boil. Reduce heat to medium-low and simmer covered, stirring occasionally, until the cauliflower is nearly tender, 6 to 8 minutes. Off the heat, stir in the rest of the cheese.
Pour the mixture into an 8X8-inch baking dish and top with the bread crumb mixture. Bake until the crumbs are golden and crisp, about 10 to 15 minutes. Let cool 10 minutes before serving.
Notes
Doubling: this recipe can easily be doubled and put in a 9X13-inch baking dish.
Variation: also, to lighten up the dish, I've used lowfat milk for a slightly less thick but still delicious variation.
Recommended Products
As an Amazon Associate and member of other affiliate programs, I earn from qualifying purchases.
Recipe Source: adapted Cook's Country Feb/March 2010
Disclaimer: I am a participant in the Amazon Services LLC Associates Program, an affiliate advertising program designed to provide a means for me to earn fees by linking to Amazon.com and affiliated sites. As an Amazon Associate I earn from qualifying purchases.