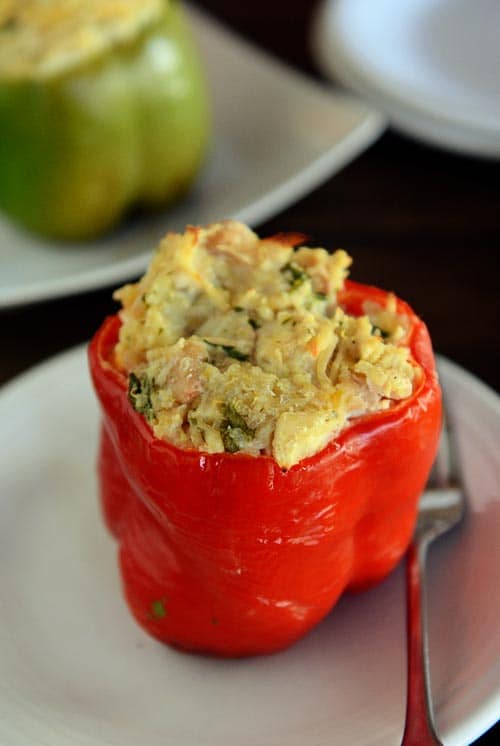 So. Stuffed peppers. Do you love or hate? Until about, oh, say Tuesday of last week, I would have to put myself in the big, huge camp of those who greatly dislike stuffed peppers. As in, I don't think in my long history of loving food that I have ever, ever craved a stuffed pepper. Know what I mean? Chalk it up to a combination of the ones I've had in the past always being green peppers (I like the sweetness of the other colors better, what can I say) and the not so enticing ground beef/rice/tomato mixture. It just doesn't speak to me (but I still love you very much if it speaks to you).
Knowing I wanted to figure out a version that did speak to me and since I just posted about this fabulous homemade condensed cream of chicken soup, I thought that a creamy version might do the trick. Variations on the ol' stuffed pepper are endless and this white enchilada version has done wonders to replace my prejudices against the humble stuffed pepper. These babies are fantastic! Cheesy, creamy, full of simple flavors.
It's as easy as mixing a bunch of ingredients in a large bowl and then, well, you know what comes next: stuffing the peppers. Cover, bake, and you're done. I've also included a simple slow cooker variation in the notes of the recipe in case you need to simplify even more. Simplifying = Beauty. Beauty = Cheesy Chicken Enchilada Stuffed Peppers.

Steamed or roasted broccoli (toss the broccoli with olive oil, salt and pepper and roast on a rimmed baking sheet at 425 degrees for 8-12 minutes, tossing once or twice)
Honey Lime Fruit Salad or seasonal fresh fruit
One Year Ago: Cinnamon Roll Cake
Two Years Ago: Lemon Cupcakes
Three Years Ago: Red Chile Sauce Chicken Enchiladas
Cheesy Chicken Enchilada Stuffed Peppers
These peppers can also be made in the slow cooker. After filling the peppers, place them in a single layer in a slow cooker that has been lightly greased with cooking spray, cover and cook on low for 3-5 hours.
It really depends on the size of your peppers to know how many this will make. I used what I would consider fairly large peppers and got six glorious stuffed peppers.
Ingredients
4 ounces light or regular cream cheese, softened
1 1/3 cups (single batch) homemade condensed cream of chicken soup (the equivalent of 1 10.75-ounce can cream of chicken soup)
1 1/2 cups cooked quinoa or rice
1-2 cups cooked, diced chicken
1 can Great Northern beans, rinsed and drained
1/2 cup shredded sharp cheddar cheese
1/2 cup shredded Monterey Jack cheese
1/3 cup chopped fresh cilantro
Juice of 1 lime (about 1 tablespoon)
1 teaspoon salt
1/2 teaspoon pepper
6-8 bell peppers, any color
Directions
Preheat the oven to 375 degrees F. Lightly grease a casserole dish with cooking spray (like a 9X13-inch or slightly smaller).
In a large bowl, stir together the softened cream cheese and the cream of chicken soup. Add the quinoa (or rice), chicken, beans, cheeses, cilantro, lime, salt and pepper. Mix until well combined.
Slice the top of each bell pepper off and discard the tops and the seeds.
Spoon the mixture into each bell pepper, packing lightly (confession: I mostly used my hands). It's ok to mound it slightly above the top of the pepper.
Place the stuffed peppers in the baking dish (if you don't have enough peppers to fill up the dish, aluminum foil rolled into small balls and placed in between the peppers help them stand up straight).
Cover the dish with lightly greased aluminum foil and bake for 40 minutes. Uncover and bake for 15 minutes more until the peppers are tender and the filling is hot. Let the peppers rest for 5 minutes or so before serving.
https://www.melskitchencafe.com/cheesy-chicken-enchilada-stuffed-peppers-with-a-slow-cooker-variation/
Printed from Mel\'s Kitchen Cafe (www.melskitchencafe.com)
Recipe Source: from Mel's Kitchen Cafe (inspired by this recipe at Cinnamon Spice)