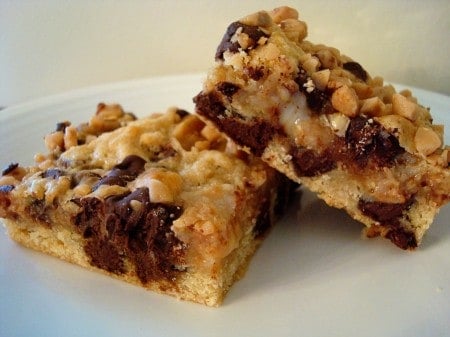 These chocolate toffee bars were three things: 1) lovingly simple, 2) fantastically delicious and 3) perfect for your waistline. Ok, so not really on #3, but it felt good to pretend for a minute.
These bars are definitely going in my tried-and-true – perfect for a potluck or summer BBQ, they are sure to get rave reviews. They are chewy and dense, with a hint of caramel and loaded with toffee and chocolate. Perfect, just perfect.
Chocolate Chip Toffee Bars
Ingredients
2 1/3 cup flour
1/4 teaspoon salt
2/3 cup brown sugar
3/4 cup butter, soft
2 eggs, slightly beaten
2 cups semi-sweet chocolate chips, divided
1 cup coarsely chopped nuts (optional – I left these out)
1 can sweetened condensed milk
1 package toffee bits, divided
Directions
Preheat oven to 350 degrees. Line a 9X13 pan with aluminum foil and lightly spray with nonstick cooking spray. Whisk together flour, salt and brown sugar. Cut in the butter with a pastry blender or fork until the mixture is crumbly. Add eggs and mix well with a wooden spoon or your hands. Mix in 1 1/2 cups of the chocolate chips and the 1 cup nuts. Set aside 1 1/2 cups of the dough. Press the remaining dough into prepared pan. Bake for 10 minutes.
Pour the sweetened condensed milk evenly over the crust. Top with all but 1/3 of the toffee bits. Place pieces of remaining dough over the top. Sprinkle with remaining 1/2 cup chips.
Bake for 25-30 more minutes, or till golden brown. Sprinkle the remaining 1/4 cup toffee bits on top. Cool completely before serving.
https://www.melskitchencafe.com/chocolate-chip-toffee-bars/
Printed from Mel\'s Kitchen Cafe (www.melskitchencafe.com)
Recipe Source: adapted from Kara's Kitchen Creations