Cilantro Lime Rice
Get this recipe for simple, delicious, homemade cilantro lime rice! If you love Mexican-inspired meals, this rice will be your constant friend.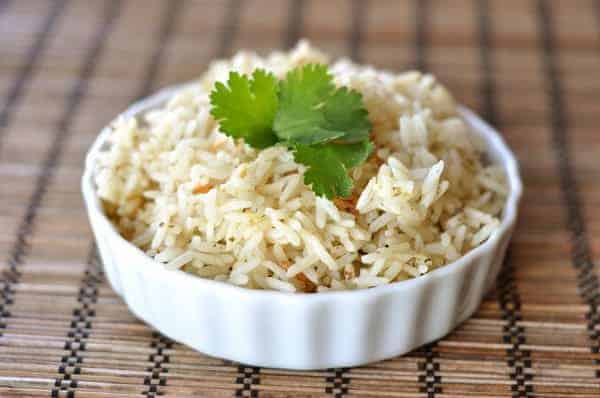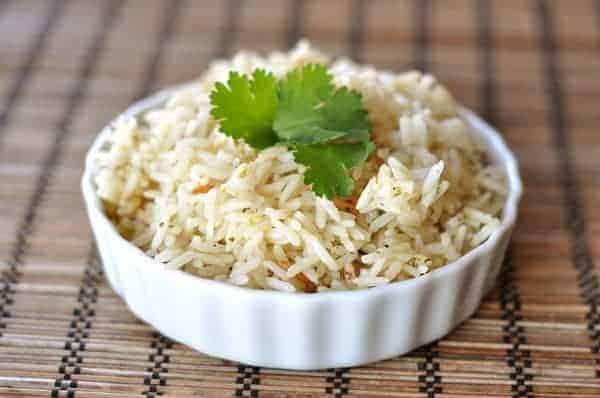 If you are like me and love Mexican-inspired meals more than life, this cilantro lime rice will be your constant friend.
Almost as simple as making every day white rice, this cilantro lime rice gets a boost from sautéing the rice quickly in a pat of butter.
A few simple seasonings are thrown in, and before you know it, you'll have some seriously delicious cilantro lime rice for the eating.
Here are a few recipes that are worlds better with this cilantro lime rice:
Honey Lime Tilapia
Sweet Paprika Chicken Skillet
Smothered Sweet Pork Burritos
Grilled Island Chicken
So. If cilantro lime rice has not been part of your world, you should definitely change that. It's so yummy – I can't get enough!
Yield: 6 servings as a side dish

Prep Time: 10 minutes

Cook Time: 15 minutes

Total Time: 25 minutes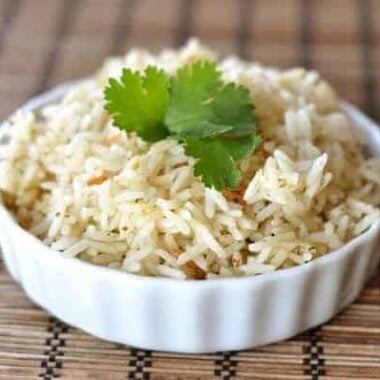 Ingredients
1 tablespoons butter
1 1/4 cups rice (long grain white rice or jasmine rice works best)
2 1/4 cups low-sodium chicken broth
3/4 teaspoon salt
1/4 teaspoon freshly ground black pepper
Juice and zest of 1 large lime
2 tablespoons chopped cilantro
1/4 teaspoon ground cumin
Instructions
In a skillet or medium saucepan, melt the butter and add the rice. Stir, letting the rice and butter cook for 1-2 minutes. Add remaining ingredients and bring to a boil. Reduce heat, cover and cook for 15-16 minutes. Remove from heat and let stand, covered, for 10 minutes. Fluff with fork and serve.
Notes
Brown Rice: lots of people have asked if this recipe can be made with brown rice - there are updates from commenters who have tried it in the comment thread below!
Recommended Products
As an Amazon Associate and member of other affiliate programs, I earn from qualifying purchases.

Recipe Source: from Mel's Kitchen Cafe
Disclaimer: I am a participant in the Amazon Services LLC Associates Program, an affiliate advertising program designed to provide a means for me to earn fees by linking to Amazon.com and affiliated sites. As an Amazon Associate I earn from qualifying purchases.