Cinnamon Roll Sugar Cookies
These cinnamon roll sugar cookies are so pretty, they are screaming to be made for a party. But they can be made just for fun!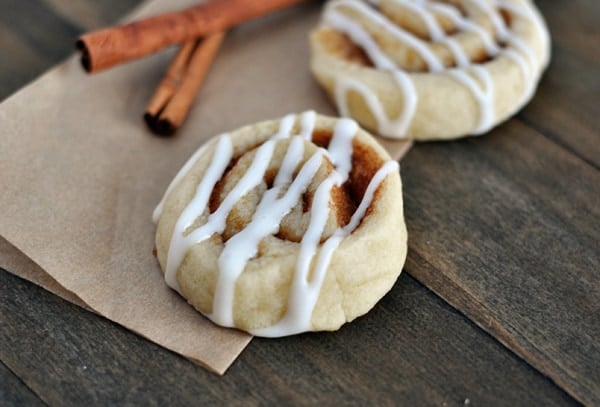 Seriously, this cookie is one of those where I was left wondering, "How on earth did I not think of this before?" I love cinnamon rolls. And I love sugar cookies (they happen to be my favorite cookie of all time, in fact). So why not merge the two into one glorious confection? Brilliant, I tell you, brilliant.
According to my extremely scientific poll taken minutes after a dozen of these cookies were devoured by my family:
99% of the residents in my household would eat these again because they

tasted so delicious

(baby Cam represents the 1% and was quite annoyed she didn't get a taste)
32% of us would eat these again because they are

adorable

(a fact completely lost and unappreciated on the other 68%, i.e. 4 oblivious boys)
6 out of 7 people claim these may be even better than cinnamon rolls (a fact determined most likely because the boys were allowed two cookies and they never get to eat two cinnamon rolls in one sitting)
Overall, these cookies were a statistical success, even despite my shaky data. So, so pretty, they are screaming to be made for a baby or bridal shower or some other fun party.
But they are also fun and tasty enough to make…just because.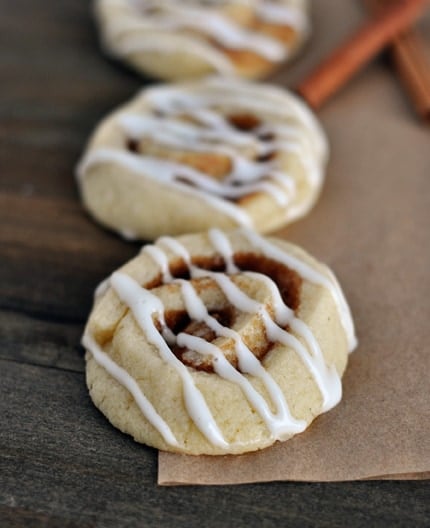 One Year Ago: Classic Orange Julius
Two Years Ago: Creamy 5-Cup Fruit Salad
Three Years Ago: Asian Chicken Salad with Hoisin Vinaigrette
Four Years Ago: Peanut Butter Crunch Snack Balls
Cinnamon Roll Sugar Cookies
Additional Time:
59 minutes
Total Time:
1 hour
35 minutes
Ingredients
Cookies:
3/4 cup (1 1/2 sticks) butter, softened to cool room temperature
3/4 cup granulated sugar
1/4 cup powdered sugar
2 large eggs
1/2 teaspoon vanilla
2 1/2 cups all-purpose flour
1 teaspoon baking powder
1/2 teaspoon salt
Filling:
4 tablespoons butter, softened
1/2 cup packed light brown sugar
1 teaspoon cinnamon
Glaze:
4 ounces cream cheese, softened to room temperature
1/3 cup powdered sugar
1/2 teaspoon vanilla
1-2 tablespoons milk
Instructions
For the cookies, in a large bowl, cream together the 3/4 cup butter and granulated and powdered sugar for 3-4 minutes, until the mixture is light and fluffy. Add the eggs one at a time, mixing well after each addition. Add vanilla extract and mix. Add one cup flour, baking powder and salt. Mix. Add remaining flour and mix just until flour is incorporated and the dough is smooth and soft. Flatten the dough into a thick disk and cover in plastic wrap. Refrigerate for at least an hour.
For the filling, combine the brown sugar and cinnamon in a small bowl. Separate the dough into two pieces working with one half at a time, roll it out to about 1/4-inch thick and about 15-inches by 4-inches or so. Gently spread 2 tablespoons of butter on top of the dough. Sprinkle with 1/2 of the cinnamon sugar mixture and lightly press the sugar mixture into the dough. Starting with one long edge, roll the dough into a tight log. Using a sharp knife (I found a serrated knife worked best), slice the dough into 1-inch pieces, making about 15 cookies per log. Place the cookies 2 inches apart on lined (with silpat or parchment) baking sheets. Repeat with the second half of the dough and the remaining butter and cinnamon/sugar mixture.
Preheat the oven to 350 degrees F. Bake the cookies for 9-11 minutes until set but not overbaked. Let the cookies cool for 1-2 minutes on the baking sheet before transferring to a wire rack to cool completely. Prepare the glaze by mixing together the cream cheese and powdered sugar until thick and smooth. You can do this with an electric mixer or use a blender. Add the vanilla and 1 tablespoon milk. Continue adding milk, 1/2 tablespoon at a time, until the glaze is thick but pourable. Pour the glaze into the corner of a ziplic bag (placing the bag inside a large glass helps as you fill it). Snip off the tip of the corner and drizzle the glaze over the cooled cookies. Store covered in the refrigerator.
Recommended Products
As an Amazon Associate and member of other affiliate programs, I earn from qualifying purchases.
Recipe Source: inspired by Nikki at Chef-in-Training who found it on Picky Palate
Disclaimer: I am a participant in the Amazon Services LLC Associates Program, an affiliate advertising program designed to provide a means for me to earn fees by linking to Amazon.com and affiliated sites. As an Amazon Associate I earn from qualifying purchases.