Classic and Simple: Black Beans and Rice
This classic and simple black beans and rice dish is so flavorful, it tastes like it's been simmering on the stove for hours.
In the past, the thought of making beans and rice for dinner was utterly and absolutely not exciting to me. I don't know why.
I think I've been ruined by the rush of making exciting recipes that aren't made up almost entirely of beany beans (no offense to the humble legume).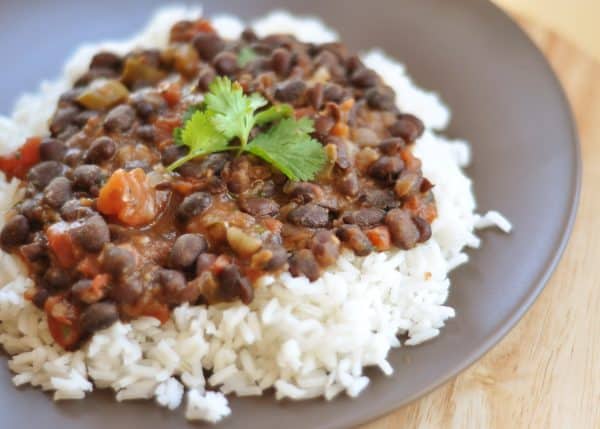 Enter my husband who has spent years begging me to make this dish since he enjoyed it every day when he lived in Brazil.
I ignored him, like the loving wife I am. That is, until my then-4-year old bought me a cookbook for Mother's Day (that little dude knows his mother pretty well!) and when I let him pick out the first recipe to make – he chose black beans and rice. Big sigh.
I couldn't very well deny the tike when he was the one who gave me the cookbook.
And now I owe my newfound love of this simple and classic dish to my 4-year old and my begging husband.
This meal is so incredibly flavorful, it tastes like it's been simmering on the stove for hours.
Not to mention that it is cheap, healthy, and absolutely filling. It really is a one-pot wonder and is so very fantastically tasty!
Make it today!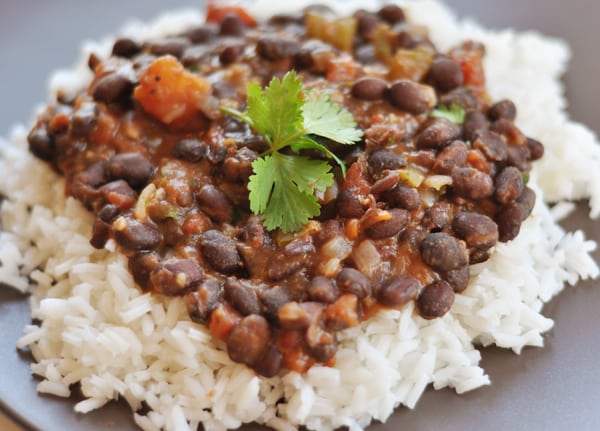 Recipe Source: adapted from Weight Watchers New Complete Cookbook
Disclaimer: I am a participant in the Amazon Services LLC Associates Program, an affiliate advertising program designed to provide a means for me to earn fees by linking to Amazon.com and affiliated sites. As an Amazon Associate I earn from qualifying purchases.