Classic and Simple: Black Beans and Rice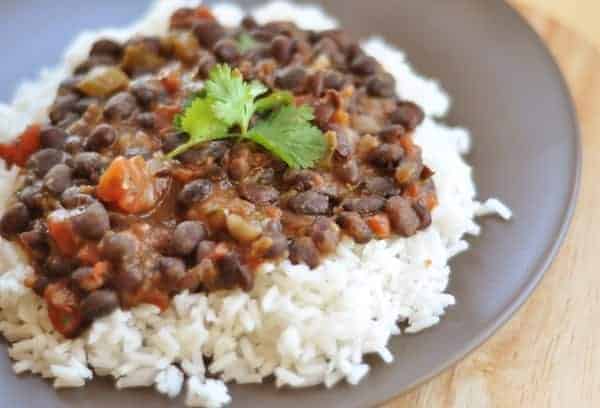 In the past, the thought of making beans and rice for dinner was utterly and absolutely not exciting to me. I don't know why.
I think I've been ruined by the rush of making exciting recipes that aren't made up almost entirely of beany beans (no offense to the humble legume).
Enter my husband who has spent the last eight years begging me to make this dish since he enjoyed it every day when he lived in Brazil.
I ignored him, like the loving wife I am. That is, until my 4-year old bought me a cookbook for Mother's Day (that little dude knows his mother pretty well!) and when I let him pick out the first recipe to make – he chose black beans and rice. Big sigh.
I couldn't very well deny the tike when he was the one who gave me the cookbook.
And now I owe my newfound love of this simple and classic dish to my 4-year old and my begging husband.
This meal is so incredibly flavorful, it tastes like it's been simmering on the stove for hours.
Not to mention that it is cheap, healthy, and absolutely filling. It really is a one-pot wonder and is so very fantastically tasty!
Make it today!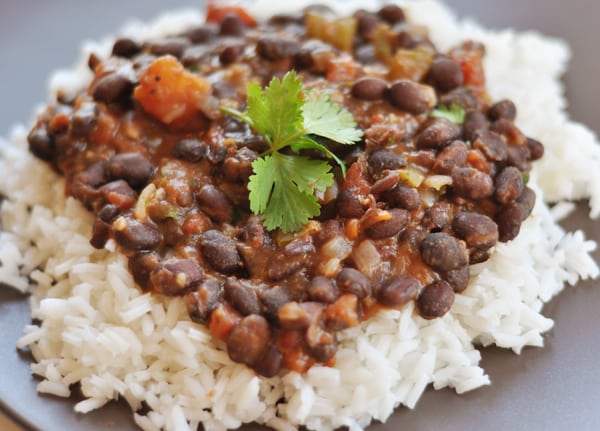 Simple Shredded Chicken
Chips and a really great dip, like this Spinach Artichoke Dip
Fresh, seasonal fruit
Classic and Simple: Black Beans and Rice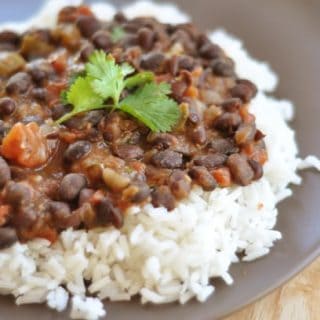 Ingredients
4 teaspoons olive oil
1 green bell pepper, seeded and chopped
1 onion, finely chopped
5-6 cloves garlic, finely minced
2 (16-ounce) can black beans, rinsed and drained
1 (14.5-ounce) can diced tomatoes
1 1/2 cup low-sodium chicken broth
3/4 teaspoon dried thyme
1 bay leaf
1/2 teaspoon dried oregano
1/2 cup water
2 tablespoons finely chopped fresh cilantro
Salt and freshly ground pepper to taste
4-5 cups hot, cooked white or brown rice
Instructions
In a medium saucepan, heat the oil over medium heat. Add the bell pepper, onion and garlic and saute, stirring often, for about 15 minutes, until all the vegetables are soft and tender. Stir in the beans, tomatoes, chicken broth, thyme, bay leaf, oregano and water; bring to a boil. Reduce the heat and simmer, stirring occasionally, until the sauce thickens and the vegetables are tender, about 45 minutes. If the mixture becomes too thick, add a tablespoon or two of hot water to thin to desired consistency.
Stir in the fresh cilantro and season with salt and pepper; discard the bay leaf. Serve over the hot rice.
For an electric pressure cooker, use the Saute function to heat the oil. Cook the bell pepper, onion, and garlic, stirring often, for several minutes, until tender. Stir in the beans, tomatoes, chicken broth, thyme, bay leaf, oregano, and water. Seal the lid and cook on high pressure for 5 minutes. Quick release the pressure. If you want the mixture thicker, continue cooking using the Saute function until the mixture is thick (stir often to prevent sticking). Stir in the cilantro and season to taste with salt and pepper, if needed.
Recommended Products
As an Amazon Associate and member of other affiliate programs, I earn from qualifying purchases.

Recipe Source: adapted from Weight Watchers New Complete Cookbook
Other Black Bean Recipes: