Classic Buttermilk Waffles
These easy buttermilk waffles are a family favorite. In fact, I haven't made another classic waffle recipe in so many years because they are perfect!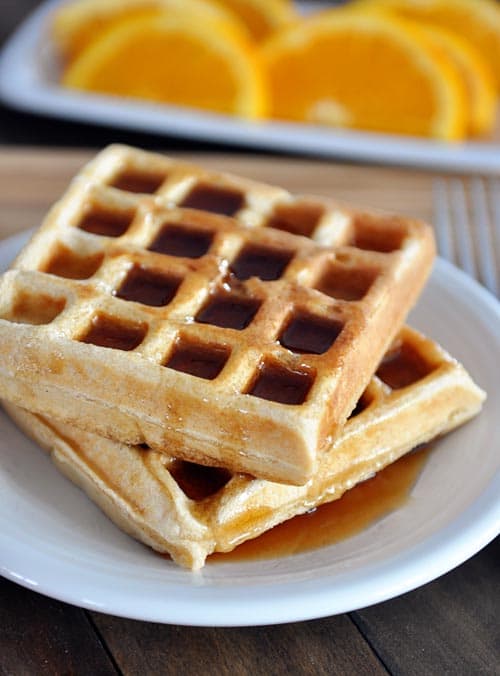 This is my all-time favorite, tried-and-true recipe for waffles.
I will not make another recipe as long as I have buttermilk in the refrigerator (and if you don't have buttermilk in the fridge, don't fret, here's a great tip on easy substitutions).
They are light and fluffy and absolutely delicious. And they work great with whole wheat flour (or half all-purpose flour, half whole wheat flour)!
On another note, have you ever tried waffles with cheese? Don't run away! Hear me out. Brian introduced me to cheese waffles when we were dating, and I was a huge skeptic at first. Can you blame me? But I quickly converted.
You have to dismiss the idea that the cheese on the waffle is reminiscent to cheese on pizza. It's nothing like the gooey, mounds of cheese you may be thinking of. Instead, it is a light, crunchy, salty texture that pairs so well with the sweet syrup and bready waffle.
Right after pouring the batter into the waffle iron, sprinkle a couple tablespoons of shredded cheddar cheese on top and promptly close the waffle iron to let the magic happen.
It is worth trying, and hey, if you don't like it, then no worries because these waffles are delicious without.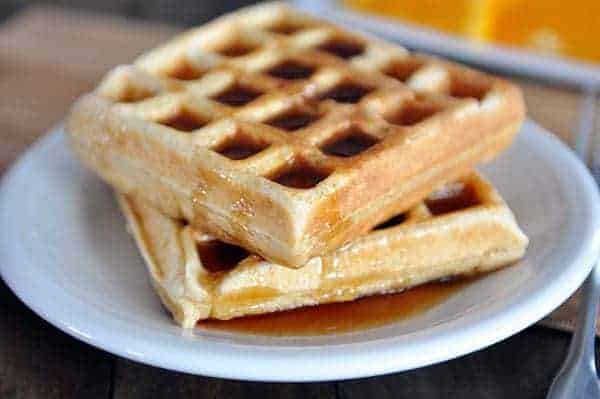 FAQs for Classic Buttermilk Waffles
How can I keep the waffles fresh?
If you keep them in a warm oven, that will keep the waffles crispy on the outside.
Why is my batter so thin?
Be sure NOT to overmix the batter- that can make the texture kind of rubbery. It's okay to to still see a few dry spots.
Do you really put cheese on your waffles?
Yes! We serve cheese wafles with maple syrup- it makes a great sweet & salty combination!
Classic Buttermilk Waffles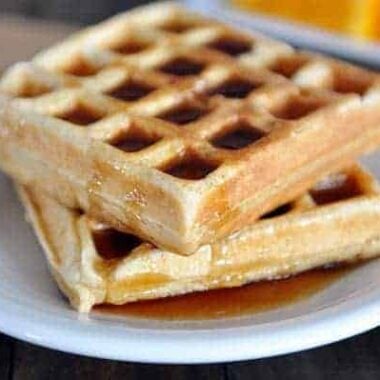 Ingredients
2 large eggs
1 3/4 cups (14 ounces buttermilk) here is a guide for making your own buttermilk
4 tablespoons butter, melted and cooled to room temperature
2 teaspoons vanilla extract
1 1/2 cups (7.25 ounces) all-purpose flour (see note)
2 tablespoons sugar
2 teaspoons baking powder
1 teaspoon baking soda
1 teaspoon salt
Instructions
In a medium-sized bowl, beat together the eggs, buttermilk, melted butter, and vanilla. In another bowl whisk together the dry ingredients; combine the wet and dry ingredients just until smooth.
For an 8-inch round waffle iron, use about 1/3 cup batter (adjust according to waffle iron size). Cook for 2 to 3 minutes, until the iron stops steaming. If making cheese waffles, pour 1/3 cup batter on waffle iron and sprinkle 2-3 tablespoons shredded cheddar cheese over batter before closing iron.
Notes
Flour: I often usually use at least half but sometimes 100% whole wheat flour (finely ground white wheat) for these and they are fantastic.
Butter: also, the old version of the recipe called for 8 tablespoons butter but for the last year I've made it with just 4 tablespoons and they are still tender and delicious.
UPDATE: I've updated the flour amount in this recipe to better reflect how I make them (using the weight measure as a guide). The original amount was 1 3/4 cups but I tend to measure 1 1/2 cups to equal the 7.25 ounces.
Recommended Products
As an Amazon Associate and member of other affiliate programs, I earn from qualifying purchases.
Recipe Source: adapted from King Arthur Flour's Baking Companion
Disclaimer: I am a participant in the Amazon Services LLC Associates Program, an affiliate advertising program designed to provide a means for me to earn fees by linking to Amazon.com and affiliated sites. As an Amazon Associate I earn from qualifying purchases.