Slow Cooker Coconut Curry Pork
Curry in the slow cooker? Yes! This coconut curry pork is simple and absolutely delicious.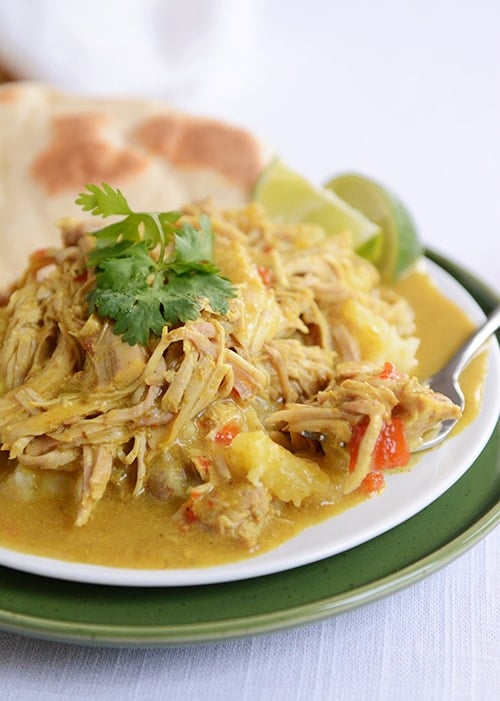 I don't know about you but I tend to do a lot of the same type of stuff in the slow cooker, and I sometimes forget that it can do more (way more) than beef stew and BBQ pork sandwiches (which are all unquestionably delish).
Today's coconut curry pork is a perfect example of opening my eyes to bold, new flavors in the ol' slow cooker.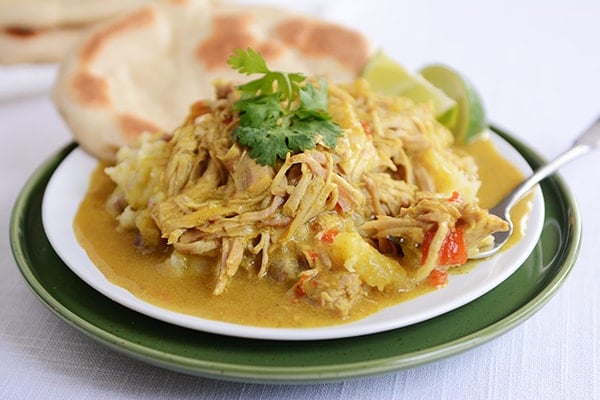 This meal is so crazy delicious, I don't even know where to start.
I'm a curry lover through and through with a particular affinity to coconut curries (a few of my faves here, here and here) but even for someone on the fence with coconut curry dishes, this is a winner.
Not only is it completely hands-off (no pre-cooking, just toss it all in the slow cooker with a few little minor pre-whisks), it proves that a slow cooker can make mean work of a unique, traditionally stovetop dish.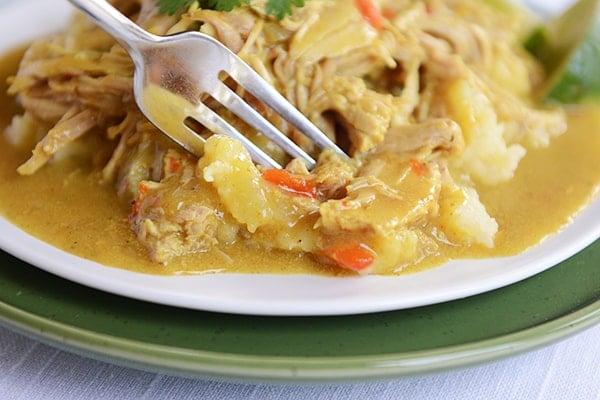 This is definitely one of my new favorite meals. In fact, as I type this post, I'm remembering when I made this last, I popped the leftovers into the freezer. Sweeeeeet.
It makes me so very happy when I can look forward to lunch instead of dreading the hunt for food (lunch is my least favorite meal to think about, BTW).
I hope you try this. It may already be in your wheelhouse (curry lovers unite) and won't require much selling, but if not, I'm encouraging you – and even nudging and pressuring you a bit – to take one teensy tiny little step into new territory.
I think you'll be very happy with that decision. Easy and ridiculously delicious – that's kind of a match made in heaven.
Pressure Cooker Fans: I haven't tried it but I'm suspecting this meal works great in a pressure cooker. If you want to experiment, cut the pork roast into 1- to 2-inch pieces, follow the recipe instructions and combine the same ingredients in the pressure cooker and cook at high pressure for 15 minutes for stovetop pressure cooker and 18 minutes for electric pressure cooker (if you want to keep the roast whole, cook at high pressure for 30-35 minutes or longer – about 15-18 minutes for every inch it is thick). Naturally release the pressure. Lightly shred the pork; stir in the lime/cornstarch mixture and simmer until slightly thickened. If you try it, report back!

Roasted broccoli or Roasted curried cauliflower
Fresh or grilled pineapple
One Year Ago: White Chocolate Oatmeal Craisin Coconut Cookies
Two Years Ago: Vanilla Bean White Chocolate Mousse Cheesecake
Three Years Ago: Cheesy Ham and Broccoli Quinoa Bites
Slow Cooker Coconut Curry Pork
Yield: 6-8 servings

Prep Time: 15 minutes

Cook Time: 5 hours

Total Time: 5 hours 15 minutes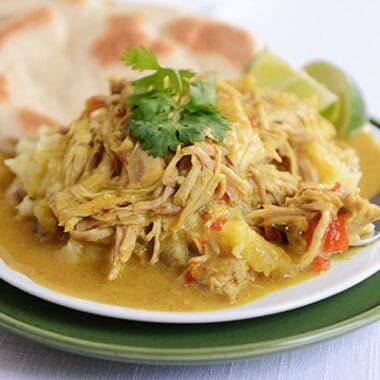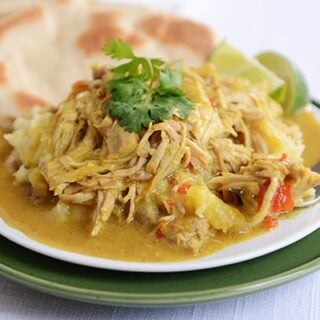 Ingredients
2 1/2 to 3 pounds pork roast (see note)
1 large red pepper, diced (about 1 cup)
1/2 cup diced onion
14-ounce can light coconut milk
3 cloves garlic, minced
2 tablespoons brown sugar
1 tablespoon curry powder (see note)
1 teaspoon ground ginger
1 teaspoon salt
1/2 teaspoon pepper
2 tablespoons cornstarch
2 tablespoons fresh lime juice
Chopped, fresh cilantro
Instructions
Spray the insert of a 5- or 6-quart slow cooker with nonstick cooking spray. Add the pork, red pepper, and onion. In a bowl or liquid measuring cup, whisk together the coconut milk, garlic, brown sugar, curry powder, ginger, salt, and pepper. Pour the sauce into the slow cooker, cover and cook on low for 8 hours or on high for 4-5 hours (exact time will depend on the size of your pork roast).
When the pork is tender, use two forks and coarsely shred the pork in the slow cooker into pieces. Mix the cornstarch and lime juice together in a small bowl and stir into the slow cooker. Turn the slow cooker to high and cook for 10-15 minutes until the sauce is slightly thickened.
Serve over cooked potatoes, rice or quinoa, and garnish with cilantro, if desired.
Notes
Curry Powder: I feel like I tend to overtalk curry powder but I'll say it again: my favorite curry powder is the Sweet Curry powder from Penzey's spices. The flavor is amazing (it has converted several non-curry lovers) and worth keeping on hand. If you don't have it, feel free to use a curry powder you have, keeping in mind the flavor is really going to come through so use a brand you like (and that isn't too spicy if you don't like heat).

Pork: as for pork, I've made this with boneless pork loin and also a boneless pork shoulder - the pork shoulder was slightly more tender since it isn't quite as lean as a pork loin but ultimately, the cut of pork will probably be quite versatile here. You want a pork roast that will get nice and tender and shred well.
Recommended Products
As an Amazon Associate and member of other affiliate programs, I earn from qualifying purchases.

Recipe Source: adapted slightly from Rachel M, a reader who sent it to me with rave reviews
Disclaimer: I am a participant in the Amazon Services LLC Associates Program, an affiliate advertising program designed to provide a means for me to earn fees by linking to Amazon.com and affiliated sites. As an Amazon Associate I earn from qualifying purchases.