Delicious Cranberry Pear Crumble
A beautiful and festive dessert, this tart and sweet cranberry pear crumble is out of this world delicious…especially served just a little warm with a scoop of vanilla ice cream.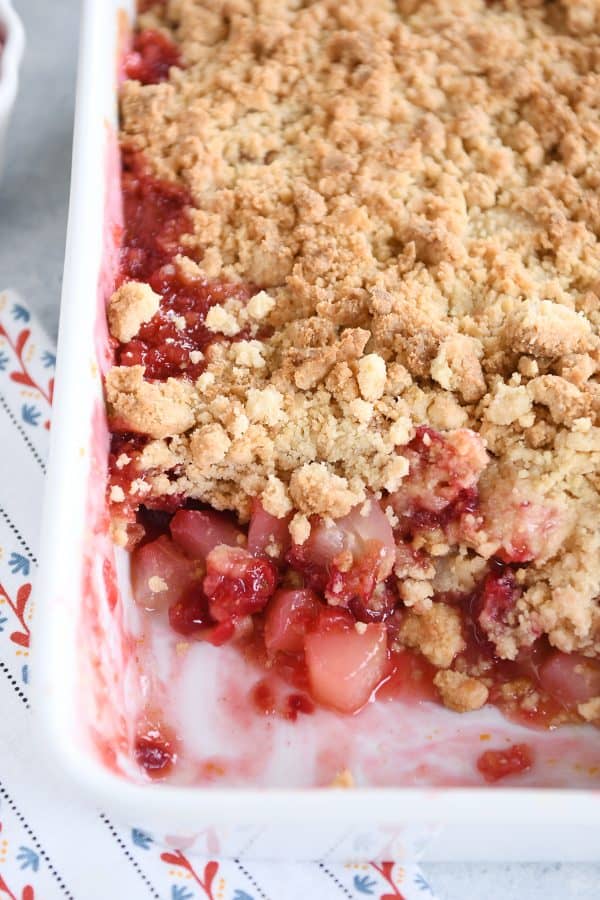 Welcome to the thoughts of a crazy food blogger: I wasn't sure if I'd post this recipe before Thanksgiving. I mean, I couldn't figure out if it would be better for Thanksgiving or maybe more Christmas appropriate?
Or whether it would be easily dismissed anytime between now and January 1st because who can really create the mental space for another dessert this time of year? (I get it, but come on…dessert! We can be open minded!)
But the utter deliciousness of this cranberry pear crumble had me serving it to anyone and everyone who walked through my door (the UPS guy sadly turned down a taste). And with fresh cranberries having such a short season in the spotlight, I knew I needed to post it. Now. Whether it would be taken seriously or not.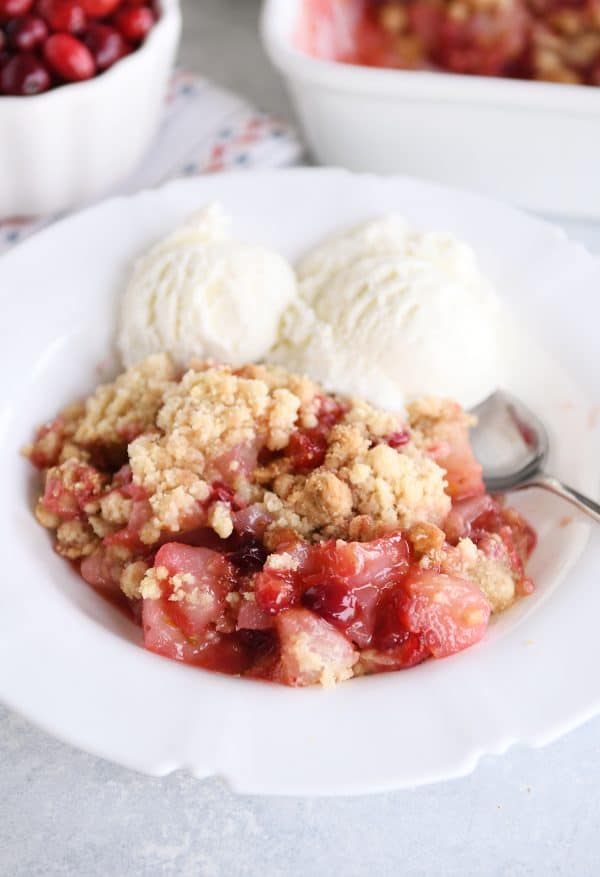 So here you go. Cranberry pear crumble.
It is fantastic. The cranberries, those spunky little cranberries, lend their characteristic tartness while the pears add the necessary, wholesome (ha), delicious sweetness to balance everything out.
And I really don't have to tout the reasons why a golden, buttery crumble just makes everything better, right? Right. We know each other well enough by now.
Crumble. Yum.
I love a good fruit crumble on any given day. But this cranberry pear crumble has easily skyrocketed to the top of my favorite crumbles list…and probably my favorite fruit desserts ever list, too.
I think this must be Mel's Year of the Cranberry, because even with the two cranberry recipes I've already posted and the plethora of cranberry recipes in my archives, I still have one more coming at you (a terribly delicious cranberry appetizer appearing next week). How can I resist? Those fresh cranberries call to me every time I spy their short-lived spot in the produce section.
If you're looking for a refreshing addition to your Thanksgiving or Christmas dessert lineup, this crumble would be perfection. And if you are really daring, I think you should try the cranberry pie filling in a pie! Swoon. And then report back. 🙂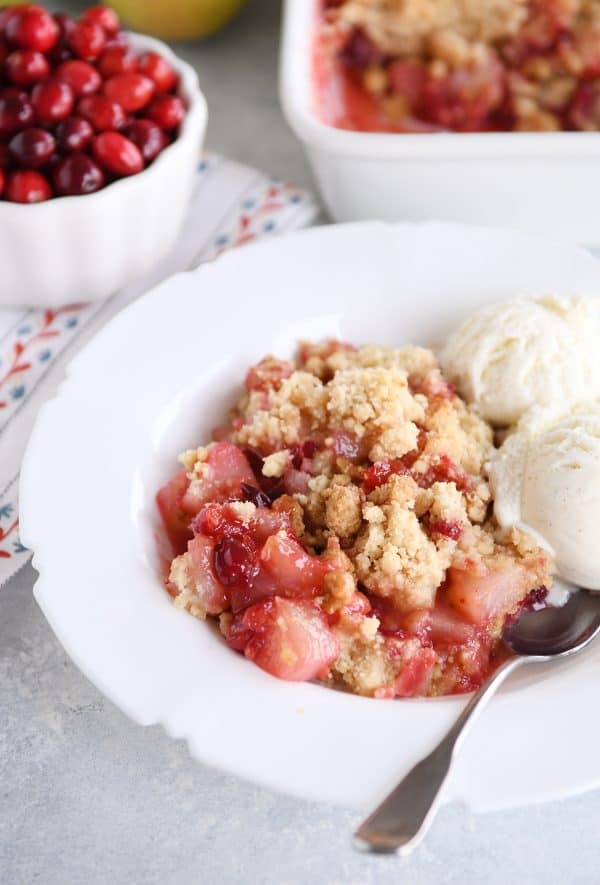 Also, I haven't tried it, but even with fresh cranberries abounding everywhere, I think this recipe would work well with frozen cranberries, too. Fruit crumbles are pretty adaptable like that.
And that means only one thing. Cranberry pear crumble year round. Yes, life is good.
One Year Ago: Homemade Green Bean Casserole with Extra Crunchy Topping
Two Years Ago: Delicious Parmesan Cream Corn
Three Years Ago: Amazing Crustless Pumpkin Pie Cupcakes
Four Years Ago: Warm Russian Tea
Five Years Ago: Gluten-free Hawaiian Sweet Rolls
Yield: 9X13-inch pan

Prep Time: 40 minutes

Cook Time: 45 minutes

Total Time: 1 hour 25 minutes
Ingredients
Cranberry Pear Filling:
2 to 3 pounds ripe pears, peeled and diced (6-7 cups, about 5 medium pears)
12 ounces (about 3 cups) fresh or frozen cranberries, chopped in half or lightly pulsed in food processor or blender
1 cup (7.5 ounces) granulated sugar
3 tablespoons tapioca flour (or ground instant tapioca) or cornstarch
1 tablespoon fresh orange zest
Pinch of ground cinnamon
1/4 cup orange juice (can use fresh juice from orange), apple juice or cranberry juice
Crumble Topping:
2 1/2 cups (12.5 ounces) all-purpose flour
1 teaspoon baking powder
Pinch of salt
1/3 cup granulated sugar
1/3 cup packed light or dark brown sugar
14 tablespoons butter, melted
Instructions
Preheat the oven to 375 degrees F. Lightly grease a 9X13-inch baking pan. Set aside.
In a large bowl, combine the pears, cranberries, sugar, tapioca flour or cornstarch, orange zest, and cinnamon. Stir well. Add the juice. Stir to combine.
Spread the fruit mixture evenly in the pan.
For the crumble topping, in a medium bowl, whisk together the flour, baking powder, salt, granulated sugar, and brown sugar. Add the melted butter and stir until the mixture forms pea-size and slightly larger clumps.
Crumble the topping evenly over the fruit.
Bake for 45-50 minutes until the fruit is bubbling and the topping is golden. Once removed from the oven, let the crumble rest for 15 minutes (the filling will thicken a bit as it sits). Serve warm with vanilla ice cream.
Recommended Products
As an Amazon Associate and member of other affiliate programs, I earn from qualifying purchases.

Recipe Source: inspired by a recipe in Cuisine at Home Dec 2018 for pear and cranberry pot pies (used the crumble recipe from this strawberry rhubarb crumble)
Disclaimer: I am a participant in the Amazon Services LLC Associates Program, an affiliate advertising program designed to provide a means for me to earn fees by linking to Amazon.com and affiliated sites. As an Amazon Associate I earn from qualifying purchases.