Glazed Meatloaf
Moist, tender and packed with flavor, this meatloaf recipe is fantastic, and the silky smooth glaze makes the entire dish come alive.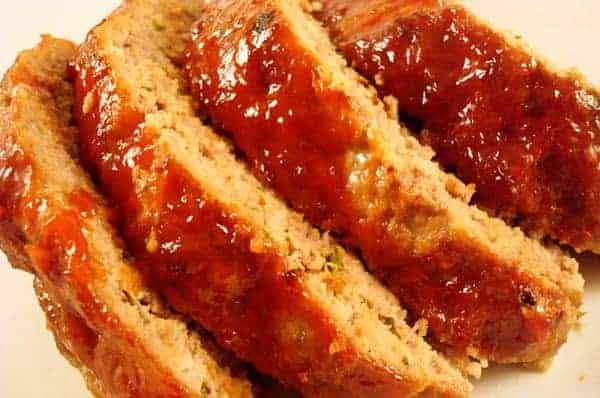 *New and improved version posted here!*
When it comes to meatloaf, are you a lover or a hater? I'll admit, I used to be on the fence about it because I didn't have a great go-to recipe. Until I tried these mini-meatloaves, that is.
They are hands down the best little meatloaves around. When I spied this similar recipe for a larger meatloaf (instead of making mini versions), I knew I'd give it a go and hoped for great results.
Although there are a few changes to make this into a sturdy, larger loaf, true to it's miniature counterparts, this meatloaf is a winner.
Moist, tender and packed with flavor, it is fantastic, and the silky smooth glaze makes the entire dish come alive.
Meatloaf is a down-home classic and always makes me feel like I'm about 12 again when I eat it. Major throwback to the good old days. And I'm glad to finally have a recipe to make the throwback worth it!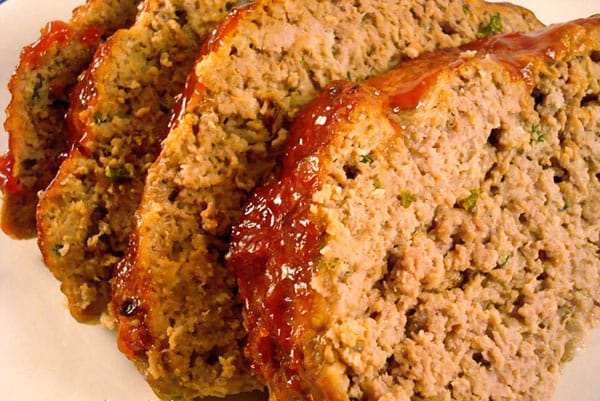 One Year Ago: Tri Color Pasta Salad
Two Years Ago: Chicken and White Bean Stew
Total Time:
1 hour
10 minutes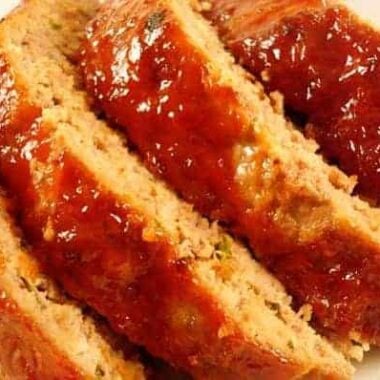 Ingredients
Glaze:
1 cup ketchup
1/4 cup packed brown sugar
2 1/2 tablespoons cider vinegar
1/2 teaspoon Tobasco sauce
Meatloaf:
2 teaspoons vegetable or canola oil
1 onion, chopped fine
2 garlic cloves, minced
2/3 cup crushed saltine crackers (about 17 crackers)
1/3 cup milk (not skim)
1 pound 90% lean ground beef
1 pound ground pork or turkey
2 large eggs plus 1 large yolk
2 teaspoons Dijon mustard
2 teaspoons Worcestershire sauce
1/2 teaspoon dried thyme
1/3 cup finely chopped fresh parsley
1 teaspoon salt
3/4 teaspoon pepper
Instructions
Whisk all the ingredients for the glaze in a small saucepan until the sugar dissolves. Reserve 1/4 cup glaze mixture in a small bowl and simmer the remaining glaze over medium heat until it is slightly thickened, about 5 minutes. Cover and keep warm.
Line a rimmed baking sheet with aluminum foil and coat lightly with cooking spray. Heat oil in a nonstick skillet over medium heat until shimmering. Cook the onion until godlen, about 5-7 minutes. Add the garlic and cook until fragrant, about 30 seconds. Transfer to a large bowl.
Process the saltines and milk in a food processor until smooth. Add the beef and pork and pulse until well combined, about ten 1-second pulses. (You can also do this process by hand, although the beef and saltine mixture won't be as well mixed.) Transfer the meat mixture to the bowl with the cooled onion mixture. Add the eggs and yolk, mustard, Worcestershire sauce, thyme, parsley, 1 teaspoon salt and 3/4 teaspoon pepper to the bowl and mix with your hands until combined.
Adjust the oven racks to the upper (about 4-inches away from broiler elements) and middle positions and heat the broiler. Transfer the meat mixture to the prepared baking sheet and shape it into a 9- by 5-inch loaf. Broil on the upper rack until well browned, about 5 minutes. Brush 2 tablespoons of the reserved, uncooked glaze over the top and sides of the loaf and then return to the oven and broil for another 2 minutes.
Transfer the meatloaf to the middle rack and brush with the remaining uncooked glaze. Change the oven temperature to bake at 350 degrees and bake the meatloaf for 40 to 45 minutes, until cooked through. Transfer the meatloaf to a cutting board and tent with foil. Let it rest for 20 minutes. Slice and serve, passing the cooked glaze at the table.
Recommended Products
As an Amazon Associate and member of other affiliate programs, I earn from qualifying purchases.
Recipe Source: adapted slightly from Cook's Country February/March 2009
Disclaimer: I am a participant in the Amazon Services LLC Associates Program, an affiliate advertising program designed to provide a means for me to earn fees by linking to Amazon.com and affiliated sites. As an Amazon Associate I earn from qualifying purchases.