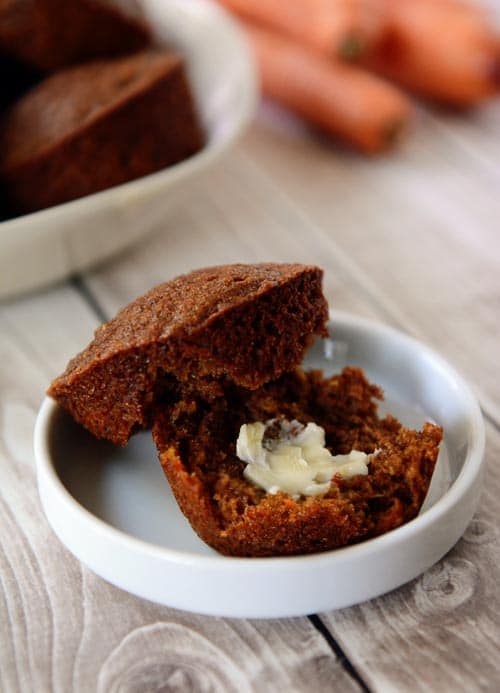 Would you believe me if I told you these muffins are exceptionally good for you and taste amazing too? I know that you know that I know that this is not always the case with "healthy" baked goods. But these delicious little muffins break the mold on that one for sure which should come as no surprise since my Aunt Marilyn gave me the recipe and I know that you know that I know that her recipes are always pretty killer.
Packed with superfood after superfood, they have no added sugar beyond the thick, syrupy molasses and are bursting with quinoa, whole wheat, carrots, chia seeds, and lots of cinnamon. They may not win any awards for looks but since they aren't going to clog your arteries, either, I'd say we can look over that little hangup.
I tend to keep my freezer stocked with a few of our favorite muffins-fit-for-breakfast-and-snacking, including these Refrigerator Bran Muffins, Healthy Applesauce Oat Muffins, and Banana Blueberry Muffins (among others, depending on my mood). When asked to grab a bag full of muffins out of the freezer in the morning lately, the kids have been going straight for these. Who am I to argue?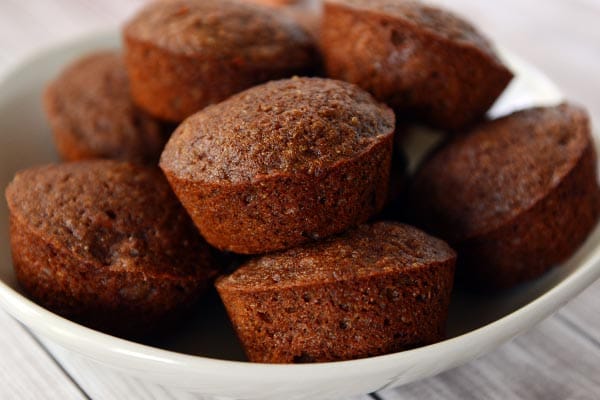 We like them with a little dab of butter (ignore the "won't clog your arteries" comment above, thankyouverymuch) and a teensy drizzle of honey, but they are exceptionally tasty without any adornment, too. Aside from breakfast, I've taken to throwing a few of them in my bag when we are out on long walks (you know, for when that uphill stretch is looming before me and the loaded-with-toddlers stroller and a power muffin break is needed stat). They'll also be a perfect addition to our school lunch routine since my kids don't mind a muffiny type lunch now and then.
Keep in mind, these are definitely and very certainly a muffin. As my Aunt put it when sending me the recipe: "Don't expect a cupcake and you won't be disappointed." Truer words hath never been spoken. A muffin it is! And a healthy, delicious one at that!
One Year Ago: Ebelskivers: Puffy Danish Pancakes
Two Years Ago: Cheesy Zucchini Rice
Three Years Ago: One-Pot Southwest Chicken and Rice
Good Morning Power Muffins
I prefer using white whole wheat instead of red whole wheat flour since it has a lighter texture but either will work fine just take care to use a light hand when measuring the flour since overflouring will make the muffins dense and dry. Also, make sure the cooked quinoa you use hasn't been cooked in broth; just water and maybe a pinch of salt.
Ingredients
1/2 cup extra-virgin or refined coconut oil, melted (not hot, just slightly warm)
1/2 cup no-sugar added applesauce
1 cup molasses
4 large eggs
1 teaspoon vanilla
2 cups whole wheat flour, fluff the flour before measuring with a light hand
1 1/2 teaspoons baking soda
1 teaspoon baking powder
1/2 teaspoon salt
1 tablespoon ground cinnamon
1 1/2 cups cooked and cooled quinoa
1 1/2 cups shredded carrots
3 tablespoons chia seeds (optional)
Directions
Preheat the oven to 350 degrees F. Lightly grease two 12-cup muffin tins and set aside (or you can line them with paper cups).
In a large bowl, whisk together the coconut oil, applesauce, molasses, eggs, and vanilla.
In a medium bowl, whisk together the flour, baking soda, baking powder, salt and cinnamon. Add the dry ingredients to the wet ingredients and mix lightly with a wooden spoon or rubber spatula; there should still be a few dry streaks.
Fold in the quinoa, carrots and chia seeds until just combined (don't overmix).
Fill the muffin cups about 3/4 full and bake for 18-22 minutes until the tops spring back lightly to the touch (or a toothpick inserted in the center comes out clean).
Let the muffins cool for 2-3 minutes in the tin before gently sliding out onto a wire rack to cool completely.
https://www.melskitchencafe.com/good-morning-power-muffins/

Printed from Mel\'s Kitchen Cafe (www.melskitchencafe.com)

Recipe Source: adapted slightly from my Aunt Marilyn (used coconut oil instead of butter)