You know how much I love the Oatmeal Pancake Mix, right? I am never without that magical mix in my pantry. And pancakes appear at our breakfast table at least three or four mornings a week because of it. Healthy, delicious, FAST.
Well, enter a new recipe that has nudged and nestled it's way into my fridge and found a permanent place in our bellies. Healthy? Yep. Perfect for a crazy morning? Uh-huh. Mightily delicious? Yes sirree.
This recipe is the culmination of months of experimenting. My sister and I wanted the perfect bran muffin. We loved the idea of keeping the batter in the fridge and scooping it into muffin tins quickly on a busy morning, but we wanted the muffins to be healthy. Really healthy…but still palatable. Thanks to our mom's recipe and a few tweaks here and there, I can honestly say, these are the perfect bran muffins.
The shocking thing is that while they are packed with whole grains and are low-fat, they taste amazing. I never miss the excessive oil, sugar or white flour. Served warm with a drizzle of honey and let me tell you, I've instantly become a morning person. And if you know me, you'll recognize that is nothing short of a miracle.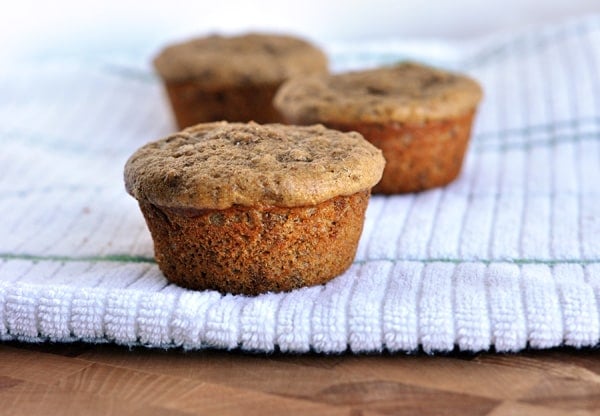 One Year Ago: Southwest Rice and Bean Salad
Two Years Ago: Chicken Tikka Masala
Healthy and Delicious Refrigerator Bran Muffins
Ingredients
4 cups wheat bran flakes or plain wheat bran
2 cups bran buds

(look like little pebbles)

or all-bran

(look like little twigs)

2 cups boiling water
1 quart (4 cups) buttermilk
8 tablespoons (1/2 cup) butter, melted
½ cup (no-added sugar) applesauce
2 cups sugar
4 large eggs
1 teaspoon pure vanilla extract
5 cups whole wheat flour
4 teaspoons baking soda
1 teaspoon salt
Directions
In a large bowl with a tight fitting lid, place the wheat bran flakes (or plain wheat bran) and the bran buds or all-bran. Pour the boiling water over the bran and mix well. Stir every couple of minutes while the mixture cools to room temperature. The mixture will become very thick and sticky.
After the mixture cools, add the buttermilk, melted butter, applesauce, sugar, eggs and vanilla. Mix well. Add the flour, baking soda and salt. Mix well to combine all the ingredients together.
The batter can be covered well and kept in the refrigerator for up to 30 days. To bake, scoop the batter into greased or lined muffin tins. Fill 3/4 full. Bake at 375 degrees for about 14-16 minutes, until a toothpick inserted in the center of a muffin comes out clean or with a few moist crumbs.
https://www.melskitchencafe.com/healthy-and-delicious-refrigerator-bran-muffins/
Printed from Mel\'s Kitchen Cafe (www.melskitchencafe.com)
Recipe Source: My Kitchen Cafe Original (with the help of my amazing mom and sister, Em!)