Homemade Peppermint Patties
Cute, delicious, and perfect for the holidays, these homemade peppermint patties are so easy to make (video tutorial included in post!).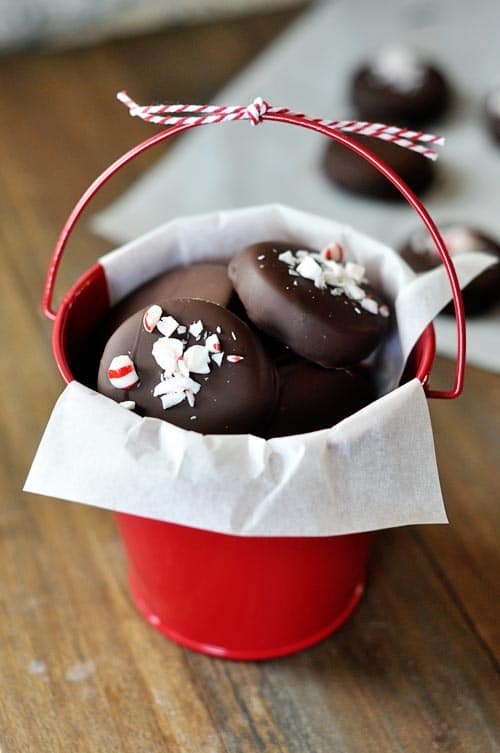 Homemade peppermint patties have been on my bucket list of things to make for years.
They are my mom's favorite treat. (I'm pretty sure she keeps them in the freezer because apparently frozen peppermint patties are delightful and are harder to find for unsuspecting treat-seeking souls)
But I've always thought they'd be a bit fussy to make (read: not worth it when the store bought variety will do just fine) so I put it off until just recently.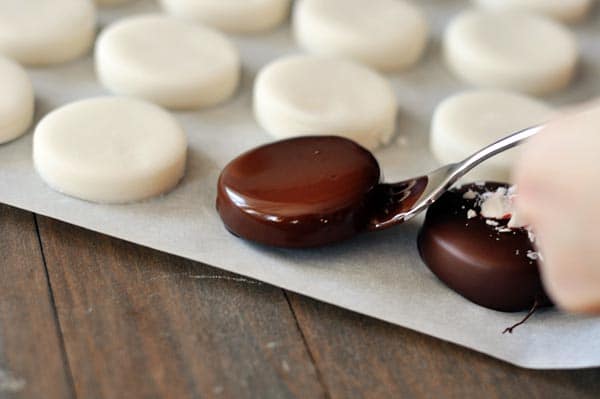 You'd think I'd learn my lesson by now: homemade is always better.
Actually scratch that. Homemade is usually better. I once tried to make yellow mustard. It was revolting. But these peppermint patties? Definitely not revolting.
The peppermint dough for the filling is wonderfully easy to work with and if you have a spare fork and butter knife handy, the dipping is a breeze, too.
I kept these refrigerated, as the recipe states, and even though it makes a bazillion, after gifting some to nether parts of our neighborhood, we had no trouble devouring the rest.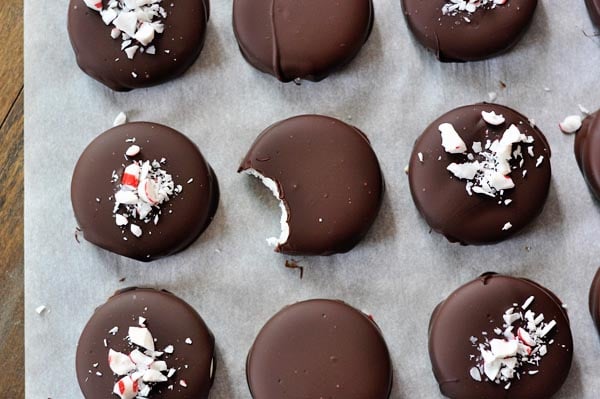 I was surprised, actually, that the boys loved them so much since I was a little heavy-handed with the peppermint. Apparently spicy mint filling enrobed in dark chocolate is kid-approved in this house.
The white center is creamy and sweet and the rich dark chocolate cuts the minty mintness perfectly. Personally, I preferred the ones not topped with crushed mint candies but I'll leave that up to you (the sprinkle of candy definitely helps out the pretty factor).
The how-to video for these peppermint patties is located below the recipe (on mobile) or it should pop up automatically in your sidebar on desktop. You can also see it here on Facebook.
How to Package Homemade Peppermint Patties:
To package these, I stuff a square of parchment into the bottom and up the sides of a cute tin bucket, fill it up with peppermint patties and tie the handle with a bit of twine.
I have found the tin buckets at Hobby Lobby, Oriental Trading has them for about $9/dozen and Amazon has a variety to offer also.
If you don't want to use tin buckets, these little peppermint patties would do just fine in a treat bag (like the ones used for the caramel popcorn).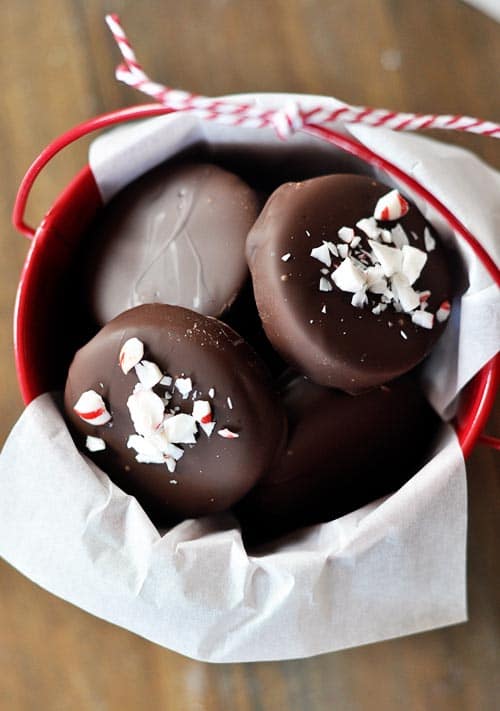 Homemade Peppermint Patty FAQ's
Gathered from the comment thread, here are some of the most frequently asked questions about these homemade peppermint patties and the answers!
Question: How long will the homemade peppermint patties keep once made?
Answer: They will keep about a week well-covered in the refrigerator (maybe a bit longer, although they taste the best/freshest within a week in my opinion). The peppermint patties can be frozen for longer – probably a month or so.
Question: What can I sub for the coconut oil?
Answer: Shortening or another mild flavored, creamy, solid oil.
Question: Do these have to be refrigerated?
Answer: They are fine at cool room temperature, but keep longer and taste best if they are refrigerated.
Question: Is it really 7 1/2 cups of powdered sugar? Is that a typo?
Answer: The amount of powdered sugar is correct, but make sure you measure with a light hand (if you weigh your ingredients, it will be about 30 ounces). If the measuring cup is packed with dense powdered sugar, it will be too much. Fluff the powdered sugar in the bag/container, scoop in the measuring cup and then level off with a straight edge.
Question: Can I roll the dough into a log and cut that way?
Answer: I haven't tried that but many people in the comments have said they roll the peppermint patty dough into a log before refrigerating and then cut with a serrated knife or dental floss before dipping.
Question: Is there a substitution for the corn syrup? Or the evaporated milk?
Answer: I haven't tried subbing another ingredient, but you could experiment with honey or another sweet syrup (if it is dark colored, keep in mind it will lessen the bright whiteness of the peppermint patties. For the evaporated milk, you could try using half and half.
One Year Ago: Chocolate Shortbread Fingers
Two Years Ago: Chile Lime Popcorn
Three Years Ago: Root Beer Float Fudge
Homemade Peppermint Patties
Yield: 50 peppermint patties

Prep Time: 25 minutes

Additional Time: 1 hour

Total Time: 1 hour 25 minutes
Ingredients
7 1/2 cups powdered sugar, sifted
1/3 cup evaporated milk
1/3 cup light corn syrup
3 tablespoons extra-virgin or refined coconut oil
1/4 teaspoon food-grade peppermint essential oil or 1 teaspoon peppermint extract (see note)
1 1/2 pounds bittersweet or semisweet baking chocolate, chopped
Crushed peppermint candies for sprinkling, optional
Instructions
In a large mixing bowl, beat together the sugar, milk, corn syrup, coconut oil and peppermint on low speed until combined. Shape the dough into two round circles, cover in plastic wrap and refrigerate for 30 minutes.
Sprinkle a liberal amount of powdered sugar on a clean countertop or on a piece of parchment paper. Unwrap one disk of dough and place it on the counter or parchment. Sprinkle the top with powdered sugar, too. Roll the peppermint patty dough to about 1/4-inch thick and cut into rounds with about a 1 7/8-inch or similar-sized cutter.
Reroll the scraps until all of the dough is used. Repeat with second disk of dough. Place the rounds on a parchment-lined baking sheet and freeze until firm, about 30 minutes or overnight.
Melt the chocolate (I use the microwave on 50% power and cook for 1-minute increments, stirring in between; I melt until it is mostly melted but there are still a few small lumps of chocolate - I stir these in until fully melted. This will help to avoid blooming on the set chocolate.)
Using a fork, dip the frozen patty rounds one-by-one into the chocolate. Tap the handle of the fork on the side of the bowl to drizzle off the excess chocolate, scrape the bottom of the fork on the edge of the bowl and gently place the dipped patties on parchment-lined baking sheets using a butter knife to gently slide the patty off the fork if needed.
Sprinkle the dipped patties with crushed mints, if using. Let the chocolate set, about an hour. Store patties in the refrigerator.
Notes
Peppermint Oil/Mint Extract: the recipe calls for either food-grade peppermint essential oil or mint extract. In either case, you'll want to add more of either if needed - so taste the filling before rolling, cutting and dipping. I used about 1/4 teaspoon peppermint oil initially but ended up adding a few more drops for a more potent peppermint taste. I haven't tried this yet but I think it would be absolutely delightful to add a touch of peppermint to the chocolate, too.

Chocolate: here's a quick video tip on tempering/melting chocolate and another on dipping things in chocolate like a pro.

Brand: my preferred brand of chocolate is Ghirardelli.
Recommended Products
As an Amazon Associate and member of other affiliate programs, I earn from qualifying purchases.

Recipe Source: adapted from Cuisine at Home December 2013 (used coconut oil instead of shortening)