Salty Sweet Granola and Coconut Yogurt
This salty sweet homemade granola really is the perfect balance of salty and sweet, and it is completely divine with creamy coconut yogurt.
I can't lie to you. Each holiday season, I play favorites. No, no! Not with my kids, silly.
No, I end up embracing, loving, dreaming of and obsessing over the one treat or food gift that has stolen my heart and that I want to give to everyone.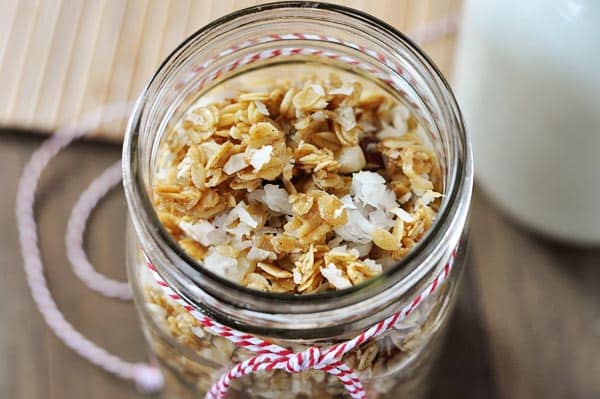 Even amid all the thousands of decadent holiday treat and food ideas swirling around to tempt me, there is always one that stands out.
No contest, this granola and yogurt has won. Easily. While granola may not make your heart go pitter-patter with holiday gluttonous (the likes of which is astounding around the internet this time of year), I think I have officially declared it my favorite holiday gift this year especially when gifted with a jar of luxurious, thick homemade coconut yogurt.
It's unique and refreshing and healthier than caramel-coated-double-chocolate-fudge-filled-candy-cane-brownie-bark. That isn't to say I won't be bombarding you with all sorts of naughty treats the rest of the week, but still, for the record, this is healthy-ish.
Personally, I've been eating this granola on my yogurt every single morning for the past month, no exaggeration, pinkie swear.
It is amazing. A perfect balance of salty and sweet, it is completely divine with creamy yogurt and just about perfect for independent snacking. Between coworkers, friends, neighbors, teachers, UPS delivery guys (we are BFFs thanks to Amazon Prime), at least a few people on my list are getting some of this granola and yogurt.
I won't be able to live with myself if they don't.
Of course, if you don't want to go to the work of making your own yogurt, buying a tub of good-quality, tasty yogurt would work just fine to go along with the star of the show: the salty sweet granola.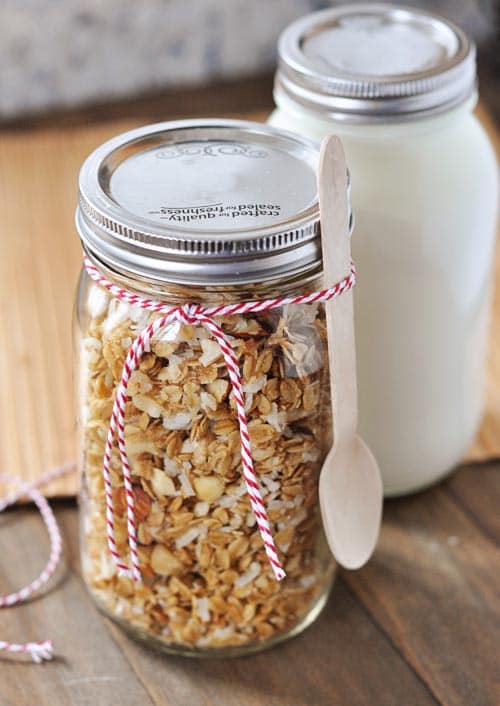 Many of you already love and use another favorite granola recipe of mine.
It's incredible and you could obviously use and package that one up instead/also, but this granola is definitely worth a try.
It has a completely different flavor profile with the olive oil and different types of nuts, plus it is cooked at a higher heat for much less time (the nuts and coconut are brilliantly added toward the end of baking time to ensure they don't burn). I hate to play favorites, but this is definitely my go-to granola right now.
When it first came out of the oven, I wasn't sure about the strong aroma from the olive oil and the salty bite – but after it sits for a day, the flavors meld and subdue and it is wonderful (plus I cut the salt down just a tad, too).
Granola and yogurt may not be the most exciting "treat" in the world when faced with cookies and cakes and brownies, but I promise it's a worthy gift (or just a lovely thing to enjoy yourself).
I definitely wouldn't turn it down if someone showed up at my door with it; in fact, I'd probably hoard it all to myself. Enough with the talk, just make it!
One Year Ago: White Chipper Chocolate Cookies
Two Years Ago: Sweet Berry Bruschetta
Three Years Ago: Chocolate Haystack Cream Cheese Squares
Recipe Source: adapted slightly from Melissa at Faux Martha by way of The Kitchn (I decreased salt slightly and used a different variety of nuts as well as sweetened coconut instead of unsweetened since I can't find that in my neck of the woods)
Disclaimer: I am a participant in the Amazon Services LLC Associates Program, an affiliate advertising program designed to provide a means for me to earn fees by linking to Amazon.com and affiliated sites. As an Amazon Associate I earn from qualifying purchases.