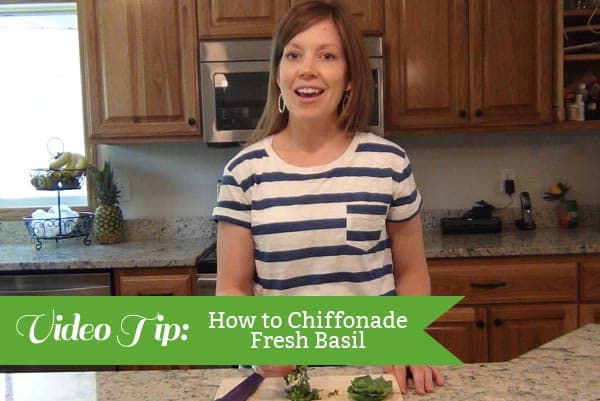 Ever wonder how to cut fresh basil into those pretty little strips? No? Hmmmm. Ok, even if you've never had it on your bucket list, now's the time to try it out. The fancy term is chiffonade, pronounced shif-oh-nod or shif-oh-nade (like lemonade). I just call it: cutting the basil into long thin strands.
Basil can bruise quite easily and is a pain to chop up leaf by leaf. Chiffonading is hands down the funnest way to cut basil for any dish that requires chopped fresh basil (another great way is to tear it into pieces which eliminates bruising all together but that's annoying if you need large amounts or when you want the picturesque strands of basil).
This quick little video shows you a simple, fast way to channel your inner chef and chiffonade that basil like you've been doing it your whole life.
Here are a few of my favorite recipes using fresh basil:
Summer Couscous Salad
Marinated Caprese Salad
Fast and Fresh Orzo Salad
Grilled Caprese Chicken
Summer Corn Salad
Cherry Tomato Caprese Salad
Fusilli alla Caprese
Tri Color Pasta Salad
Remember all of the video tips can be seen on my Video Tips page as well as on Mel's Kitchen Cafe You Tube channel.