Peanut Butter Brownie Trifle
This peanut butter brownie trifle is a rich, fantastic change-up from plain old brownies. Chocolate, brownies, and peanut butter. You can't go wrong!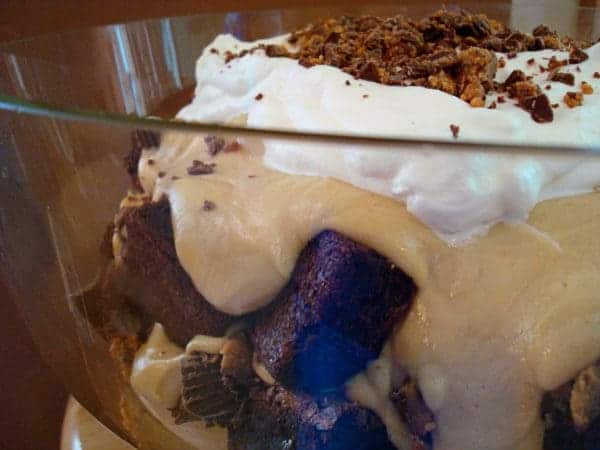 Please look over the fact that I don't own a trifle bowl (I used my overly large punch bowl) and instead focus on the magical combination that lies herein: chocolate, brownies and peanut butter.
I love the chocolate and peanut butter combo so when my cousin, Merianne, sent me this recipe, I knew I would be trying it soon. It was heavenly.
Trifles are delicious in that they are layered with texture upon texture of divine yumminess – the fudgy, chewy brownies were sandwiched between layers of creamy peanut butter pudding and intermixed with chunky pockets of crumbled Reese's Peanut Butter Cups.
Beyond rich, this dessert didn't last long in my house.
It was a fantastic change-up from serving plain (but still delicious) brownies for dessert. Thanks, Mer!
Peanut Butter Brownie Trifle
Yield: 12-14 servings

Prep Time: 25 minutes

Cook Time: 20 minutes

Total Time: 45 minutes
Ingredients
1 9X13 pan of your favorite brownie recipe (I used this one)
10 ounce bag of peanut butter chips
5 ounce package vanilla instant pudding mix
3 cups milk
1/2 cup peanut butter, creamy
2 teaspoons vanilla extract
1 cup whipping cream, whipped and divided
24 regular sized (about 2 inches in diameter) peanut butter cups, divided
Instructions
Line a 13 by 9 inch pan with aluminum foil, extend foil by 2 inches over side. Grease lightly with cooking spray. Prepare brownies according to the recipe. Add peanut butter chips. Bake in foil lined pan for length of time required. Cool completely.
Lift foil out of pan. Invert on cutting board. Remove foil. Cut into 3/4 inch pieces, using sharp knife.
Coarsely chop peanut butter cups; 1/4 cup for garnish.
Combine pudding mix and milk in large bowl. Beat at low speed for 2 minutes or until thickened (I had to chill mine for about 5 minutes to thicken it completely). Add peanut butter and vanilla; beat until smooth. Gently fold in half of whipped cream.
Place half of brownies in bottom of trifle bowl; top with 1/2 of chopped candy and half of pudding. Repeat layers. Top with remaining whipped cream, spooned or piped on. Garnish top with remaining peanut butter cups.
Recommended Products
As an Amazon Associate and member of other affiliate programs, I earn from qualifying purchases.

Recipe Source: adapted from Merianne
Disclaimer: I am a participant in the Amazon Services LLC Associates Program, an affiliate advertising program designed to provide a means for me to earn fees by linking to Amazon.com and affiliated sites. As an Amazon Associate I earn from qualifying purchases.