Pesto Balsamic Chicken Tortellini Toss
This delicious pesto balsamic chicken tortellini toss is loaded with so many yummy ingredients and flavors, like roasted tomatoes, fresh mozzarella, artichokes and more!
The flavor explosion in this tortellini toss salad is absolutely unreal.
Yes, there is a lot going on. And yes, we're just going to lean into that, because it.is.so.worth.it.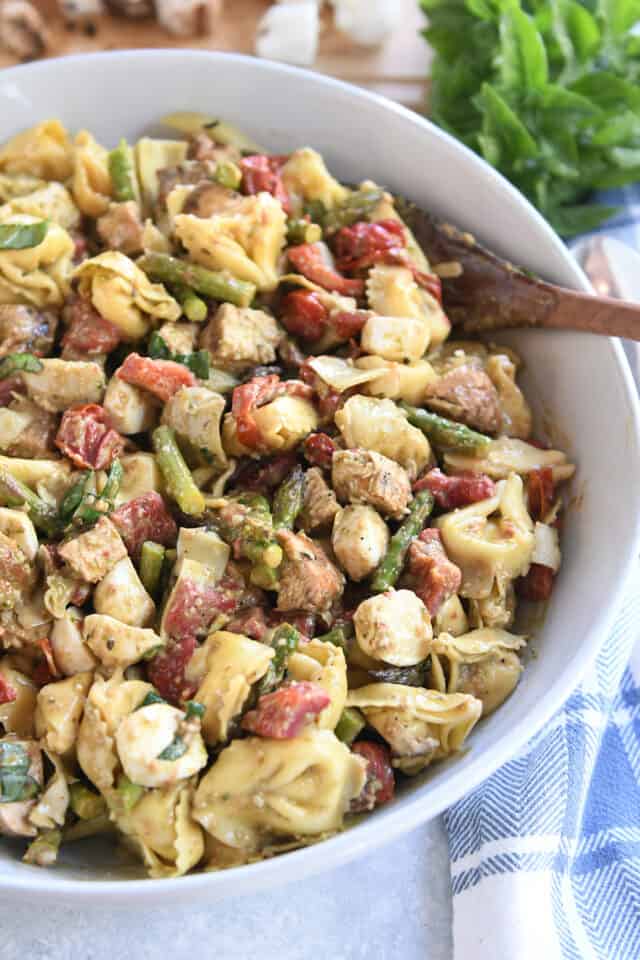 Balsamic Chicken
This recipe starts by building lots of flavor with a balsamic marinaded chicken.
I prefer grilling the chicken. But you can cook it a variety of different ways: baking or broiling in the oven, in an air fryer, cut into cubes and cooked in a skillet.
Basically: just get that chicken cooked up nice and juicy.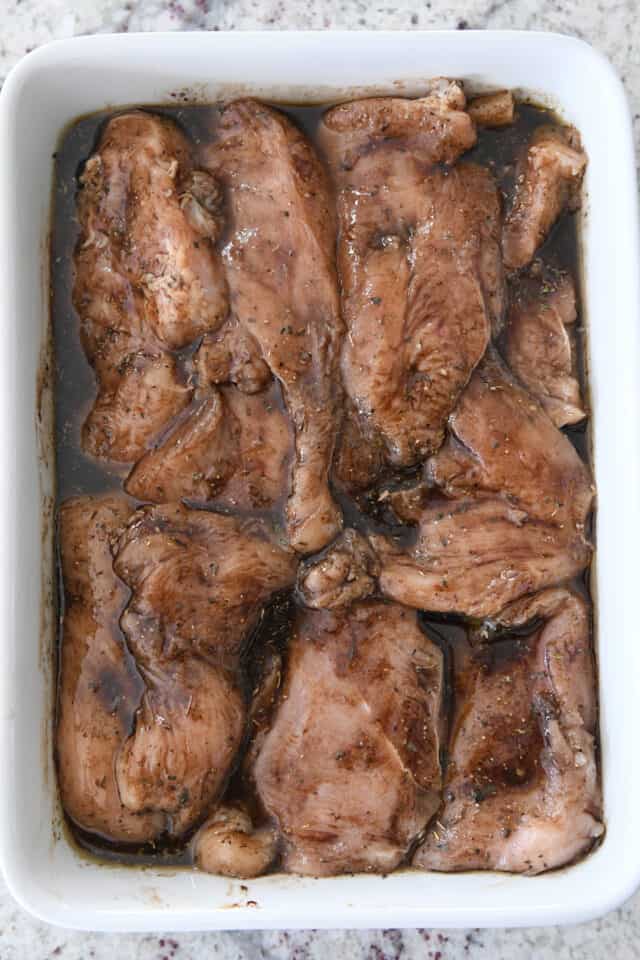 Tortellini Toss Ingredients
The key to this recipe is maximizing time by prepping/cooking ingredients simultaneously. While the chicken cooks, work on prepping some of the other ingredients.
Speaking of ingredients, this salad is loaded with an inordinate amount of yummy things:
tortellini (the fresh/refrigerated kind!)
roasted red peppers
canned artichoke hearts
fresh mozzarella
fresh herbs (basil is my fave in this salad)
grilled chicken
asparagus
tomatoes
Roasted Tomatoes and Asparagus
The tomatoes get tossed on a sheet pan with a little olive oil, salt and pepper, and thrown in the oven to roast until sizzling and bubbling.
About halfway through their metamorphosis, the asparagus is added to the sheet pan. And the two veggies continue roasting until the tomatoes are juicy and the asparagus is crisp tender.
The sweet, roasted tomatoes are one of my favorite parts of this pesto balsamic chicken tortellini toss!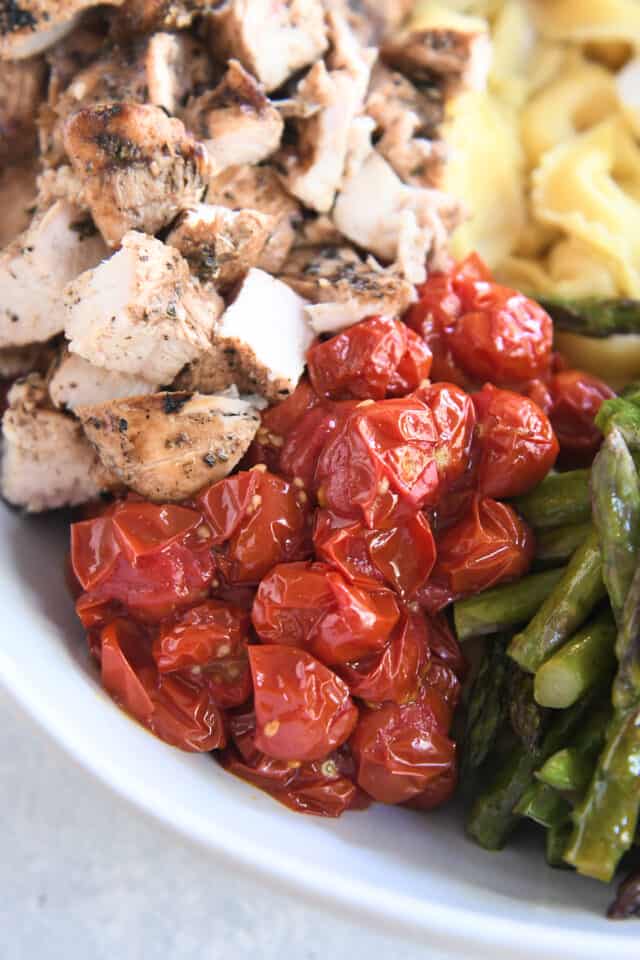 Pesto Balsamic Dressing
Ah, the dressing that brings everything together into one cohesive jumble.
It's simple! Just three ingredients:
pesto (see notes in the recipe about what kind of pesto to use)
balsamic vinegar
mayonnaise
The mayo lends a creamy element to the dressing which helps offset the stronger flavors of the vinegar and pesto.
However, you can leave it out if you so desire for a more vinaigrette-style dressing (I haven't tried subbing it with yogurt or sour cream).
A Really Beautiful Toss
The name of this recipe is apt as the ingredients are literally all tossed together into a colorful, jubilant salad.
Sometimes if there's too much going on in a recipe, it can be distracting. But in this recipe, it ends up as beautiful, edible chaos.
These flavors just speak to me. The pesto. The balsamic. All the delicious veggies and fresh mozzarella and juicy chicken. YUM.
I could eat this every day and be the happiest woman on the planet.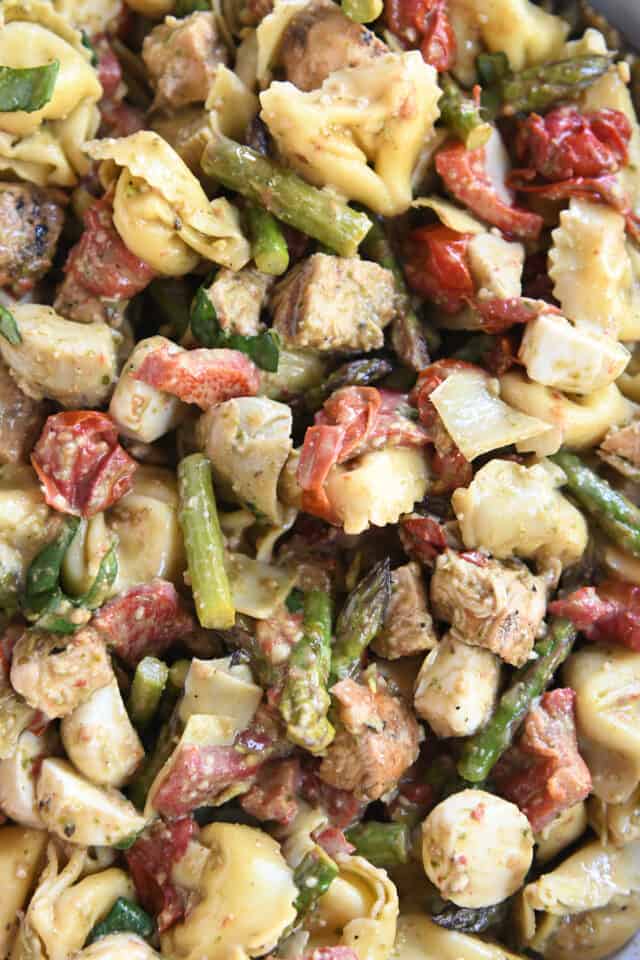 A Few Notes
This tortellini toss would make a really delicious side dish, potluck offering, or vegetarian main dish (just leave out the chicken).
This tortellini toss is a bit of an investment of ingredients and time (and yes, a few pans). But I promise it's worth it.
It's a salad people will be talking about for years.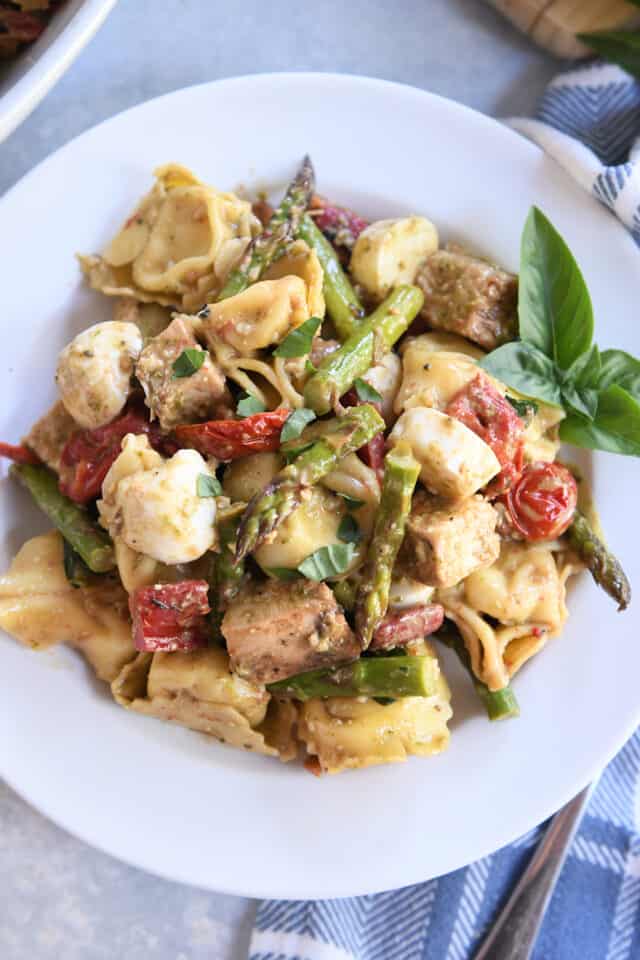 Recipe Source: adapted a fair amount from a recipe my mom gave me (someone served it to her and my dad on one of their recent travels)
Disclaimer: I am a participant in the Amazon Services LLC Associates Program, an affiliate advertising program designed to provide a means for me to earn fees by linking to Amazon.com and affiliated sites. As an Amazon Associate I earn from qualifying purchases.