Dulce de leche is otherworldy in its deliciousness. Years ago I posted a tutorial on how to make the glorious stuff yourself in the slow cooker. It's simple and foolproof and has been my mode of choice for a long time. The only downside is that it takes a good eight or so hours (wherefore art thou patience?).
During our chat about pressure cooking last Friday, Mollie, a commenter (and someone I've actually met in real life through blogging), said she had just made dulce de leche in her pressure cooker and I was seriously like "how come I haven't tried that yet?!?" And so I went immediately into the kitchen and made it (refer to the patience comment above).
My haste had two purposes: 1) dulce de leche, obvs and 2) I wanted to do a side-by-side comparison making dulce de leche in both my stovetop pressure cooker and the InstantPot (more details on both of those bad boys and why I like each of them for different reasons in last week's post) to see if the small difference in psi between the two would make a difference. The InstantPot, and other electric models, maxes out at about 11.6 psi while the stovetop models usually get up to 15 psi.
Here's what happened.
I started with two pint-size canning jars and filled them with sweetened condensed milk (three 14-ounce cans split between the two jars).
Using the steamer inserts for both the InstantPot and the Kuhn-Rikon, I capped a ring and lid on the jars and placed them in the center of each pot.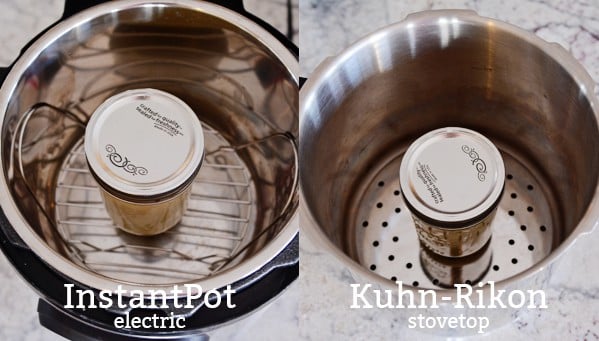 Next, I added water until it came up halfway on the jar (about 12-13 cups for each pressure cooker). Consult your pressure cooker manufacturer's directions to be sure you don't overfill the pressure cooker with water.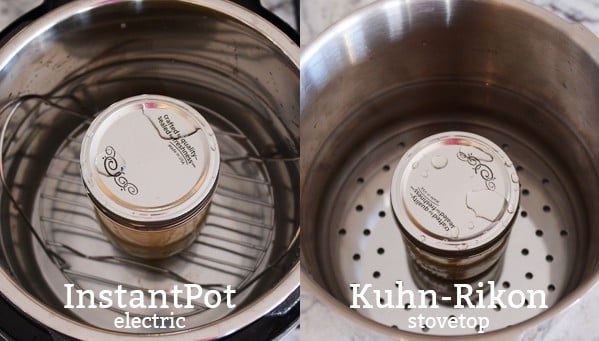 I sealed the pressure cookers and for the InstantPot, I made sure the valve was turned up to seal instead of downward toward venting (it wouldn't reach pressure if the valve was pointing down toward Venting).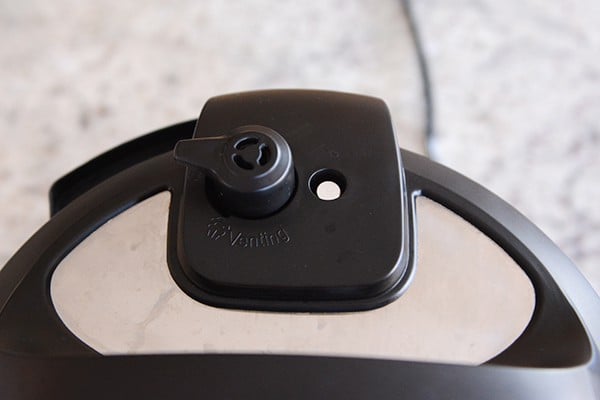 Then, I selected Manual –> adjusted the time to 50 minutes –> and let it go. For the Kuhn-Rikon, I brought it to high pressure on one burner, transferred it to a burner preheated on low and let it maintain at high pressure for 50 minutes.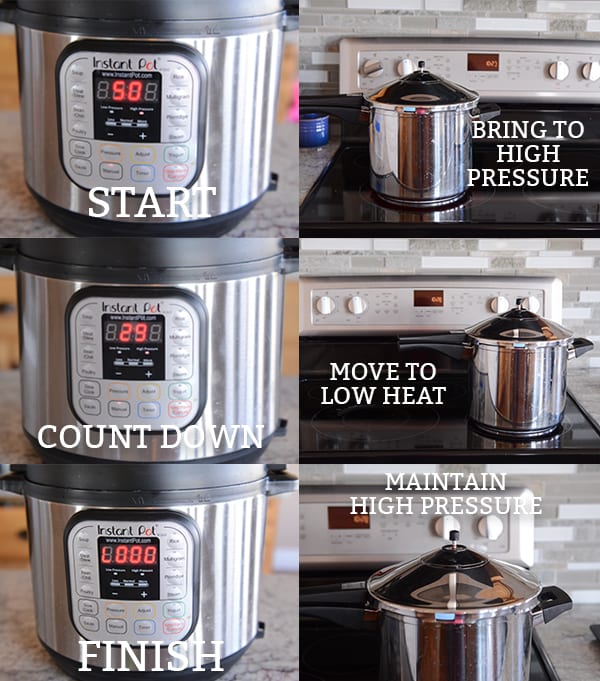 Interestingly, if you are nerdy like me and like to know more details: the InstantPot took 19 minutes to come to high pressure and the Kuhn-Rikon took 17 minutes. Pretty close there, little pressure cooking friends.
I chose to do a quick-release for the dulce de leche. Because the sooner I can get my hands on warm dulce de leche, the happier the existence of everyone in my home. Using a spoon, I released all the steam for both models (for the InstantPot, you don't have to hold the valve to vent like you do the stovetop pressure cooker).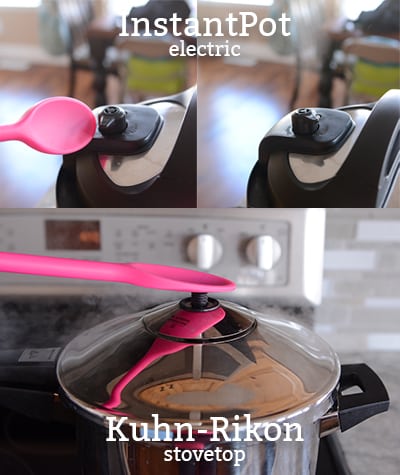 And the result? (After I risked life and limb to get the piping hot molten lava filled jars of dulce de leche out…)
After 50 minutes on high pressure for both pressure cookers, the Kuhn-Rikon stovetop dulce de leche was richer and darker whereas the InstantPot dulce was a bit lighter in color? Big deal? Eh, maybe not. I ended up putting the InstantPot dulce de leche back in for another 10 minutes on high pressure because I like the dulce de leche to be more full-flavored. It clearly wasn't a matter of one pressure cooker had the dulce de leche magic and the other didn't – it's just that the InstantPot's lower psi means it needed more time.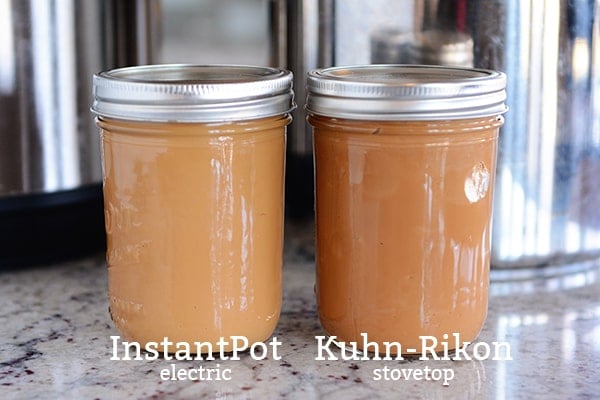 The Summary
1) Dulce de leche works beautifully in the pressure cooker and takes a fraction of the time it does in the slow cooker. Will I make it this way from here on out? Yes.
2) If you have an electric pressure cooker, you may want to add time to the dulce de leche as the psi (pressure per square inch) doesn't get as high as a stovetop model. Extrapolating this a bit further, this simple experiment shows me that the InstantPot isn't cooking as high as a stovetop model so keep that in mind for all recipes you use in the InstantPot that may have been written for a stovetop model (and vice versa). 
3) The cooking times will vary based on how full your jar is. Mollie, who gave me the idea in the first place, did 30 minutes at high pressure in the InstantPot and had perfect dulce de leche; I'm assuming her jar was 3/4 of the way full with one 14-ounce can of sweetened condensed milk (instead of all the way full like mine). So use a shorter amount of time if your jar isn't all the way full of sweetened condensed milk.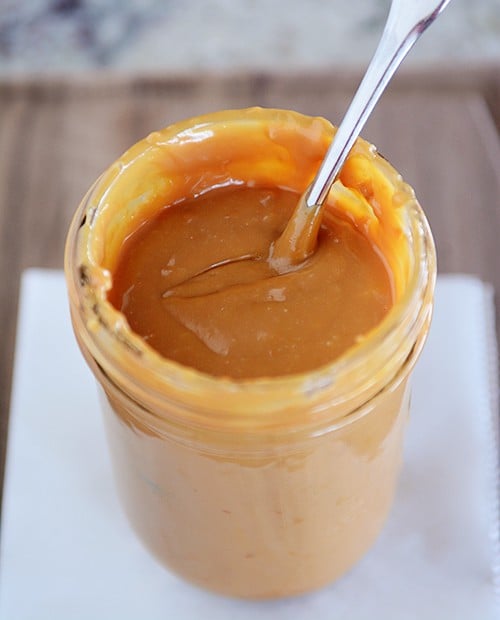 I won't always be able to do a side-by-side comparison with every pressure cooker recipe I make and post (I do have children and toilets, both of which need cleaning and maintenance every now and then) but I thought this would be an interesting project to enlighten you on this average Thursday.
Also, I've added a Pressure Cooker category to my Recipe Index. Slim pickings right now but my plan is to post a few pressure cooker recipes each month – keep an eye out for them on Thursdays.
Pressure Cooker Dulce de Leche
I have not tried this recipe with reduced fat or fat free sweetened condensed milk.
Also, I usually make two jars at once so if you are opposed to having half of a can of sweetened condensed milk left over, either a) use three cans and split them between two pint-size canning jars or b) only use one can of sweetened condensed milk (and cut down the time for pressure cooking accordingly). I haven't cooked two jars in my pressure cooker at once; while they will fit, I don't know how that will affect time. I'm guessing it will be pretty close to the same.
Don't stir the dulce de leche right when it comes out! Piping hot and that beautiful mess will curdle.
Ingredients
1 1/2 cans (14-ounces each) sweetened condensed milk
Pint size canning jar
Lid and ring for canning jar
Pressure cooker
Directions
Pour the sweetened condensed milk into the canning jar and cap with a lid and ring. Place the steamer insert/basket into the pressure cooker and place the jar on top of it. Fill the pressure cooker pot/insert until water comes up halfway on the jar (WARNING: consult the directions of your pressure cooker to make sure you don't overfill the pressure cooker with water; it will depend on the size of the pressure cooker).
Seal the pressure cooker.
For a stovetop model, bring the pressure cooker to high pressure and maintain high pressure for 50 minutes. Quick release when the time is up.
For the InstantPot, select Manual and then adjust the time up to 60 minutes. When the time is finished, quick release by pushing the valve to the Venting position to let out the steam.
Carefully remove the dulce de leche jar from the pressure cooker and let cool until just slightly warm before stirring (or else it will curdle).
https://www.melskitchencafe.com/pressure-cooker-dulce-de-leche-stovetop-vs-instantpot/
Printed from Mel\'s Kitchen Cafe (www.melskitchencafe.com)