I delved into the world of pressure cooking a few years ago after I decided to get over my unearthly fear of exploding pots, put on my big girl apron and make it happen. I mean, if my grandma could do it, so could I. Right? Plus the appeal of making cheesecake in a pressure cooker was just too much to resist.
I've had lots and lots (and lots) of emails over the last six months or so about pressure cooking. It seems as though it's coming out of the gray shadows of old generations and becoming a bit more mainstream and even slightly trendy. Many of you want to know: if I pressure cook, how I pressure cook, what I use to pressure cook and mostly, do I have a flippin' InstantPot yet.
So let's talk about pressure cooking for a sec. When I decided I wanted to learn more about it (after reading that the pressure cookers of today most likely were not going to explode like grandma's old tank), I started reading reviews. Blogs. Forums. Everything I could get my hands on to figure out what kind of pressure cooker I wanted to get. After spending more time on this than should be deemed acceptable (my toilets and exercise routine suffered), I settled on a regular, old stovetop model: this lovely Kuhn-Rikon pressure cooker.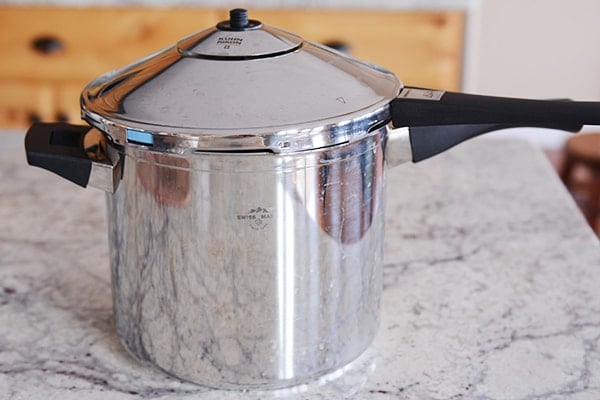 The #1 main reason I went for a stovetop vs. electric was capacity. I have a large family (five hungry kids and two always hungry adults) and I am often cooking for others. I wanted to be able to make a lot of food. Many of the electric models maxed out at sizes that didn't appeal to me (especially when you factor that many pressure cooker recipes like soups and stews can only fill the pressure cooker halfway for safety reasons).
I know the Kuhn-Rikon isn't the most budget-friendly model out there, but again, after reading all the reviews known to man, I wanted a foolproof stovetop pressure cooker that I was absolutely sure (ok, at least 98.9% sure) wouldn't explode on me and would last pretty close to forever. And this one has such incredible reviews (durability, safety, size, etc) that I knew it was the one for me (plus, I have several other Kuhn-Rikon items in my kitchen and already new the quality was unsurpassed). There are a lot of other fantastically reviewed stovetop pressure cookers, all of which are largely safer than the pressure cookers of several generations ago, on the market so do your research if you are in the market for one. 
In case you are new to the world of pressure cooking and are wondering why one would ever want to pressure cook in the first place, here are a few of the reasons why I love it: It's faster for many foods. It's more efficient and uses less energy. The nutrition in food is better preserved thanks to the fast cooking times and high temperature. And in the interest of full disclosure, I just feel like a rock star when I pressure cook anything.
Updated to add: I forgot to mention one of the main reasons I love my pressure cooker(s) is because they can cook a frozen piece of meat in a shockingly short amount of time (compared to conventional methods) and for someone that regularly forgets to thaw meat, this is just wonderful.
I think a pressure cooker is a great idea for anyone who loves flavorful, delicious, versatile food and wants the challenge of making it in a fraction of the time it would normally take. Busy mom or adventurous cook (or both!) – a pressure cooker is something to look into.
Now, I'm not going to lie, the first few times I used my pressure cooker, I was disappointed. It wasn't everything I hoped it would be. 100% of that was because I was so scared to let it come to high pressure (those double lines below) that it compromised the food I was cooking. Again, my healthy fear complex was coming into play. Also, pressure cooking on an electric stove vs. a gas range is a bit different and I've learned to heat the pressure cooker to desired pressure on one burner and once it comes to pressure, immediately move it over to another burner that's been sitting on low temp (or whatever temp is needed to maintain the pressure).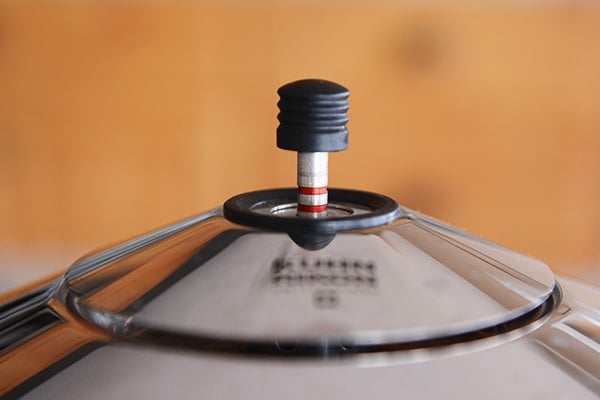 Now that I'm more comfortable with it, I use my stovetop pressure cooker all the time. At least weekly but there are some weeks where I've used it every single night. It's honestly revolutionary once you wrap your mind around the benefits. One night I was making this taco soup and forgot I didn't have any canned black beans. But I did have dry beans (thank you, almighty food storage)! In no time, my pressure cooker magically transitioned those dry beans into tender morsels and dinner was saved. Pretty slick.
But. Stovetop models are clearly not the only solution, especially for newbies.
Over the last few months, I've been inundated with emails from many of you asking me about the InstantPot. Sounds like many of you have bought one, received one, or put one on your wishlist. They are quite the popular appliance right now and with more than 4,000 5-star reviews, it's easy to understand why. I didn't have one and really had no intentions of getting one since I love my stovetop pressure cooker so much (and let's be serious, I just don't need another appliance in my already packed kitchen, Brian's shaking his head fervently in agreement). However, a few weeks ago, on a very sad day in December, my beloved slow cooker that I've had since we got married (13 1/2 years ago) quit. Died. Left us. After a proper mourning period, I hopped onto Amazon and figured out what I should do. New crockpot? Or should I go for the InstantPot to see what all the rage is about (the InstantPot slow cooks as well as pressure cooks). Even better, I emailed the InstantPot company to see if they'd send me one for an honest review (and future giveaway – woot!). They kindly said yes. I did a bad cartwheel. And my InstantPot showed up that week.
So let's talk about the InstantPot. This thing is a beast. It can do like 436 things (<- slight exaggeration). Yogurt. Slow Cook. Rice. Pressure Cook. It's definitely a workhorse. The capacity is decent. Six quarts (same size as my old slow cooker but a little smaller than my stovetop pressure cooker). Because there are so many functions, the learning curve takes some time, in my opinion. As in, what the heck button am I supposed to push? But there is a user manual for manual-needers like me.
So far I've made yogurt (turned out great but I like my stovetop method for now just based on familiarity, I think) and risotto (delicious) and 5-minute steel cut oatmeal (fantastic although 5-minutes is a bit misleading if you count the time it takes to come to pressure and then cool down). I've also made several recipes from my site – just adapted them to the pressure cooker (see bottom of the post). And of course we've made pressure cooker potatoes. Possibly one of the best thing to make in a pressure cooker, electric or stovetop (that and pressure cooker green beans, ohmygosh yum).
I mean look at all those options. It's mind boggling (and a little overwhelming).
I know you want to know. Which would I buy again? What's the best choice? Has the InstantPot changed my mind about stovetop pressure cookers?
Having used both a stovetop and an electric pressure cooker now, I'm hard pressed to say which one I'd choose over the other (I know, I know). I have a very soft spot for my Kuhn-Rikon stovetop pressure cooker. But I'm not going to lie, I am loving the InstantPot. Last week, there were three nights I had them both going at the same time. And last night, I made this amazing riff off of a favorite baked pork chop and apple recipe in the InstantPot while using my stovetop pressure cooker for a batch of white cheddar garlic mashed potatoes, still having time to dump out the potatoes and whip up a batch of pressure cooker turkey bacon green beans before the pork was done. It was all prepped, cooked, and on the table in less than an hour and was one of the most delicious meals ever.  #pressurecookingforlife 
The main advantage of the InstantPot (and other electric models) is that it is fix it and forget it. I can set the InstantPot to pressure cook my taters and walk away and help child A, B, C or D with homework (or even run out and get the mail or maybe hide in the pantry and eat chocolate chips for a sec), whereas I always keep a pretty close eye on my stovetop pressure cooker when it's going just in case it goes over pressure and I need to pull it off the heat. It obviously doesn't self-regulate like the InstantPot. But. It's bigger. And I love that. Plus, I've used it as a regular stockpot for a large batch of soup and a few other things.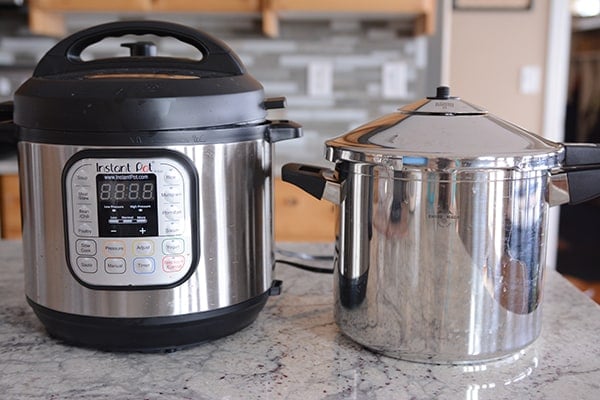 At a glance, here's the pros and cons of each:
(this is clearly not a comprehensive list, just a few of my personal highs and lows of each)
It's easy to see there are advantages and disadvantages of both, and like I mentioned above, if you are interested in pressure cooking, start reading up on and it you'll figure out which pressure cooker is right for you.
A quick note about those pressure readings: the InstantPot, even at high pressure (maxes out at 11.6 psi), doesn't cook as high as my stovetop (up to 15 psi) which means if you're using a recipe that says cook at high pressure, you may need to add time on the InstantPot (most electric pressure cookers max out at around 11 or 12 psi). 
Either way you look at it, pressure cooking is a fabulous way to cook food. I love it. Like, I'm kind of obsessed. It took me a long time to get over my fear; don't be like me!
Depending upon your interest, I'll do more posts (and videos) on pressure cooking in the future but don't forget that the world wide web is a goldmine of pressure cooking information and recipes.
Here are a few of my favorite online resources.
Hip Pressure Cooking (so many reviews, resources, tips, videos, forums and recipes); here's her post on the Kuhn-Rikon (it kind of sold me on it) and on the InstantPot (pretty informative!)

Pressure Cooking Today (Barbara is a seasoned food blogger who has some great recipes for pressure cooking + tips on how to use electric models)

Dad Cooks Dinner
Miss Vickie's (a little old school but some great info and recipes)
How to convert a normal recipe to pressure cooking.
There are hundreds of recipes on my site (and across the web) that aren't official pressure cooker recipes, per se, but they are very pressure cooker friendly. Honestly, one of the easiest ways to figure out how to convert a recipe over to pressure cooking is to google another similar recipe (for instance "pressure cooker beef stew"), take a glance at the cooking times and adjust it for the recipe you want to use (like this fabulous beef stew which is remarkably delish in the pressure cooker).
There are also handy dandy pressure cooking charts (I have this one bookmarked on my iPad) that make figuring recipes out pretty easy and the little manual that came with my Kuhn-Rikon has been invaluable, too.
So far I've made the following recipes from my site in my pressure cooker with phenomenal success + many others from across the web including that amazeballs cheesecake.
Phew! And I think that's it.
I'm clearly a little longwinded when it comes to pressure cooking.
So tell me.
Where are you on the pressure cooker spectrum? Yay or nay?
Disclaimer: this post contains affiliate links.