Romaine Salad with Chicken, Cheddar, Apples, and Cranberry Vinaigrette
Each bite is incredibly flavorful in this romaine salad with chicken, cheddar, apples, spiced pecans and cranberry vinaigrette.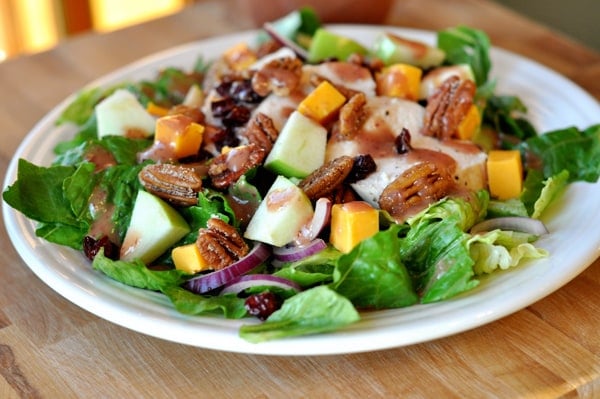 How's that for longest recipe name of the century? I wanted you to be instantly aware of what you would be getting into with this salad.
I promise the unusual combination of ingredients works. And works mighty well.
The glorious dried cranberries, tart apples, creamy and sharp cheese, pungent onions, tender and juicy chicken, sweet and spicy crunchy pecans, and deliciously silky and flavorful cranberry vinaigrette make for one of the tastiest main dish salads I've had in ages.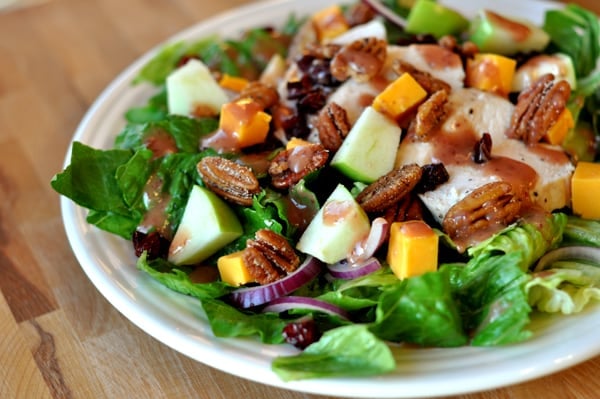 With a warm streak of temps in the upper-70's last week, the boys and I wanted to soak up every bit of sun since we know full well the impending doom of winter that will be coming in no time.
This quick weeknight salad for dinner was absolutely delicious and just what I needed to simplify and healthify our meal regime. Both the vinaigrette and pecans can be made in advance, as well as the poached chicken, if you so desire, so by the time you want to make the salad, it comes together in a snap.
I loved that each bite of salad holds a different flavor combination. And each bite was equally delightful. I have a feeling I'll be making this well into winter season, too.



If you are stressed about serving a main dish salad to kids, my tactic is to serve the salad with a platter of fresh fruit and vegetables as well as a crusty roll (or other type of heavily sought after carb) and often cottage cheese on the side.
One Year Ago: Chicken Enchilada Pasta
Two Years Ago: Creamy Chicken and Wild Rice Soup
Romaine Salad with Chicken, Cheddar, Apples, Spiced Pecans and Cranberry Vinaigrette
Yield: 4-6 servings

Prep Time: 25 minutes

Cook Time: 18 minutes

Total Time: 43 minutes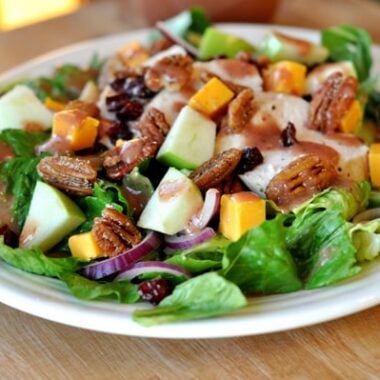 Ingredients
Salad:
1 1/2 pounds boneless, skinless chicken breasts (about 3-4 medium)
Salt and black pepper
1 tablespoon vegetable or canola oil
1/2 cup water
1 large head romaine lettuce, torn into bite-size pieces (about 8-10 cups)
8 ounces sharp or extra-sharp cheddar cheese, cut into 1/2-inch cubes
1 Granny Smith apple, cored and chopped or sliced thin
1/2 red onion, sliced thin
1/4 cup dried cranberries
1 cup spiced pecans, store-bought or following the simple recipe below
Dried Cranberry Vinaigrette:
1/4 cup cranberry juice or water
1/4 cup dried cranberries
1/4 cup red wine or raspberry vinegar
1 shallot, peeled and quartered
1 small garlic clove, peeled
2 teaspoons fresh thyme (or 1/2 teaspoon dried)
2 teaspoons Dijon mustard
1/2 teaspoon salt
1/2 teaspoon pepper
3/4 cup extra-virgin olive oil
Quick Spiced Pecans:
2 tablespoons butter
1/2 teaspoon salt
1/4 teaspoon pepper
1/2 teaspoon ground cinnamon
1/8 teaspoon ground cloves
1/8 teaspoon ground allspice
2 cups pecan halves
1 tablespoon sugar
Instructions
For the chicken and salad, pat the chicken dry with paper towels and season both sides with the salt and pepper. Heat the oil in a large 12-inch nonstick skillet over medium heat until the oil is shimmering and hot. Add the chicken and cook until it is nicely browned on one side, about 3 minutes. Flip the chicken over, add the water, and cover the skillet. Cook the chicken, letting it poach, until it is cooked through, about 5-7 minutes. Transfer the chicken to a cutting board and let it cool slightly before carving.
Toss the lettuce, cheese, apple, pecans, onion and dried cranberries together. Divide the salad among the serving plates. Slice the chicken on a diagonal and arrange over the salad. Serve with the vinaigrette. I prefer to let everyone douse their own salad with dressing, but you could toss the salad with 1/2 cup or so of the vinaigrette before assembling it on the plates and serve the extra dressing on the side.
For the pecans, melt the butter in a 12-inch nonstick skillet over medium-low heat. Stir in the spices and then the pecans. Toast the nuts, stirring often, until the color deepens slightly and they are lightly toasted, about 5-7 minutes. Transfer the nuts to a bowl and toss with the sugar. Let them cool completely before tossing with the salad.
For the dressing, combine the cranberry juice (or water) and cranberries in a small microwave-safe bowl. Cover with plastic wrap and microwave on high for one minute until hot. Process the hot cranberry mixture, vinegar, shallot, garlic, thyme, mustard, salt and pepper in a blender until the shallot and garlic are finely chopped. With the blender running, add the oil and continue to blend until the dressing is smooth and well-combined. Thin the dressing, if needed, with additional cranberry juice. Refrigerate until ready to serve.
Recommended Products
As an Amazon Associate and member of other affiliate programs, I earn from qualifying purchases.

Recipe Source: adapted from The Best 30-Minute Recipe
Disclaimer: I am a participant in the Amazon Services LLC Associates Program, an affiliate advertising program designed to provide a means for me to earn fees by linking to Amazon.com and affiliated sites. As an Amazon Associate I earn from qualifying purchases.