Slow Cooker Maple Brown Sugar Ham
A slow cooker ham that is juicy, flavorful, and so simple! The maple, brown sugar and pineapple flavors are perfect for a tasty glaze.
I used to always bake my holiday ham in the oven according to package directions, occasionally using the sugary glaze that comes with the ham and sometimes not.
That's what my sweet momma did, and I'm not one to veer too far from tradition.
However, when I decided to live on the edge and try my hand at a slow cooker ham years and years ago, I had no idea it would revolutionize my life.
It was fantastic. Really fantastic.
And it has since taken the internet world by storm! This is one of my most popular recipes all year, and it absolutely blows up during Easter, Thanksgiving and Christmas (this Sweet Baked Ham is a very close second).
This slow cooker ham is more flavorful than so many other hams I've made before, and the flavors are so perfect – maple, brown sugar and pineapple.
Delicious – not to mention super simple.
I've noted this in the recipe below, but over the years, the only change I've made is to reduce the amount of time in the slow cooker.
My ham was slightly overdone after cooking for 7 hours, so for me and my slow cooker, 4-5 hours on low is the sweet spot.
I'm definitely not the only one who loves this simple, life-changing slow cooker ham! A quick glance through the comments and you'll see there are a lot of fans of this best-ever slow cooker ham.
It is simple and delicious, and perfect for any time of the year, not just on holidays.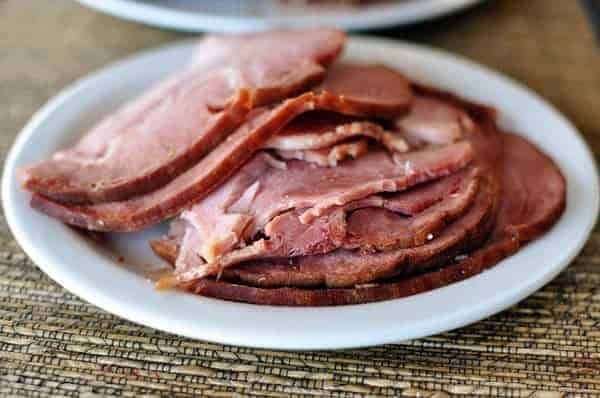 FAQs for Slow Cooker Maple Brown Sugar Ham
What can I substitute in place of pineapple?
Orange juice should work instead of pineapple.
What if I have a bigger/smaller ham?
You'll want to adjust the time accordingly, and continue to check it throughout.
Can I do anything with the leftover broth the ham was cooked in?
I've never used the broth for anything much because it's a bit too sweet for my taste but you could definitely experiment.
Is the ham supposed to be pre-cooked?
Yes, the recipe calls for a pre-cooked ham.

Tender biscuits like these Buttermilk Biscuits or Cream Biscuits
Homemade Baked Tater Tots
Classic Deviled Eggs
Slow Cooker Maple Brown Sugar Ham
Total Time:
5 hours
5 minutes
Ingredients
7-8 pound spiral-cut ham (bone-in or boneless)
1 cup dark brown sugar
1/2 cup pure maple syrup
2 cups pineapple juice
Instructions
Use a 6-7 quart slow cooker. Unwrap the ham and discard flavor packet. Place the ham into the slow cooker stoneware, flat-side down. Rub brown sugar on all sides. Pour on maple syrup and pineapple juice.
Cover and cook on low for 4-5 hours. An hour before serving, baste ham with the collected juices from the bottom of the slow cooker. When cooking is done, remove carefully and let it rest on a cutting board for 10 minutes before carving.
Notes
Slow Cooker: if you think your slow cooker may cook on the hot side, reduce the cooking time as needed.
Recommended Products
As an Amazon Associate and member of other affiliate programs, I earn from qualifying purchases.
Recipe Source: adapted from Year of Crockpotting
Disclaimer: I am a participant in the Amazon Services LLC Associates Program, an affiliate advertising program designed to provide a means for me to earn fees by linking to Amazon.com and affiliated sites. As an Amazon Associate I earn from qualifying purchases.