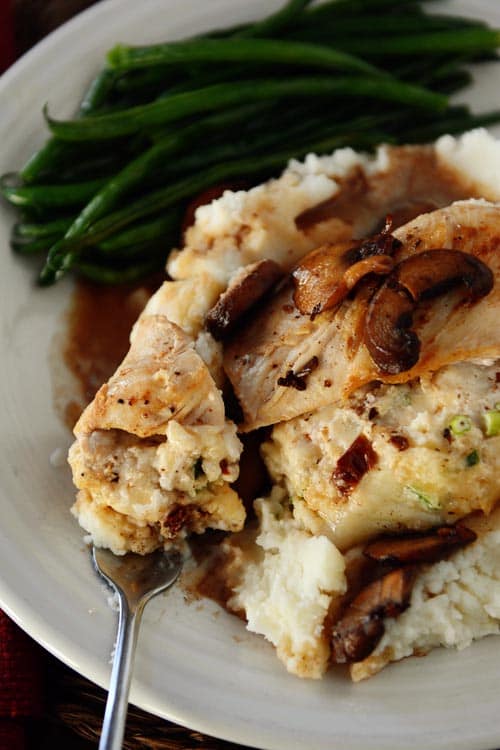 A little personal confessional, if I may:
1) I've never actually had this dish at Olive Garden.
2) It's been probably seven years since I've eaten at Olive Garden (is that a horror? I don't really know since it's been so long).
3) I made lots of changes to the recipe.
4) Since I don't drink or cook with alcohol and subbed accordingly, I really should rename it.
5) But I'm too lazy and uncreative.
6) Stuffing made from cheese and more cheese is my life.
7) This is so delicious, I'm thinking of usurping Thanksgiving turkey in favor of all things this.
Considering this is a restaurant copycat recipe (albeit with a lot of changes), it should come as no surprise that while eating, my entire family felt like we were tasting something straight out of a fine dining experience. That sentiment didn't necessarily carry through to the ambiance part of a dimly lit, beautiful restaurant considering the the waiter was noticeably absent as was the dishwashing staff (if you don't count the child assigned to that room job this particular day, that is). I guess you can't have it all. If forced to choose, though, I'll take fabulous food over a waiter refilling my water glass any day.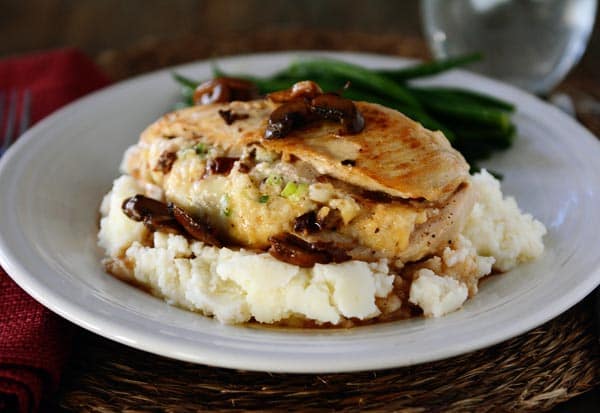 I've been experimenting with some recipes that could be considered a bit more elegant – fit for entertaining or for special dinners and this one is a homerun in that department. Don't let the recipe intimidate you. It's actually very easy; the chicken can be prepped ahead of time (make the filling a day or so in advance and even stuff the chicken beforehand, too). I used to always avoid recipes that called for butterflying or slicing chicken in unusual ways until I realized that it's actually not that hard and it kind of makes me feel like a rockstar. I mean, really, try it. Make this recipe and then tell the next person you see that you butterflied some chicken for stuffed chicken marsala and prepare to feel awesome. A little bragging when it comes to butterflying never hurt anyone.
I included a simple picture below the recipe for a visual on butterflying and stuffing if you need it. You know, just in case.
Prepare to fall in love! This delicious, tender chicken stuffed with the most amazing, flavorful mixture of cheese and garlic and spunky sun-dried tomatoes served over garlicky mashed potatoes is tremendous, especially with the rich mushroom sauce over the top. I'm not saying you should make this next Tuesday night when life is hectic and you only have a handful minutes to whip something up (you should probably consult this list of lifesaving 30-minute meals instead). But next time you need a meal with lots of wow factor, this is the one.

Simple Skillet Green Beans
Divine Breadsticks
One Year Ago: Pumpkin Cream Sandwiches
Two Years Ago: Caramel Apple Cider Floats
Three Years Ago: Peanut Butter Texas Sheet Cake
Ok, so I know that this recipe is called chicken "marsala" but you'll notice there's no Marsala wine in the ingredient list. That's because I don't drink or cook with alcohol; I always sub grape juice + balsamic vinegar for recipes calling for wine (in different amounts and with different varieties of grape juice depending on the recipe). However, if you want to use Marsala wine, omit the vinegar, grape juice and beef broth/stock and replace it accordingly.
Also, if you want your sauce a bit thicker, whisk in a couple teaspoons of cornstarch into the broth mixture before adding it to the skillet. The stuffing can be prepped a day or so in advance - as well as the chicken (butterfly, stuff, fold over and refrigerate for up to a day before proceeding).
Ingredients
4 ounces smoked provolone or gouda cheese, shredded (about 1 cup)
6 ounces mozzarella cheese, shredded (about 1 1/2 cups)
2 ounces Parmesan cheese, shredded (about 1/2 cup)
1/2 cup Panko or regular bread crumbs
3 cloves garlic, finely minced
Pinch of red pepper flakes, crushed
5-6 sun-dried tomatoes packed in oil, rinsed, patted dry and chopped
3 green onions, white and green parts finely chopped
3/4 cup sour cream
1/2 teaspoon salt
1/2 teaspoon black pepper
6 boneless, skinless chicken breasts
Salt and pepper to taste
1 tablespoon butter
1 tablespoon olive oil
16 ounces white button or baby bella mushrooms, sliced
1/4 cup balsamic vinegar
1 cup 100% white grape juice
1 1/2 cups good-quality beef broth or stock
1/2 cup heavy cream
Garlic mashed potatoes, for serving
Directions
Preheat the oven to 350 degrees F.
In a medium bowl, combine all the stuffing ingredients and mix until combined.
Take each chicken breast, pat it dry and season it lightly on both sides with salt and pepper. Butterfly the chicken through the thickest part (don't slice all the way through) so it opens up into one large, thinner piece of chicken (see pictures below, if needed).
Divide the filling into six portions. Press the stuffing onto one side of each chicken breast, covering as much of that side as possible and compressing the stuffing lightly with your hands so it stays together. Fold the other side of the chicken over tightly. It doesn't need to seal completely.
In a large nonstick skillet, heat the butter and olive oil over medium to medium-high heat until it is hot and rippling. Add the chicken, top-side down to the hot oil in a single layer without crowding the pan too much (you'll probably need to do this in two batches) and brown on each side for about a minute, flipping carefully. Repeat with the remaining chicken.
Place the browned chicken in a lightly greased 9X13-inch baking dish. Bake for 20-30 minutes until the chicken is baked through and the juices run clear (the center of the chicken, not the cheese stuffing, should reach about 160 degrees F on a thermometer).
While the chicken bakes, add the mushrooms to the hot skillet (don't clean it out beforehand, let the mushrooms cook in the remaining oil/butter), scraping up any bits of chicken on the bottom of the skillet. Sprinkle a little salt and pepper over the mushrooms. Let them cook down, stirring occasionally, until they have released their juices, 5-6 minutes. Crank the heat up a bit to medium-high.
Stir together the balsamic vinegar, grape juice and beef broth. Pour into the skillet and use a wooden spoon to scrape up any bits on the bottom of the pan. Simmer the sauce until it reduces by half. This may take a while, 20 minutes or so, but be patient - it will concentrate the flavor and help thicken. Stir in the cream. Season with salt and pepper to taste.
Serve immediately; place a chicken breast over a large scoop of garlic, mashed potatoes and top with a spoonful or three of the mushroom sauce.
https://www.melskitchencafe.com/stuffed-chicken-marsala-olive-garden-copycat/
Printed from Mel\'s Kitchen Cafe (www.melskitchencafe.com)
Recipe Source: adapted from Olive Garden's website