Summer Garden Vegetable Soup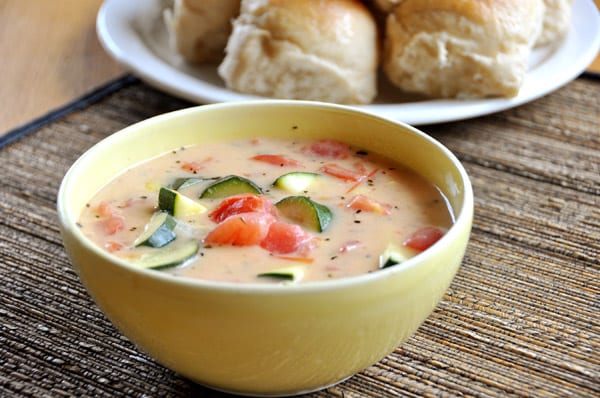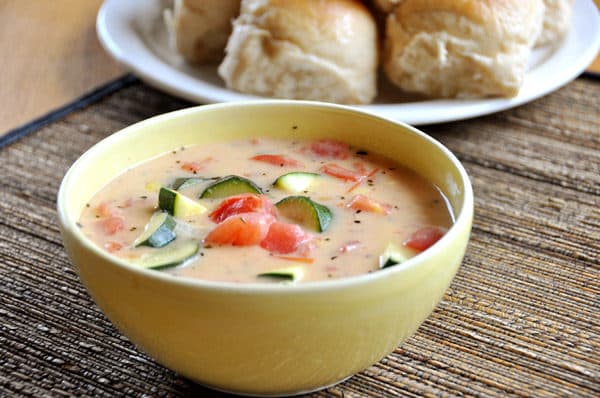 I wait all year long to make this soup – until I can pillage my own garden for the produce that fills this soup to brimming. Of course, the year that my zucchini plants failed (who can kill a zucchini plant, really??), I hit up my local grocery store for the goods.
Creamy and delicious, full of tender zucchini, corn, bright tomatoes, and flavorful seasonings, like basil and oregano, this soup is so heartening and filling.
I tend to stay away from soups during the summer, but even on a warmer evening, this dreamy, healthful soup just hits the spot.

I served this with some of my favorite (and easy!) rolls and it was a perfect summer supper.
One Year Ago: Foil Packet Chicken with Snow Peas and Carrots
Two Years Ago: Cinnamon Rolls
Summer Garden Vegetable Soup
Yield: 8 servings

Prep Time: 15 minutes

Cook Time: 22 minutes

Total Time: 37 minutes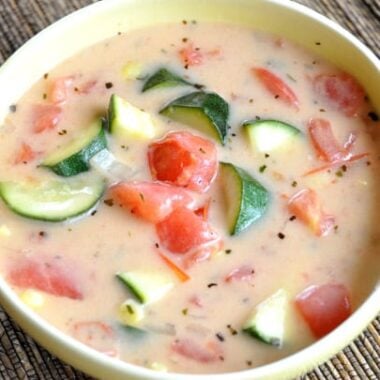 Ingredients
3 medium zucchini, chopped into bite-size pieces
4 medium tomatoes, chopped into bite-size pieces
2 tablespoons minced fresh parsley
1 teaspoon dried basil (or 1 tablespoon fresh basil, chopped)
2 tablespoons butter
1 medium onion, chopped
¼ cup flour
1 teaspoon salt
1/4 teaspoon pepper
3 cups low-sodium chicken broth
1 teaspoon lemon juice
1 (12 oz.) can evaporated milk (can use fat-free or low-fat)
1 ½ cups frozen or fresh corn kernels
1/4 cup freshly grated Parmesan cheese
Instructions
In a large pot, melt the butter over medium heat. Add the zucchini, basil, parsley and onion and saute, stirring occasionally, for 2-3 minutes. Add the flour, salt and pepper and stir and cook for one minute. Gradually add the chicken broth, whisking or stirring constantly. Add the lemon juice; mix well. Bring the soup to a simmer, stirring to prevent sticking, and cook for 2-3 minutes, until the zucchini is tender but still has some bite to it (it will continue cooking for a few more minutes). Add the tomatoes, evaporated milk, and corn.
Bring the soup to a boil and reduce the heat to medium-low. Cover the soup and simmer until the corn and zucchini are tender. Stir in the cheese just before serving.
Recommended Products
As an Amazon Associate and member of other affiliate programs, I earn from qualifying purchases.

Recipe Source: slightly adapted from my wonderful friend, Jenna