Southwest Rice and Bean Salad with Sweet and Spicy Dressing
This southwest rice and bean salad with sweet and spicy dressing is a side-dish knockout. Simple, traditional, and tasty.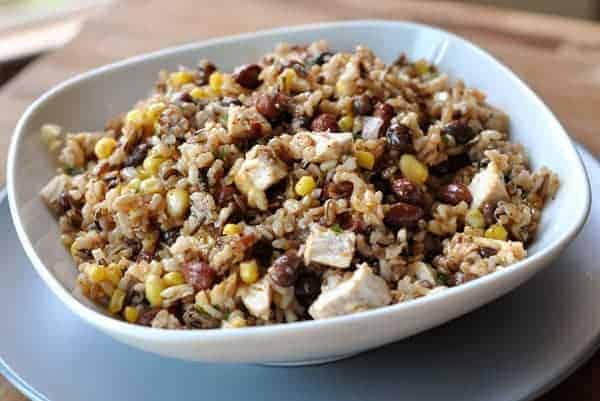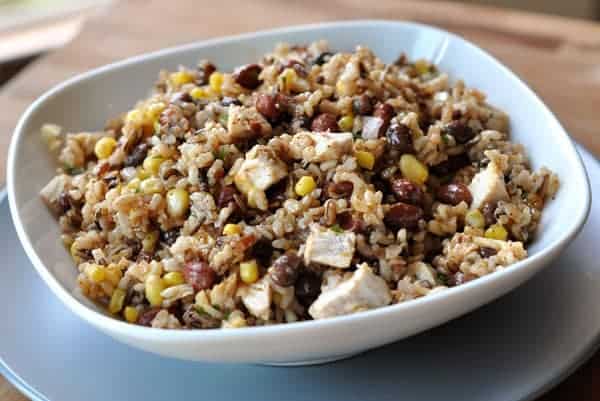 Continuing on the theme of the delicious southwest flavors, please let me introduce to you my new favorite salad. Oh, this salad. I could wax poetic about its lovely qualities.
But I won't. Lucky for you.
My cousin Tami passed it along to me when I had declared the Great Bean Crusade in my home (a fight against the gagging and whining that occurs when beans are served at our dinner table).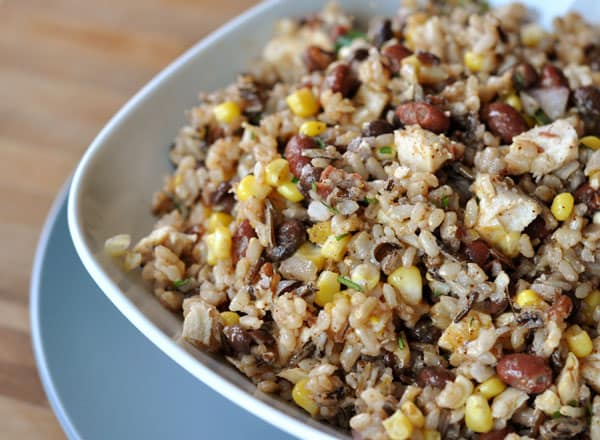 The end result of this salad is incredible. Delicious, in fact.
The salad ingredients are traditionally tasty and paired with the tangy, sweet dressing – it's a knockout. My husband devoured it, and that's fairly impressive since he's not crazy about having salad for dinner.
Never in a million years would I have expected the flavors of the dressing to be so melded and perfectly complete. This is definitely going to be a salad to grace our home and future potlucks for years to come.
Thanks, Tami. I owe you. Oh, and my kids even ate a bean or two. So actually, I owe you big time.
Southwest Rice and Bean Salad with Sweet and Spicy Dressing
Yield: 8-10 servings

Prep Time: 15 minutes

Total Time: 15 minutes
Ingredients
5 cups cooked rice, warm or at room temperature (white, brown, wild rice or a combination)
2 teaspoons salt
1 (15-oz.) can black beans, drained and rinsed
1 (15-oz.) can pinto beans, drained and rinsed
2 cups cooked, cubed chicken
1 (12-oz.) can corn, drained
4 green onions, chopped
Dressing:
1/4 cup fresh lime juice
2 tablespoons red wine vinegar
2 tablespoons packed brown sugar
2/3 cup canola oil
4 pickled jalepeno pepper rounds (found in the glass jars next to the olives, usually)
2 teaspoons chili powder
1 teaspoon cumin
Instructions
Combine all of the salad ingredients together in a large bowl.
Combine dressing ingredients in blender until peppers are finely minced. Toss with salad. Serve warm or at room temperature.
Notes
Adaptable: this salad is so adaptable. I've added 1/2 cup chopped fresh cilantro, subbed red onions for the green, doubled the dressing (just because!), and my favorite variation was made with a combination of wild and brown rice.
Recommended Products
As an Amazon Associate and member of other affiliate programs, I earn from qualifying purchases.

Recipe Source: from my cousin-in-law, Tami