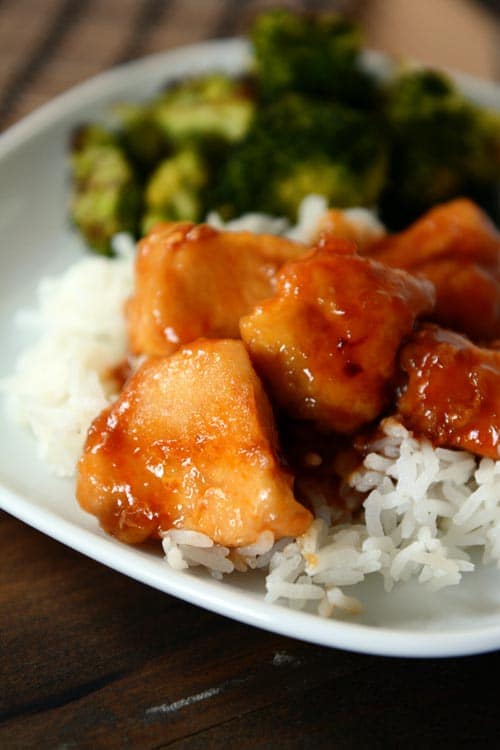 Update 07/2014: You know a recipe is a real winner when it's still being made and enjoyed six years later! I posted this recipe in the first year of food blogging (seems like a lifetime ago) and we still make it all the time.
It's so delicious, you won't believe it takes less than 30 minutes to throw together.
It is a complete lifesaver on those weeknights when you have neither time nor energy but hungry mouths are still clamoring for dinner to get on the table ASAP (sigh, no rest for the hardworking home cook).
Oh, and PS, there is no bourbon in the recipe so no worries if that had you concerned (don't ask me why it is named what it is; I don't ask questions when something is as fantastic as this meal).
The chicken is slightly crispy on the outside and perfectly tender on the inside and the sauce is the a wonderful balance of sweet, tangy and a teensy bit of spice.
I've gushed before about Brian's adoration of his beloved sweet and sour chicken. If it is any indication, this much faster saucy-chicken-over-rice-type-of-meal takes a very close second. Or in other words: bourbon chicken rocks.
I've updated the recipe just slightly with changes we've made over the years (subbing in chicken broth for the apple juice and water and a few other minor changes) but overall it's pretty much the same ridiculously yummy stuff.

Fresh fruit or green salad
Buttery Peas with Thyme
Simple Buttermilk Drop Biscuits
Yield: 6 servings

Prep Time: 15 minutes

Cook Time: 12 minutes

Total Time: 27 minutes
Ingredients
Chicken:
2 pounds boneless, skinless chicken breasts, cut into bite-sized pieces
2 tablespoons canola, vegetable or coconut oil
Cornstarch for dusting the chicken pieces
Sauce:
1 garlic clove, finely minced
1 teaspoon fresh ginger or 1/4 teaspoon ground ginger
1/4 - 1/2 teaspoon crushed red pepper flakes
1/4 cup apple juice + 1/2 cup water (or sub out the apple juice and water for 3/4 cup low-sodium chicken broth)
1/3 cup packed light brown sugar
2 tablespoons ketchup
1 tablespoon apple cider vinegar
1/3 cup low-sodium soy sauce
1 teaspoon cornstarch (optional - helps thicken the sauce a little bit more)
Instructions
In a gallon-sized ziploc bag, toss the chicken pieces with a couple tablespoons of cornstarch.
Whisk all the sauce ingredients together and set aside.
In a large, 12-inch nonstick skillet, heat the oil over medium heat until hot and rippling. Cook half of the chicken in a single layer for 30 seconds or so on each side until golden brown but not all the way cooked through. Lift the chicken pieces out of the skillet to a plate and repeat with the remaining chicken, also removing it to a plate.
Wipe any excess oil out of the skillet and return it to medium heat. Pour in the sauce and add the chicken pieces. Bring the mixture to a simmer and cook for 8-10 minutes, until the chicken is cooked through and the sauce has thickened slightly (don't overcook the chicken or it might be dry).
Serve the chicken and sauce over hot, cooked rice or quinoa.
Recommended Products
As an Amazon Associate and member of other affiliate programs, I earn from qualifying purchases.

Recipe Source: adapted from Blog Chef