I'm popping in really fast today (wasn't planning on posting today but couldn't resist) to tell you I couldn't let one more day go by without shoving this broiled tilapia taco recipe in your face. It's been staring me in the face for several months begging to be shared but the poor recipe has been pushed aside several times in favor of other yumminess. Finally, it's time. I know a recipe is good when the pictures and recipe have been sitting in my file for weeks and weeks and I still want to share it (sometimes the love fades over time, if you know what I mean).
These fish tacos are not only healthy and fast, they are incredibly tasty. I've made them a couple of times (the last go-round I ate the flavorful, smoky broiled tilapia on a bed of sautéed cabbage with a healthy dose of salt, pepper and garlic, and it was equally divine) and our love for them continues to grow. It's a really wonderful thing to see my kids scarf down fish tacos. Soul = singing.
You can't beat a 30-minute meal that's good for you and tastes amazing. Ok, later skaters. My time is up and my to-do list is calling. Have a great weekend!
Sidenote: If you are interested in running updates, click over to read Rachael's Story, the first in a line-up of incredible men and women emailing me their stories in the hopes of inspiring others!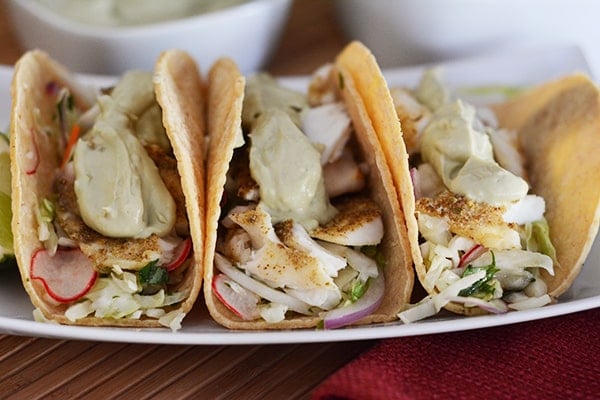 Fresh vegetables and fruit (homemade ranch dressing here + a tasty, healthy fruit dip here)
Mexican Corn Salad
Cottage cheese (sounds weird but we eat cottage cheese a lot as a side dish; yummy!)
One Year Ago: French Bread Pizza Perfected
Two Years Ago: Taco Enchiladas with Cornmeal Crepes
Three Years Ago: Smoked Turkey Cobb Wraps
Ingredients
8 6-inch white or yellow corn tortillas
2 cups finely chopped green cabbage or prepackaged angel hair coleslaw mix
1/4 cup chopped fresh cilantro
3 small radishes, very thinly sliced
1 tablespoon olive or avocado oil
1 tablespoon fresh lime juice
Pinch of salt, plus more to taste if needed
1/2 cup sour cream or plain yogurt
1 avocado
1/2 jalapeño, seeded and membranes removed
Pinch of salt
2 teaspoons ground cumin
1 teaspoon garlic powder
1 teaspoon dried oregano
1 teaspoon salt
1 tablespoon olive or avocado oil
4 tilapia fillets, about 5 ounces each
Directions
Preheat the broiler to high with one rack in the center and another placed about 4-5 inches from the top of the oven or heating element.
For the coleslaw, in a medium bowl, toss together all the ingredients. Set aside.
For the avocado sauce, blend all the ingredients together until smooth. Set aside.
Wrap the tortillas in foil and place them on the center rack of the oven to heat through.
For the tilapia, in a small bowl, combine the cumin, garlic powder, oregano and salt. Place the tilapia fillets on a lightly greased baking sheet (you can line with foil and grease the foil to minimize cleanup) and rub lightly on both sides with the oil. Sprinkle both sides of the fish with the spice mixture. Broil on the top rack until the flesh is firm but not overcooked, 5-8 minutes.
To serve, use two forks to lightly break apart the tilapia into pieces. Divide the fish between the tortillas and top with slaw and avocado sauce. Serve immediately.
https://www.melskitchencafe.com/broiled-tilapia-tacos/
Printed from Mel\'s Kitchen Cafe (www.melskitchencafe.com)
Recipe Source: barely adapted from Cuisine at Home October 2014