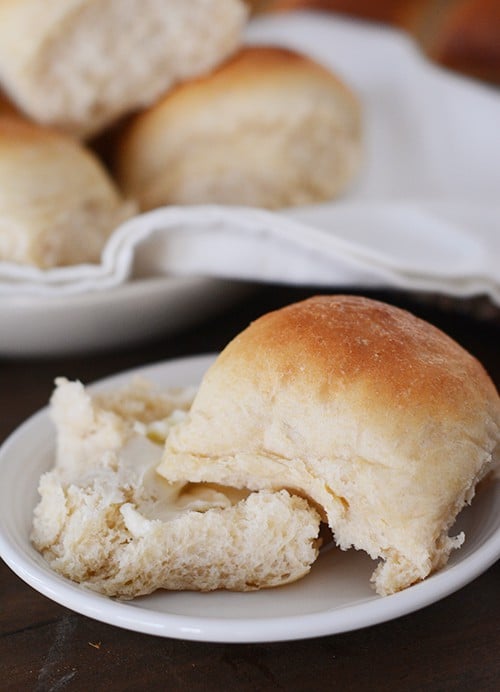 I'm not sure how this happened, really.
I need another favorite roll recipe like I need another set of measuring cups or another puppy (have all I can handle in both regards, thankyouverymuch).
But there I was, sitting in the comfort of my home minding my own business and this amazing new roll recipe just comes along, like it owns the place, and totally and completely wows me.
I'm not kidding, you guys. You know me. I love bread. I have a bazillion roll recipes on here that I adore. But this buttermilk potato version is the fluffiest, softest roll I've ever met.
I made them on a whim with no intentions of posting the recipe…and, well, you can see how that turned out. They stole my heart and so I must share them with you.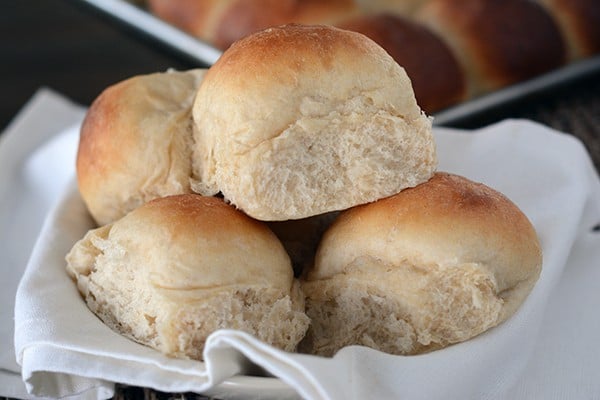 The dough is a dream to work with and while you do need to come to the table with some cooked potatoes (I used leftover baked potatoes sitting around in my refrigerator but mashed would work great, too), these rolls are simple and so tasty.
The little hint of buttermilk with the mile-high fluffiness is money.
If you are still looking for THE roll to serve on Thanksgiving, you might (must!) consider these. But only if you want to become instantly famous in all parts of the land for your mad bread baking skillz.
Consider yourself warned.
Oh and PS: since I've been dreaming of these rolls since making them on Sunday, all I can think about is how fabulous they would be with fresh, chopped rosemary in the dough. Someone try it, pretty please, and report back, ok?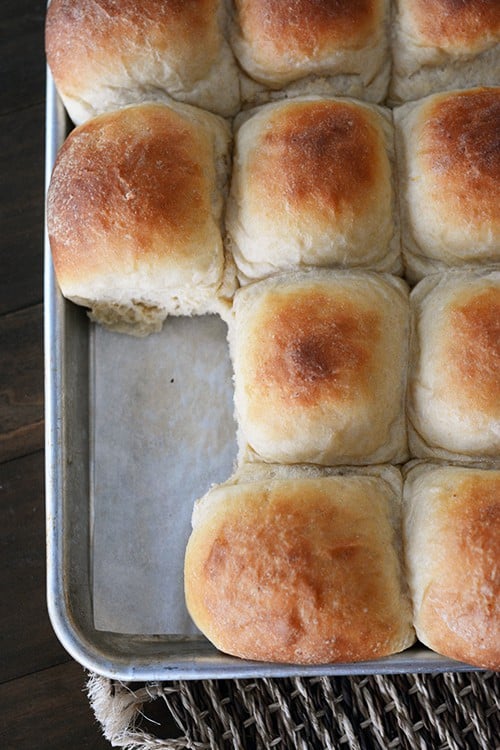 One Year Ago: My Thanksgiving Menu Plan: A Step-by-Step Guide to Preparing in Advance
Two Years Ago: Thanksgiving Dinner At-A-Glance!
Three Years Ago: Sesame Chicken Stir-Fry
Fluffy Buttermilk Potato Rolls
The potatoes should be warm when using in the recipe - either use freshly cooked potatoes or if you are pulling mashed/baked potatoes out of the refrigerator, warm them slightly before using. I used a couple large baking potatoes (removed the skins and put them through my ricer). If you don't have a ricer, just mash them like crazy until they are really smooth.
As with all yeast doughs, don't worry about the exact flour amount called for in the recipe; instead mix the dough until it clears the sides of the bowl and is soft and smooth without being overly sticky. Here's a quick tutorial on working with yeast doughs. You can use all-purpose flour in place of the bread flour although the rolls may not be quite as soft (alternately you can sub in all-purpose flour + vital wheat gluten to approximate the bread flour; about 2 tablespoons gluten for every cup of white flour). I haven't tried these with 100% whole wheat flour yet.
I used instant yeast although the original recipe calls for active dry. Both should work just fine (it's usually necessary to dissolve active dry yeast in water to let it activate first but the recipe doesn't require it here; I haven't tried it with active dry but I'd suggest following the recipe and adding it with all the other ingredients like the recipe states).
Ingredients
1 1/2 cups mashed or riced cooked potatoes (see note above)
1/2 cup (8 tablespoons) butter, room temperature
2 cups buttermilk, room temperature or slightly warmed (here is a guide for making your own buttermilk)
1 1/2 tablespoons instant or active dry yeast
2 large eggs
2 tablespoons sugar
2 1/2 teaspoons salt
4 cups whole wheat flour
3 - 4 cups bread flour (see note above)
Directions
In the bowl of an electric stand mixer fitted with the dough hook (or in a large bowl if mixing by hand), combine the warm potatoes and butter and mix until the butter is completely melted.
Add the buttermilk, yeast, eggs, sugar, salt and 2 cups of flour. Mix well.
Continue adding the flour (both wheat and bread flour) until the dough clears the sides of the bowl and is soft and smooth, it may leave a slight residue on your fingers which is ok but shouldn't be so sticky that you have crazy dough covered fingers. Add more flour if needed, taking care not to over flour the dough. It should give easily when pressed with your fingers.
Knead the dough for 5-7 minutes.
Place the dough in a large, lightly greased bowl and cover with greased plastic wrap. Let the dough rise until doubled, about 1 - 1 1/2 hours.
Lightly punch down the dough and roll it into 24 equal balls (about 3.25 ounces per ball; exact size will depend on how much flour was added). Place the dough balls evenly on a parchment- or silpat-lined large, rimmed baking sheet - 4 across, 6 down. Or use two 9X13-inch dishes with 12 rolls in each pan.
Cover the rolls with greased plastic wrap and let them rise until doubled, about an hour.
Bake at 375 degrees F for 18 minutes until golden on top and baked through. Brush the tops with butter after removing from the oven, if desired.
https://www.melskitchencafe.com/buttermilk-potato-rolls/
Printed from Mel\'s Kitchen Cafe (www.melskitchencafe.com)
Recipe Source: slightly adapted from a recipe in Joy of Cooking (original recipe is for bread, I adapted for rolls; used instant yeast instead of a chive dry, subbed in half whole wheat flour, eliminated the egg wash and poppy seeds, used double the potatoes)