Creamy Chicken Tikka Masala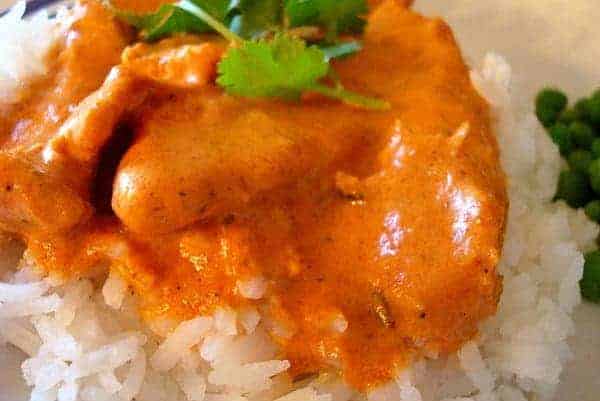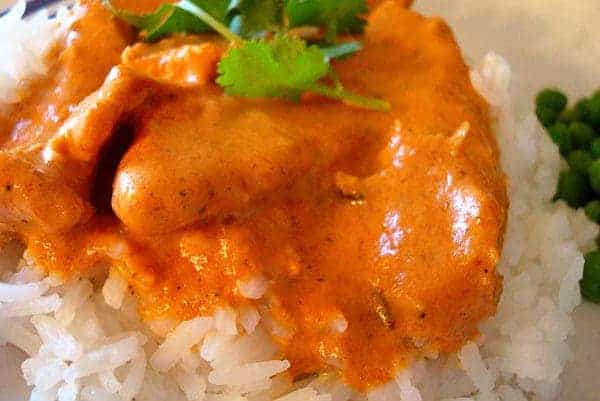 Another fabulous recipe recommendation from family – this time from my brother, Nate, and his wife, Kylie.
I really love Indian food and have been looking for a great Indian Chicken Tikka recipe and this did not disappoint!
It was so delicious. The creamy, flavor-packed spicy sauce was fantastic – I was literally licking my plate, it was so good, and I couldn't wait to horde the leftovers for myself the next day.
When Kylie made it for my brother, he loved it so much, he requested it again two days later.
I've edited the recipe to cut down on the heat factor – since I want my children to love me and eat what I make for dinner. As written below, the dish is flavorful with a tiny, tiny little hint of heat but not spicy-spicy. Add more cayenne pepper to the marinade if you like to kick things up a notch (or twelve).

Baked Brown Rice
Steamed peas or broccoli, or this Curried Cauliflower Popcorn
Fresh fruit
Creamy Chicken Tikka Masala
Yield: 6 servings

Prep Time: 20 minutes

Cook Time: 35 minutes

Additional Time: 1 hour 45 minutes

Total Time: 2 hours 40 minutes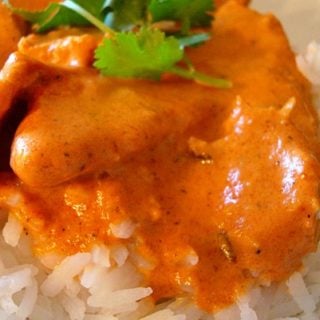 Ingredients
MARINADE:
1 cup plain yogurt
1 tablespoons lemon juice
2 teaspoons ground cumin
1 teaspoon ground cinnamon
1/2 teaspoon cayenne pepper
1 1/2 teaspoons paprika
2 teaspoons black pepper
1 tablespoons minced fresh ginger
1 teaspoon salt
3 boneless, skinless chicken breasts, cut into thin strips or chunks
FOR THE MASALA:
1 tablespoon butter
1 clove garlic, minced
1 jalapeno pepper, finely chopped
2 teaspoons ground cumin
2 teaspoons paprika
1/2 teaspoon salt
8 ounces tomato sauce
1 cup cream
1/4 cup chopped fresh cilantro
Instructions
For the marinade, combine all ingredients except chicken. Pour sauce over chicken and refrigerate for one hour or up to 8 hours. Grill or cook chicken in frying pan. Discard marinade.
For the masala, melt butter in large skillet over medium heat. Saute garlic and jalapeno for one minute. Season with cumin, paprika and salt. Stir in tomato sauce and cream. Simmer on low heat until sauce thickens, about 20 minutes. Add grilled chicken and simmer for 10 minutes. Garnish with fresh cilantro. Serve over hot rice.
Recommended Products
As an Amazon Associate and member of other affiliate programs, I earn from qualifying purchases.

Recipe Source: from Nate and Kylie