These garlic knots are a great way to change up dinner rolls. The method is simple, and they are full of delicious flavor.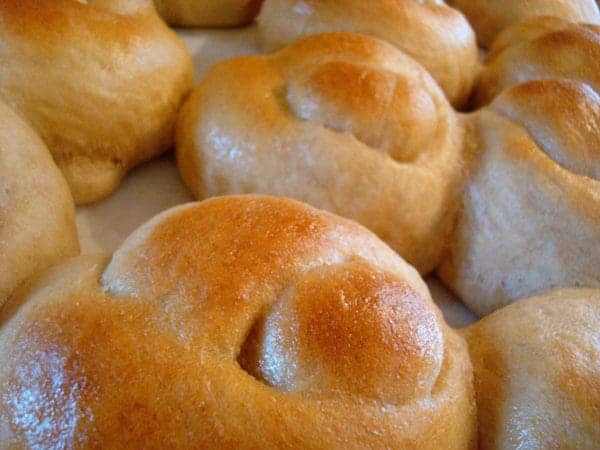 This is my new favorite way to serve dinner rolls and it couldn't be easier or more delicious, if you ask me.
The method is simple – add minced garlic to melted butter and let sit while making the rolls. Brush the garlic-infused melted butter on top of the hot rolls and voila! A masterpiece of unsurpassed carbohydrate magnitude.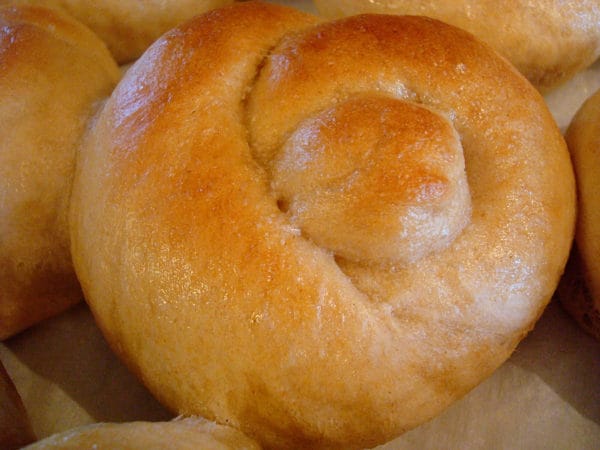 Yield: 1 dozen rolls

Prep Time: 30 minutes

Cook Time: 20 minutes

Additional Time: 2 hours

Total Time: 2 hours 50 minutes
Ingredients
1 recipe French Bread Rolls
4-6 garlic cloves finely minced or pressed through a garlic press
4 tablespoons butter, melted
Instructions
Mix butter and garlic together in a small bowl and let sit while making the rolls (I put the garlic-butter mixture on top of the stove while the oven is on to bake the rolls so the butter stays warm and melted). Follow the recipe for the French Bread Rolls, the only change being that instead of shaping them into balls, roll each piece into a four to six-inch rope and form into a knot, tucking the loose ends into the center of the knot.
Immediately after the rolls come out of the oven brush the butter/garlic mixture over the rolls. These are best eaten warm!
Notes
Flour Amount: as with all yeast doughs, I never use the flour amount called for in the recipe as a hard fast rule (unless a weight measure is given and then I pull out my kitchen scale). Because humidity, temperature, altitude and a multitude of other factors can impact how much flour you need in your yeast doughs, I always judge when to quit adding flour by the texture and look and feel of the dough rather than how much flour I've added compared to the recipe. This tutorial on yeast may help identify how a perfectly floured dough should be.
Recommended Products
As an Amazon Associate and member of other affiliate programs, I earn from qualifying purchases.