Lemon Cream Pasta with Chicken
This lemon cream pasta with chicken is creamy and light and perfect for a hectic weeknight.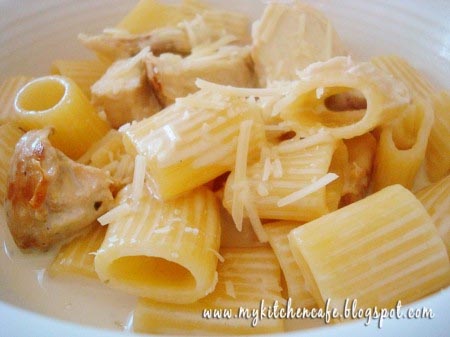 This pasta was the second stellar application of the Lemon Garlic Chicken. I saw the recipe on Clouse Cousins Cookin' at the perfect time when I needed a recipe in which to use the rest of the chicken.
It was fantastic!
Creamy and light, it really hit the spot when I made it for dinner and the lemon garlic chicken was incredible paired with the chewy pasta and lemony cream sauce.
Plus, I just love pasta dishes that cook the pasta in the main flavors of the recipe (in this case, the pasta cooks in chicken broth and lemon juice).
I doubled the original recipe to feed our family and made a few small changes so my adapted recipe is below.
This will definitely be a remake at our house!

Divine breadsticks or Cheesy Garlic Bread
Killer green salad (throw together your own or use a variation on this Gourmet Green Salad)
Fresh, seasonal fruit
Lemon Cream Pasta with Chicken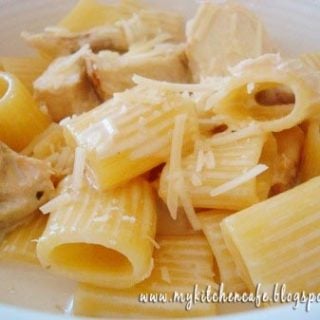 Ingredients
3 cups shredded or cubed Lemon Garlic Chicken
1 teaspoon garlic powder
1/2 teaspoon black pepper
4 (14.5 ounce) cans chicken broth
1/2 cup fresh lemon juice
1 (16 ounce) package tube pasta (I used rigatoni)
2 cups heavy cream
2 teaspoons grated lemon zest
1/2 cup parmesan cheese, shredded
Instructions
In a large saucepan, season the chicken broth with the garlic powder and pepper. Bring to a boil and add lemon juice and pasta. Cook over medium heat, stirring occasionally, until all liquid is absorbed, about 25 minutes.
Stir chicken into cooked pasta, along with the cream, parmesan cheese and lemon zest. Cook, stirring, over low heat for 5 minutes.
Remove from heat and let stand 5 minutes. Stir thoroughly before serving.
Recommended Products
As an Amazon Associate and member of other affiliate programs, I earn from qualifying purchases.
Recipe Source: adapted from allrecipes.com via Clouse Cousins Cookin'
Disclaimer: I am a participant in the Amazon Services LLC Associates Program, an affiliate advertising program designed to provide a means for me to earn fees by linking to Amazon.com and affiliated sites. As an Amazon Associate I earn from qualifying purchases.