Fluffy Zucchini Cornbread
Fluffy, moist zucchini cornbread is easy and delicious. The perfect way to use up that delightful green veggie!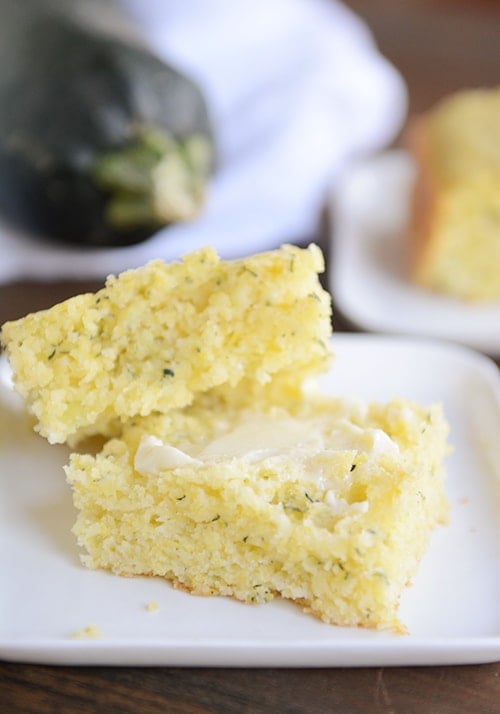 Last zucchini recipe this season. Promise. Maybe. Half pinky swear. Probably?
Um, ok, no guarantees. At least I know myself well enough that if I do start out with a false promise, I know how quickly to take it back, especially when it comes to zucchini.
A light adaptation on our favorite cornbread, this zucchini version is even softer and fluffier than the original. If such a thing is even possible.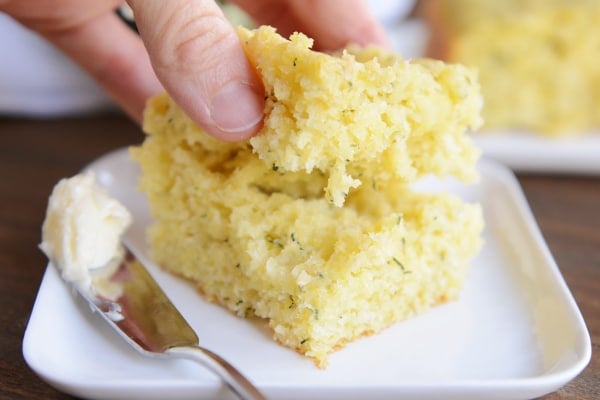 It made an appearance during my 9-year old's dinner assignment (in all of his recipe searching, he knew within the first two seconds he wanted to try a version of zucchini cornbread) and it was fantastic.
The zucchini doesn't necessarily change the flavor of the cornbread but it definitely aids in moistness and the pretty green flecks certainly don't hurt matters any.
With school starting soon (yeah, that would be today), I'm looking for great alternatives to change out the ol' sandwich in school lunches, and a large square of this, with a little pat of butter of course, has already been informally approved by the kids. Sweet.
And speaking of school lunches, keep an eye out for an upcoming post in the next few days with a whole list of easy, go-to foods (a free printable even!) to make packing school lunches a breeze. I seriously can't believe it's that time of year again.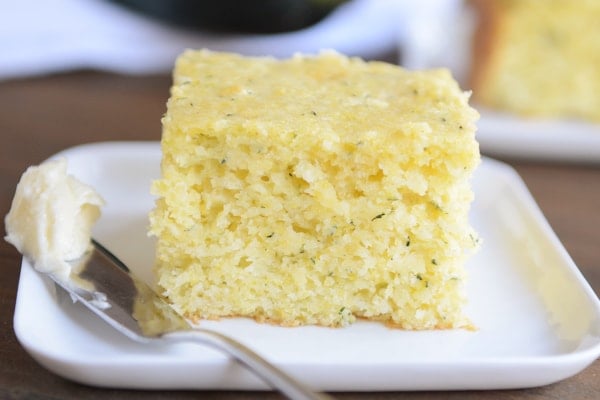 One Year Ago: Back to School: Let's Talk Fast Dinners, Easy Lunches and Wholesome Breakfasts
Two Years Ago: Overnight Oatmeal Cinnamon Pancakes
Three Years Ago: Homemade Chocolate Syrup for Chocolate Milk
Fluffy Zucchini Cornbread
Yield: 9X9-inch pan

Prep Time: 15 minutes

Cook Time: 32 minutes

Total Time: 47 minutes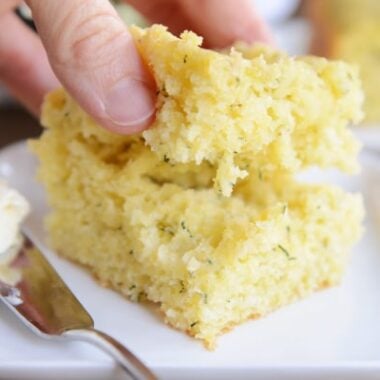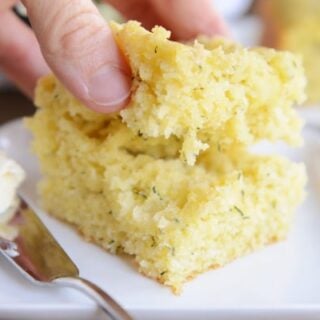 Ingredients
1/2 cup (3 ounces) yellow cornmeal
1 1/2 cups (7.5 ounces) all-purpose flour
1/3 cup (2.5 ounces) granulated sugar
2 teaspoons baking powder
1/4 teaspoon baking soda
3/4 teaspoon salt
1 cup buttermilk or milk
2 eggs, lightly beaten
4 tablespoons butter or coconut oil, melted
2 cups unpeeled shredded, drained zucchini (8 ounces)
Instructions
Preheat the oven to 350 degrees F. Lightly grease a 9-inch square baking pan with cooking spray. Set aside.
In a large bowl, stir together the cornmeal, flour, sugar, baking powder, baking soda, and salt.
Make a well in the dry ingredients and add the buttermilk (or milk), eggs, and melted butter (or coconut oil) and zucchini. Stir just until combined.
Spread the batter in the prepared pan and bake for 30-32 minutes until the top springs back lightly to the touch and/or a toothpick inserted in the center comes out clean.
Notes
Flour: this bread is equally delicious, albeit slightly heartier, with white whole wheat flour in place of the all-purpose flour (or 50% of each works great, too).

Zucchini Tutorial: here's a quick video tutorial on wringing out zucchini. For this recipe, you want the zucchini fairly dry. It's ok if there's still a little moistness to it but you definitely don't want it dripping wet.
Recommended Products
As an Amazon Associate and member of other affiliate programs, I earn from qualifying purchases.

Recipe Source: from Mel's Kitchen Cafe (adapted from my favorite cornbread recipe)