Yum Yum Bowls with Knockoff Cafe Yumm Sauce
One of our favorite meals, these healthy and delicious yum yum bowls are quick to throw together, and that secret Yumm sauce takes the whole glorious, messy rice bowl way over the top!
Now. Let's talk Yum Yum bowls.
If you live near a Cafe Yumm restaurant, you might be familiar with these glorious little rice and vegetable bowls.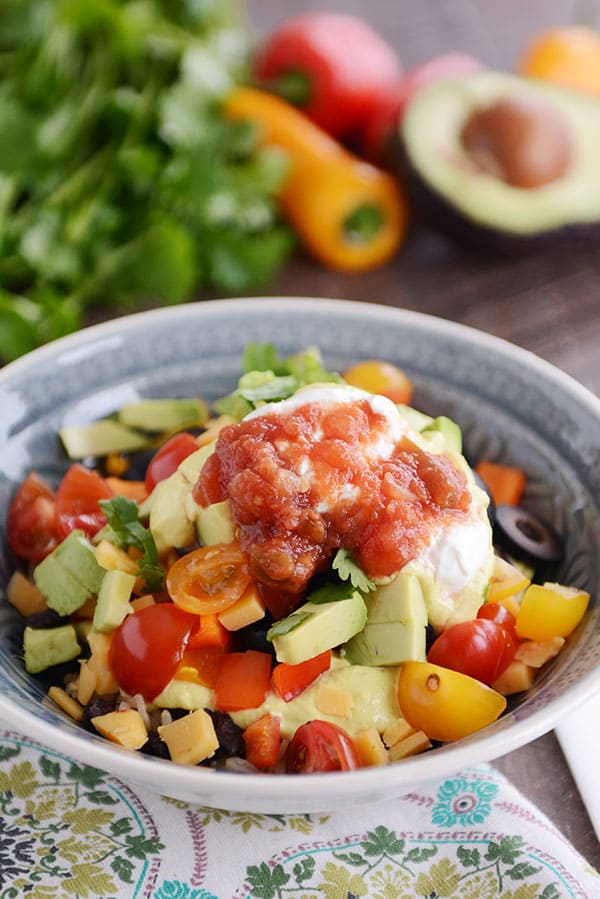 I, poor soul that I am, do not live by a Cafe Yumm, but thankfully, my in-laws do. And when we went to visit them last month, one of the first meals they made us was their version of these delicious, healthy rice bowls.
We love them! (My in-laws and these Yum Yum bowls)
So customizable, my kids were in heaven carefully curating their bowl to reflect their own personality (I'm looking at you, my wee bean-hater of a son), while Brian and I piled on every topping in sight.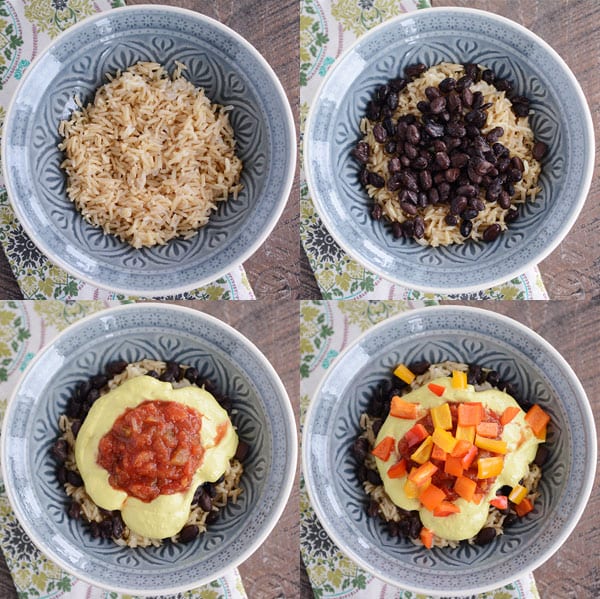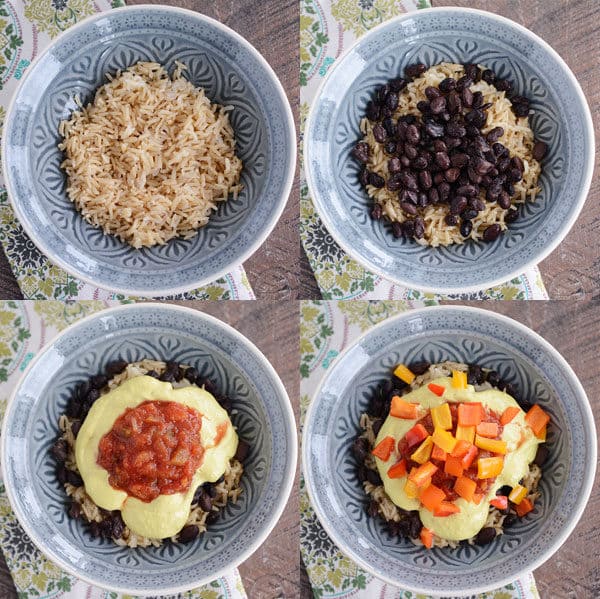 What makes these every day rice and bean and vegetable bowls different from every other rice and bean and vegetable bowl I've ever made is the secret knockoff Yumm sauce.
That sauce alone is worth today's post.
My in-laws had the real deal Yumm sauce in a jar they bought from Cafe Yumm for us to use on our Yum Yum bowls. It was delicious, of course.
But after taking a quick glance at the back of the jar, I knew it wouldn't be difficult to replicate a knockoff recipe at home.
An essential task, since I knew I'd be leaving Cafe Yumm Sauce far behind after our vacation was over.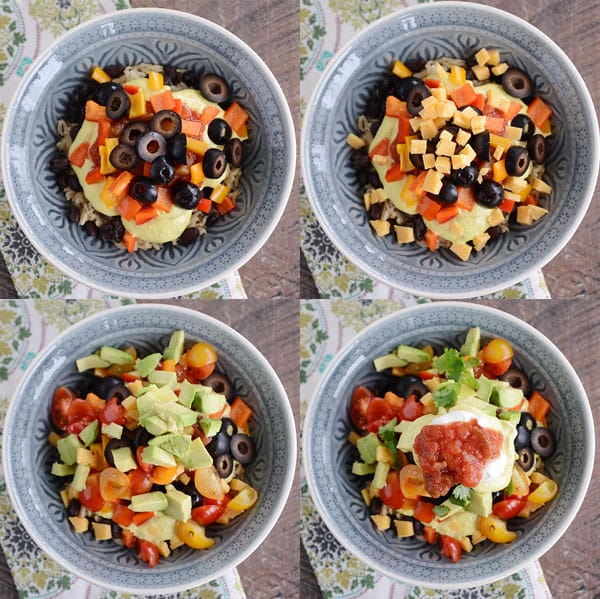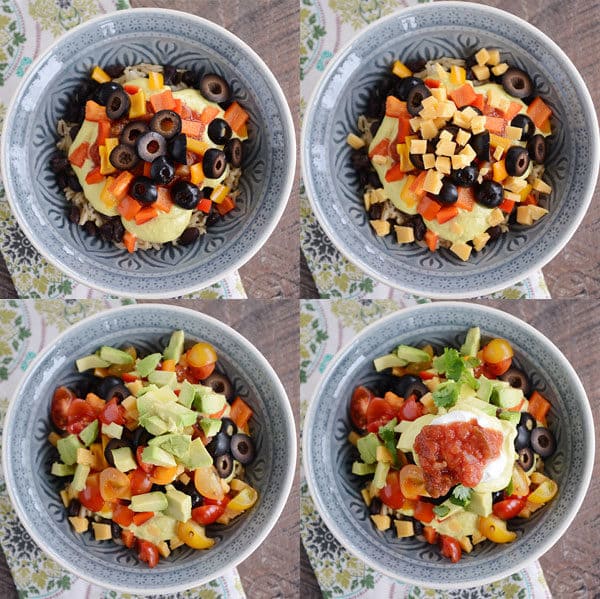 Completely unique from any other sauce I've ever made, Yumm sauce is creamy (without any milk or dairy) with a kick of lemon and garlic.
There's a bunch of good stuff going on in this sauce: almonds, white beans, coconut milk and curry powder. And…nutritional yeast.
Have you ever used it before?
I try to stay away from recipes calling for super specific, unusual ingredients that might be hard to find, but in our house, nutritional yeast is a staple.
We always have it in our pantry so we can sprinkle it on our air-popped popcorn (a tasty tip we learned while living in Minnesota a few years ago).
Nutritional yeast has a delightfully nutty, salty, cheesy flavor with a dry, flaky texture. My local grocery store (Winco) carries it in the bulk bins, but I usually buy it online and have used the Bragg's, Bob's Red Mill, and Hoosier Hill Farms brands with great success.
If you absolutely can't find it or want to try a substitution, you could add a handful of salted, roasted cashews and see how that goes (or increase the salt in the recipe).
You'll miss the punch of flavor the nutritional yeast gives, but I'm a big fan of working with and around recipes, so don't be afraid to experiment if you need to.
And, as I mention below in the recipe notes, my father-in-law usually nixes the Yumm sauce altogether and pours on the ranch dressing while the rest of us eagerly use up his Yumm sauce portion.
Do what you will! No judging here.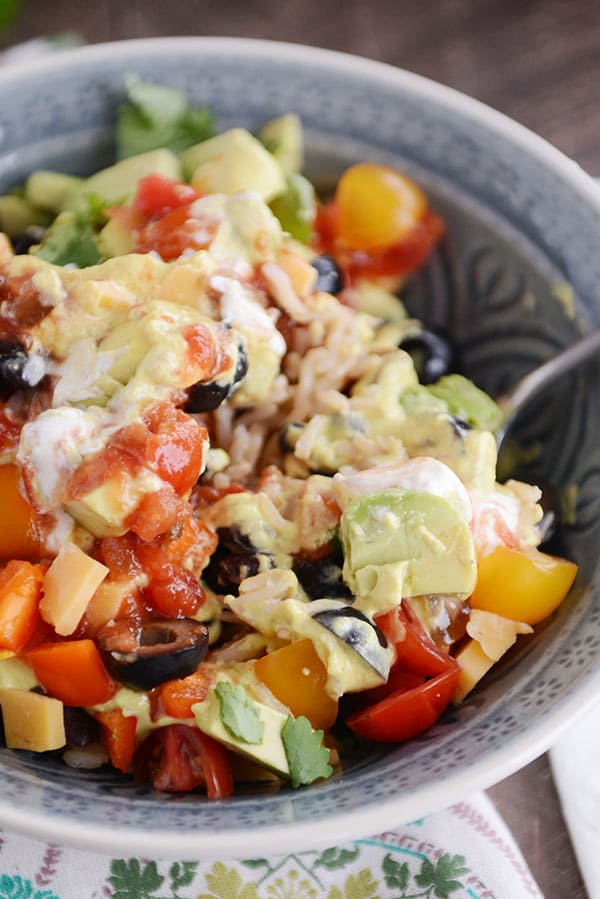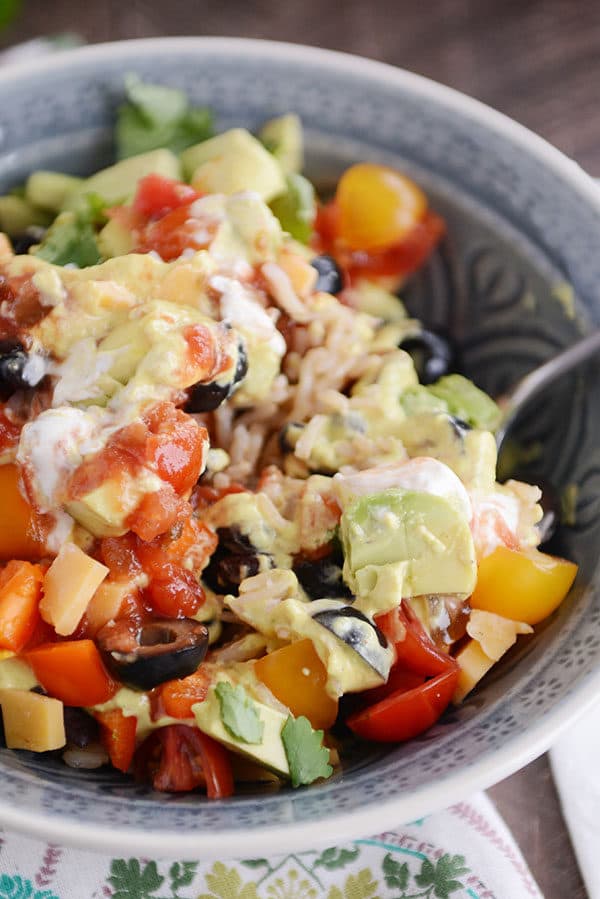 That Yumm sauce should not be reserved for Yum Yum bowls alone, just so you know.
It is terrific for a fresh vegetable dip, spreading on flatbread, or spooning over salads (try dipping these Crispy Southwest Chicken Wraps in the Yumm sauce and watch your life be changed forever).
The recipe below makes a lot of sauce (about 4 cups); you could easily halve the ingredients or use the leftover sauce all month long on every food in sight.
Its name says it all: Yum-Yum-Yummy (sorry, couldn't help myself). With such a delicious flavor explosion happening, you won't even miss the meat in these Yum Yum bowls.
But if you have to have a little meat in your meal, I won't fire you if you add grilled chicken, cooked shrimp or thinly sliced steak.
Speaking of meatless, many of you have asked lately for a list of my meatless recipes.
Here's the link to all my meatless main dishes (and I've also included it as a category in the Recipe Index for easy access).
And with that, I think I'm officially done talking your ear off! Now the only thing left to do is make these Yum Yum bowls happen in your kitchen ASAP!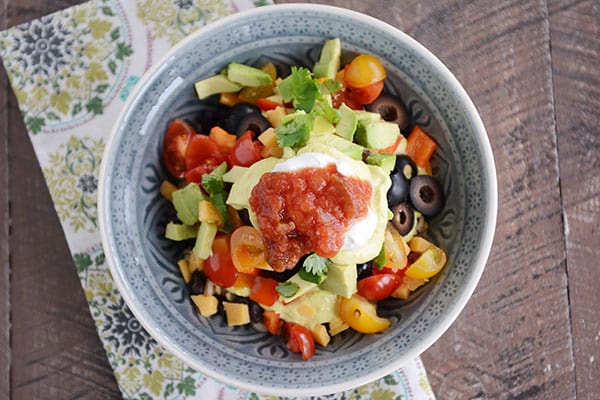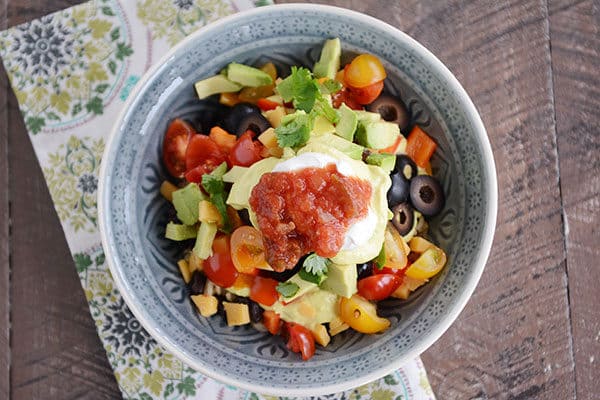 What To Serve With This:
There's a lot happening in these bowls; you could easily serve them as a stand-alone meal, but if you are looking for a couple side dish options, I'd suggest: Fresh, seasonal fruit Pao de queijo or my favorite cornbread
One Year Ago: Browned Butter Vanilla Rice Krispie Treats
Two Years Ago: Amazing Romaine Salad with Light Poppy Seed Vinaigrette
Three Years Ago: Roasted Maple-Glazed Pork Tenderloin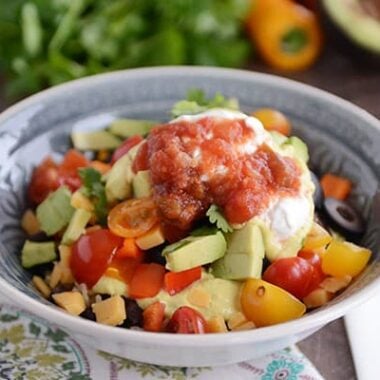 Yum Yum Rice Bowls with Knockoff Yumm Sauce Recipe
Ingredients
Yum Yum Bowls:
Warm

,

cooked brown or white rice, quinoa, or other "base" (see note)

Canned black beans

,

rinsed and drained (warmed lightly, if desired, or for extra yumminess)

Chopped olives

Chopped red

,

green, yellow or orange peppers

Chopped tomatoes

Chopped or shredded cheddar or Monterey Jack cheese

Chopped avocados

Chopped

,

fresh cilantro

Sour cream

Salsa
Yumm Sauce:
½

cup

avocado

,

canola, or vegetable oil

½

cup

slivered almonds

1

cup

canned Great Northern or Garbanzo beans

,

rinsed and drained

½

cup

water

½

cup

light coconut milk

,

from a can

½

cup

fresh lemon juice

,

from about 3 large lemons

2

garlic cloves

,

minced

½

teaspoon

coarse

,

kosher salt

Pinch

of coarsely ground black pepper

1

teaspoon

curry powder

1

teaspoon

dried oregano

2 to 3

tablespoons

chopped fresh cilantro

⅓

cup

nutritional yeast (see note)
Instructions
For the Yumm sauce, add the oil, almonds, beans and water to a blender. Process until very smooth, 1-2 minutes (or as long as needed).

Add the coconut milk, lemon juice, garlic, salt, pepper, curry powder, oregano, cilantro and nutritional yeast. Process again until creamy and smooth. Add additional water to thin out the sauce, if needed. Store in the refrigerator until ready to serve (this tastes best after it's had time to rest – even several days – but you can also use it right away).

For the Yum Yum Bowls, layer rice or quinoa in the bottom of a bowl. Add black beans and a healthy dollop of Yum Yum sauce and salsa. Follow it with all the toppings your little heart desires (peppers, olives, cheese, tomatoes, avocados, fresh cilantro, sour cream, and more salsa and yum yum sauce, if desired).

Dig in!
Notes
Ingredient Amount: you'll notice I didn't give amounts for the ingredients listed in the Yum Yum bowl section because this recipe is SO customizable and dependent on how many you are serving. Plus, you can add or take away some of the ingredients based on preference/allergies.
Substitutions: you could sub in spaghetti squash or zucchini noodles (i.e. zoodles) for the rice or quinoa. The options really are endless.
Curry Powder: as always, my favorite curry powder in all the world is the Sweet Curry Powder from Penzey's Spices (no affiliation; I just love it very much and it's the only curry powder I use).
Nutritional Yeast: I haven't ever subbed anything in for the nutritional yeast in the Yumm sauce recipe, mostly because it's an ingredient we keep on hand (as we sprinkle it on our air-popped popcorn all the time). I've bought Bragg's, Bob's Red Mill and Hoosier Hill farm brands; all are great. I've also seen it in the bulk bins at my grocery store (Winco).
Yeast Substitute:
If you're wondering about a sub for the nutritional yeast, it has a salty, cheesy, nutty flavor with a powdery/flaky consistency, so if you leave it out, try increasing the salt and/or using a handful of roasted/salted cashews.
Sauce: the sauce recipe, as written, makes about 4 cups, which is more than we use in one sit-down meal of Yum Yum Bowls. You can halve the ingredients or store the leftovers in the refrigerator to use for dipping fresh vegetables and spreading on sandwiches (among many other things; it's delicious).
Ranch: having said all of that, my father-in-law always nixes the Yum Yum Sauce completely and uses ranch. So there is always that option.
Recommended Products
Follow @MelsKitchenCafe on Instagram and show me the recipes you are making from my blog using the hashtag #melskitchencafe. I love seeing all the goodness you are whipping up in your kitchens!
Recipe Source: introduced to us by my mother- and father-in-law after they ate at Cafe Yumm in the Portland, Oregon, area and decided to recreate the bowls at home and serve them to us; the sauce (knockoff Yumm sauce inspired by this recipe)
Disclaimer: I am a participant in the Amazon Services LLC Associates Program, an affiliate advertising program designed to provide a means for me to earn fees by linking to Amazon.com and affiliated sites. As an Amazon Associate I earn from qualifying purchases.